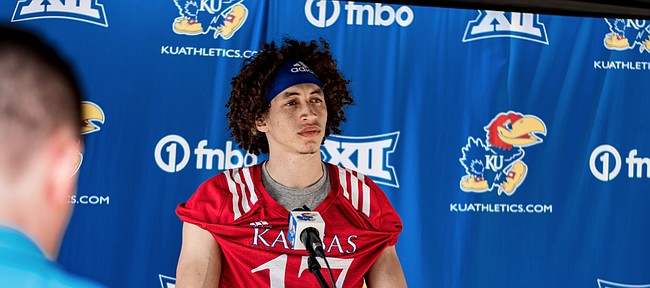 Jason Bean didn't gush about his own abilities or attempt to present himself as the answer to the Kansas football team's offensive problems on Friday during his fist interview since joining the roster earlier this summer.
Instead, the former North Texas starting quarterback steered the conversation another direction when asked how he would describe himself to KU fans who hadn't seen him play before.
"I'm just a hard worker," Bean said, after beginning his response by sharing how excited he is to be at KU. "I'm ready to help turn this program around and get it in the right direction and just start to win games here."
The few weeks of preseason practices between now and the Jayhawks' season opener on Sept. 3 versus South Dakota will determine what type of role Bean plays in Year 1 of new head coach Lance Leipold's rebuilding project. After Leipold watched the newest QB on the roster practice for the first time on Thursday, Leipold shared his initial impressions of Bean, a junior who is one of three QBs in the running for the team's starting job.
"I like his hair. He's got a lot more than me," a joking Leipold began. "Big, tall kid. Runs well. He's got a strong arm. He's coachable right now. He comes in understanding he's got to compete."
Involved with a QB competition at North Texas throughout much of what would be his final season with that team in 2020, Bean finished with a 54.5% completion percentage, and threw for 1,131 yards and 14 touchdowns during his eight appearances this past fall. He went 79-for-145 through the air, with five interceptions.
Bean thinks his time at North Texas will only help him this preseason as he tries to win the starting job at KU.
"I've pretty much been in a quarterback battle my whole career," said Bean, who redshirted at UNT in 2018, before playing for the Mean Green each of the past two seasons. "Just trying to stay on top of my game all the time I think is going to help where you go in life."
His path to KU via the transfer portal came about because receivers coach Emmett Jones, the program's interim head coach at the time, recruited Bean this past spring. The QB said his talks with Jones led him to join the Jayhawks, but so did his desire to help turn around a program and get KU football "where it should be."
Although Bean has only been in the program for a little more than two months at this juncture, so have many of the team's coach's. New KU quarterbacks coach Jim Zebrowski said Friday following the team's second preseason practice that he heard during the summer from KU's strength and conditioning coach, Matt Gildersleeve, that Bean is a "really good athlete" and fast.
"You see the first couple of days that he's got a live arm, strong arm," Zebrowski said of what Bean has shown him this week.
Because Bean spent the previous three years in a different system and locale, Zebrowski said figuring out how to handle play calls and the like is a part of the QB's process, and that he's done great with it. Bean also looks stronger now than he did at the start of the summer, per Zebrowski.
"We'll see what happens," the QBs coach said.
One of the players competing with Bean, sophomore QB Jalon Daniels, has gotten to know Bean as a player this summer, through workouts, meetings and player-led practices and walk-throughs.
"Jason is a very fast guy, very quick, has a whole bunch of abilities. I like to learn from people who are older than me," Daniels said.
Based on what Daniels has seen from Bean to date, the younger QB thinks the college veteran will teach him a lot.
"Jason Bean is one of those guys where he's very explosive, can make a lot of plays, can make a lot of things happen," Daniels said.
Though he didn't bring it up himself while speaking with reporters, the speed and athleticism of the 6-foot-3, 189-pound junior from Mansfield, Texas, is often cited by others at KU. Bean gave UNT a rushing element as a QB, and averaged 6.2 yards per carry, while running for five touchdowns in 2020.
"I think for me it kind of opens up the pass game a little bit," Bean said of how that element helps his playing style, "because the defense has to be a little worried about me getting outside of the pocket and moving around."
One area where he wants to improve has less to do with his athletic abilities and is more about his leadership qualities, Bean shared.
Senior QB Miles Kendrick said his new teammate has made strides with those aspects this summer, too.
"It's definitely something challenging, coming to a new school, especially at the quarterback position. But I've seen he's gotten more comfortable as the days have gone by. He's gotten out of his shell and started to lead and be a little bit more vocal," said Kendrick, who added Bean's abilities on the field have been evident, as well.
Leipold, who with the help of offensive coordinator Andy Kotelnicki and Zebrowski will determine which player will be named KU's No. 1 QB, pointed out all three of the candidates are new to him.
The head coach also noted Bean has had a chance to play in — and win — some college football games.
Bean considers that part of his background "huge" for what's to come, even if those experiences came elsewhere.
"Just being able to get in a game situation and just kind of know the speed of the game," he said, "I think that kind of helps."