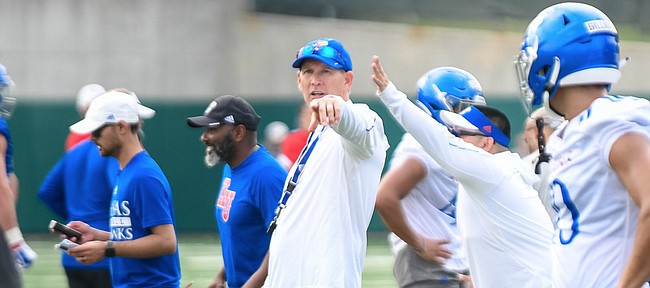 After directing an entirely different college football program through spring practices earlier this year, first-year Kansas coach Lance Leipold finally led the Jayhawks onto the field on Thursday morning, as the team opened preseason camp.
Though his new team is still a few days away from pads and full contact, Leipold said it still felt "really exciting" for all involved.
Leipold and his staff, who took over the program just after KU completed its spring practice schedule, spent May, June and July doing all they could to hit the ground running once they could finally get on a field together and prepare — quickly — for the season, which begins on Sept. 3, versus South Dakota.
"You know what every first day of camp's kind of going to be," Leipold said immediately following practice of his anticipation for this significant day in his career. "There's going to be some sloppiness at times and things. But for everything we're up against in the situation and the timing, I couldn't be more pleased, because now we really get to start evaluating."
As much as Leipold and the former UB coaches who joined him at KU were able to familiarize themselves with the players through conversations, video review and research the past few months, Thursday's first practice marked the start of the next phase of preparation for the new regime's debut year in Lawrence.
"And that's really what it's all about, to kind of see where we are. Obviously we have a short window of time to get ready to play the first game," Leipold said.
The third head coach to lead the program into preseason practices in the past four years, Leipold said he left his first practice at KU impressed by the team's upperclassmen and their leadership, as well as how the coaches and players used the summer to enter camp with enough familiarity to help the first practice run smoothly.
"To get some things installed and where we're at, I feel it's a fine starting point," Leipold said.
Pleased as he felt about what Day 1 of the team's two-week camp looked like on the field, Leipold said there wasn't any one play or thing that he saw that stood out to him as a flashbulb moment.
Rather, over his previous 14 years as a head coach, Leipold said he's found it suits him best during practices to monitor how the players are moving around and what's happening in between drills, plays and periods. He wants to make sure the "discipline and the strain" is on display from the players in every moment.
Once he got a chance to review the day's practice footage, the coach added, he may have a "wow, that was pretty darn good" moment to carry with him into the next day of camp. Leipold said during his media session, what came next for him and the KU staff in the hours that followed is "why coaches get paid."
"And that's to watch film, evaluate, make corrections and find a way to get them better," he explained. "All we're asking our guys: be coachable. We're not going to coach effort here," Leipold said on more than one occasion. "That's a given. If you're not going to strain and give great effort, it's going to be tough to get on the field in this program."
It's during those hours of video review that Leipold and his assistants typically learn the most about their players. But the head coach admitted he rarely comes out of those informative meetings feeling upbeat.
Leipold often looks at it this way: "When there's a great play on offense, that means something didn't go well defensively. And when the defense is doing a really good job, 'Where are you at, offense?' I've always struggled with that in camp and spring."
The coach added he tires to take to stay "Switzerland" and be neutral no matter what he sees before turning to his coaches to hear their thoughts.
While the progress of KU's offense, defense and special teams obviously are important to Leipold, he said each day at practice he's also keeping his eyes on a number of other areas.
"I want to see who's accepting coaching, who's taking it and moving on," he said. "Let's flush it, let's go, let's not defend what happened (after a mistake). Let's get on it, and then when we get in these meeting rooms in a few hours, then we have a chance to really get better."