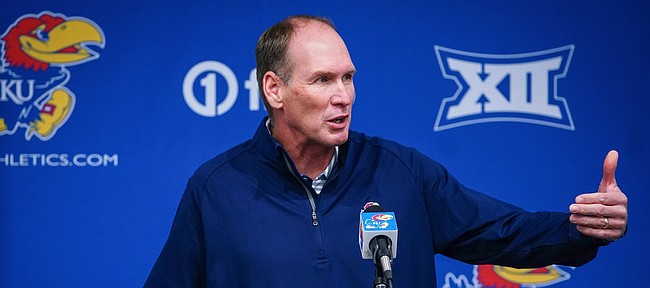 The most crucial stretch of Lance Leipold's first few months as Kansas football's head coach has arrived.
Leipold and his staff will have even longer to-do lists than normal on a daily basis from this point on, as the Jayhawks kick off preseason practices and begin gearing up for the 2021 season.
With both staff and roster turnover affecting the program since the end of a winless 2020 campaign, the first practices of the Leipold era come with questions aplenty.
Here are four key storylines to monitor in the weeks ahead, leading up to the Jayhawks' Sept. 3 opener versus South Dakota.
Just how different will this preseason look?
The timing of Leipold's hire was less than optimal in terms of fully preparing a program for the fall season.
Leipold's first day in Lawrence at the end of April came on the same day that the Jayhawks wrapped up their spring practice schedule. Much of the groundwork Leipold, his coordinators and staff typically would lay in the spring during practices had to come instead during the summer through video study and meetings.
Now it's finally time for actual plays and drills to be implemented on a field during practices. This figures to be a uniquely challenging situation for Leipold and the KU coaching staff, particularly because they didn't exactly inherit a program that was humming along without any issues.
As Leipold has mentioned this summer, he will be intently watching most of the Jayhawks play in person for the first time during the team's opening preseason practice on Thursday. How does a new staff — even the holdover assistants are new to working with Leipold — evaluate and install and do everything else it typically would do in the spring just a few weeks before the season begins?
The Jayhawks' 2021 season was going to be demanding for Leipold and his staff regardless, given the state of the program. How they navigate this situation could determine how competitive KU is during the first few weeks of the season.
Where does offensive coordinator Andy Kotelnicki turn for production?
It's no secret the KU offense struggled mightily in 2020, with inferior offensive line play often its affliction. It's been Kotelnicki's job since he got to Lawrence late this past spring to figure out how to fix the offense.
Part of what made Buffalo successful under Leipold and his staff in recent years was Kotelnicki's ability to adapt. If UB's personnel was going to thrive in the passing game, then the Bulls played to those strengths. If the next year it made more sense for Buffalo to lean into its rushing attack, so be it.
One would think the 2021 Jayhawks might be more likely to be a rushing team, given their depth at the running back position, which features junior Velton Gardner, sophomore Daniel Hishaw Jr., redshirt freshman Amauri Pesek-Hickson and freshman Devin Neal.
To do that effectively, though, the Jayhawks would also need a vastly improved offensive line. Kotelnicki knows and trusts O-line coach Scott Fuchs after their time together at UB, and the Jayhawks now have a pair of former Buffalo O-linemen in the group, with veteran center Mike Novitsky and redshirt freshman Michael Ford Jr. transferring in. But will those additions alone allow the O-line to make a leap in the right direction?
KU also is opening camp without an obvious frontrunner for the starting quarterback job. So the Jayhawks have a lot to prove as individuals during the next few weeks in order for Kotelnicki to figure out which lineups and play calls he likes the most.
How vital will the Buffalo transfers be?
Novitsky, a two-year starter at UB and 2020 first-team All-MAC selection, could turn out to be the program's most important newcomer. And Ford is a promising young O-lineman who left UB's spring as the projected starer at left tackle. But the Jayhawks also could very well end up relying heavily on all six of their Buffalo transplants.
Junior linebacker Rich Miller, veteran defensive linemen Eddie Wilson and Ronald McGee and sophomore receiver Trevor Wilson, along with Novitsky and Ford, have been around the Jayhawks all summer for workouts, meetings and player-led practices. But now the former UB players will get to prove themselves as Leipold and the coaches observe.
The defensive line desperately needed some help this summer after projected starters Marcus Harris and Da'Jon Terry transferred to the SEC. Eddie Wilson and McGee will have a shot to show if they can replace that type of production up front.
While Miller and Trevor Wilson aren't necessarily plugging similarly gaping holes, they also play positions where the Jayhawks need help.
Will the former UB players' familiarity with Leipold's approach and his staff help them stand out and take on key roles?

What will become the defense's strength this year?
It's true the Jayhawks are bringing back their top four leading tacklers from the 2020 season — Kenny Logan Jr. (58 total tackles), Kyron Johnson (42), Ricky Thomas (42) and Gavin Potter (35). But the defense lost much of its identity with the transfer portal departures of Harris, Terry and the team's breakout star of this past fall, starting cornerback Karon Prunty.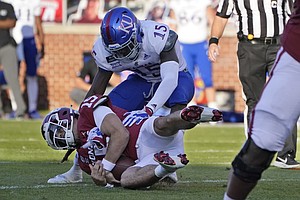 As defensive coordinator Brian Borland takes over, and converts to his preferred 4-3 base defense, he'll be trying to find out which Jayhawks are committed to playing hard, fast, physical and fundamentally sound football — and playing that way all the time.
A junior safety, Logan is a clear leader for KU's defense on and off the field, but with Prunty and others gone from the 2020 secondary, there are no guarantees that the backs will be the defense's strongest point.
KU's linebackers also are mostly unproven and/or have a long way to go to perform at a high level in the Big 12.
Can the D-line, with Eddie Wilson and McGee joining the likes of Jereme Robinson, Caleb Sampson, Caleb Taylor and others, emerge as a strong suit for the defense?
The preseason practices in the weeks to come could provide answers for a defense with a lot of questions.