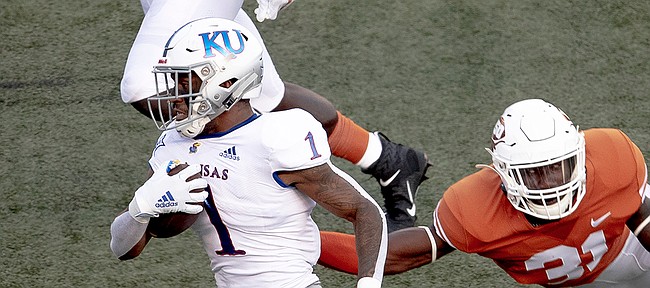 A native of New Orleans who spent a little more than two years of his life in Lawrence, former Kansas running back Pooka Williams will learn this weekend where his football skills will take him next.
"My dream's finally becoming a reality," Williams said recently, looking ahead to the 2021 NFL Draft.
One of the most impactful offensive players for the Jayhawks in the past decade, Williams, who entered this year's draft early as a junior, rushed for more than 1,000 yards in each of his first two seasons at KU.
It was long before then, though, that Williams began fantasizing about making it to the NFL one day.
"People were always telling me my speed was going to carry me a long way," Williams told reporters in March, following his pro day at KU. "And once I got to middle school, it was like, 'I'm actually good at football.' Then I got to high school, and it was like, now I've really got to start taking this seriously."
At Hanhville High (La.), Williams turned into a four-star prospect and eventually became the biggest name in KU football's 2018 signing class.
Although his final college season lacked the production of his first two with the Jayhawks and Williams opted out after four games in 2020, the abilities he displayed while in a KU uniform could get him selected late in the seven-round draft (rounds 4-7 will be on Saturday).
At KU's pro day in March, Williams was measured at 5-foot-8 and 1/2 inches — a little smaller than his roster listing of 5-10 — and weighed in at 175 pounds. Some draft experts think his smaller stature detracts from his overall value.
Dane Brugler of The Athletic rated Williams as the 19th-best running back in the draft class, and projected him as a seventh-round pick or preferred rookie free agent.
In ESPN.com's best available rankings, Williams also is listed as the No. 19 running back. He's the 234th overall prospect on the board in a 259-pick draft.
NFL.com gave Williams a prospect grade of 5.52, which according to its system, means Williams is the caliber of player who is considered to have a chance at landing an end of the roster spot or on a team's practice squad.
When asked what he had heard about his draft stock and what round he might end up going in, Williams said that didn't matter to him.
"Nah, I don't really play with the media about that," he replied. "It's just like I said, it is what it is. And whenever I do get drafted, they call my name, I'm going to prove myself, no matter what round I go."
According to Williams, the skills he possesses that translate best to the next level are his route running, hands and "the attitude I bring toward the game."
He hopes that he could become a punt returner, slot receiver or running back — if not all three — in the NFL.
"I'll do all of that," Williams said. "That's my game."
Once Williams shut down his 2020 season after four games — he was averaging 49 rushing yards and 3.8 yards per carry for the struggling KU offense at the time — he began training for the draft. First, he returned to Louisiana, and worked out in Baton Rouge. Williams also traveled out to Las Vegas ahead of his pro day, and worked on his 40-yard dash starts, among other drills in his strength and conditioning sessions.
During the 26 games in which Williams played over the course of two seasons and some change at KU, the Jayhawks went 5-21. The NFL hopeful acknowledged playing for a program that doesn't win often makes him an under the radar prospect in this draft.
"But it's like the underdog always comes out on top," Williams said. "At the end of the day, I signed up for it. I came to Kansas and that's what it is. I'm actually glad I'm an underdog."