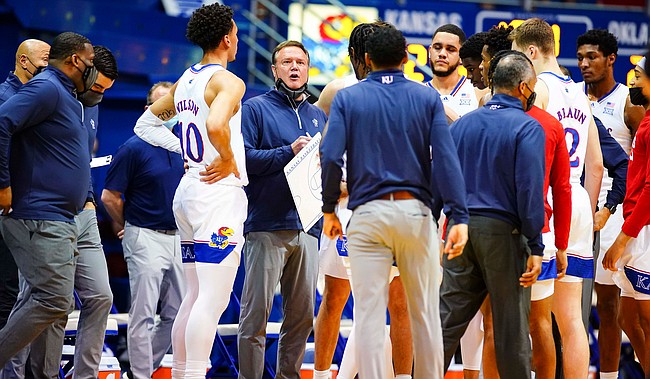 Kansas basketball coach Bill Self said Wednesday that he was in no hurry to permanently fill the open spot on his coaching staff made available by the departure of Jerrance Howard to Texas.
But he is encouraged by the response he received when the job came open.
"It has been very, very uplifting and surprising to know the pool that would be interested in coming here," Self said Wednesday following new KU AD Travis Goff's introduction at the Lied Center. "I mean, very. So that is exciting to me."
For now, Self is moving video coordinator Jeremy Case into the role of KU's third assistant — behind veterans Norm Roberts and Kurtis Townsend — and letting the staff operate from there.
"We'll watch and see how it goes with him there," Self said. "But we'll also be fielding a lot of calls and (will) talk to some folks."
In addition to being pleased by the identity of those who have expressed interest in joining his staff, Self said the opening presents another opportunity for self-scouting and internal improvement, as well.
"People have to evaluate their staffs, and you do it based on, what do we need," he said. "I'm happy for Jerrance, but I think it's also an opportunity to fill some areas where we can get better in, too. So I just have to evaluate it."
The fact that the NCAA has extended the current dead period through May 31 takes some of the urgency out of making a decision, which both gives Case a chance to prove himself and Self a chance to build a strategy that's best for the program.
"I'm in no hurry," he said Wednesday. "I mean, I could go through the summer on this. We don't even know if we can go out this summer. Recruiting has changed so much. It's out of the (transfer) portal."
With three players from last year's roster departing so far — Tyon Grant-Foster, Tristan Enaruna and Gethro Muscadin — and the potential for more to come, Self already has tapped into the transfer portal to fill two of those spots.
Three-time Division II All-American Cam Martin committed to Kansas last week after announcing he was transferring from Missouri Southern State University. And, on Wednesday, the Jayhawks picked up a commitment from Drake guard Joseph Yesufu, as well.
Those additions, along with another recent commitment, from prep guard Bobby Pettiford Jr., filled the Jayhawks' scholarship allotment for the 2021-22 season as of Wednesday night.
However, if another player were to transfer out or decide to enter the NBA draft with the intention of leaving school, either would open up another spot, which could become important since KU remains in the mix for prep guard Ty Ty Washington and Creighton transfer Christian Bishop.
Self appears to be bracing for more changes to the roster.
Wednesday afternoon, he said he thought "there could be some news here in the next short period of time." And Wednesday night, on his "Hawk Talk" radio show, Self said his program had "a lot of balls in the air," and was dealing with some "unknowns" in terms of declaring for the draft and the transfer portal.
"But of those are things you go through basically on a yearly basis," he said, adding earlier that, "nothing would surprise me."