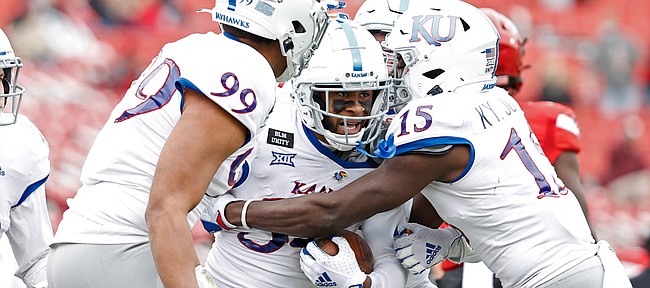 Although he started in the secondary for Kansas in six of the final seven games of 2020, Nate Betts headed into the offseason looking for a way to make even more of an impact during his final year with the Jayhawks. And his search led him to a new job entirely.
"I asked around, I asked the coaches to see what position they felt like was best for me, like my body type and the way I play, my skill set," Betts recalled this week, amid the start of spring practices. "Everybody gave me confirmation linebacker was the prefect choice for me."
KU's linebacking corps thinned last year, due to injuries and Dru Prox opting out. And once linebacker Denzel Feaster decided after the season to transfer and Prox left the program, Betts was needed even more.
"I kind of wanted to help the team," Betts, a super-senior returning for a bonus season, said of the driving force behind his switch from safety to linebacker.
It wasn't until last fall, during Betts' third year at KU, that he finally broke through as a significant contributor. A former junior college transfer from Blinn Community College (Texas), where Betts played from 2016-17, before redshirting at KU in 2018, Betts made eight total tackles late last season at Oklahoma, and had a career day in the 2020 finale at Texas Tech in December.
In a 16-13 loss to the Red Raiders (KU's most competitive game of the season), Betts had his first career forced fumble in the first half and his first career fumble recovery in the second half.
After finishing his senior season with 25 total tackles (15 came in the final three games), Betts said his strong finish taught him some valuable lessons.
"Once you step inside those white lines, just play. Don't worry about anything else, anything outside," Betts said of what he discovered. "Previous games I was really just thinking too hard and stuff like that. Once I got in and started playing, I was like, 'I'm just about to let loose.'"
That's the frame of mind Betts hopes to bring with him as he adjusts to playing a new position this spring and taking on new responsibilities.
"It's actually been fun," Betts said of moving to linebacker. "There's a lot of things that I've got to learn, but I feel natural there. It's been good these past few days."
KU junior safety Kenny Logan Jr. commended Betts for his versatility and what the veteran from Kerens, Texas, provides for the defense.
"He brings a lot of energy, speed to the linebacker position and he's going to help us tremendously at that position," Logan predicted.
For Betts, many of the aspects of defending from the inside linebacker spot come instinctively at this point of his career.
"Playing physical, going against running backs, taking them head on, things like that, that's no challenge to me," Betts said.
Even so, he admitted some of his new job requirements come with more demands than what he used to do in the secondary.
Betts wants to be "more physical" when his assignments and pursuits lead him to encounters with offensive linemen.
"They're the bigger guys," Betts said. "So they're the ones I've got to really finesse."
Some aspects of his off field preparations proved more taxing than others, too. The strength and conditioning work for playing linebacker wasn't a problem, Betts shared.
"I was already strong," he said. "I've always lifted heavy, tried to get bigger."
What wasn't easy, though, was "eating a lot," as a means to add weight to his frame.
With so many personal changes typifying Betts' final year with KU football, he picked out a new jersey number, as well. Instead of the No. 34 Betts wore the past few seasons, he'll throw on a No. 0 this time around.
"I just felt like it's a new me," Betts said. "A new start. A new position. A new number. Everything's new, so I feel like I'm starting from ground zero."
KU linebackers on 2021 spring roster
• Nate Betts, 6-1, 204, super-sr.
• Gavin Potter, 6-2, 222, jr.
• Taiwan Berryhill, 6-2, 220, so.
• Krishawn Brown, 6-1, 206, RS-fr.
• Nick Channel, 6-0, 214, jr.
• Jay Dineen, 6-2, 232, sr.
Listed as outside LBs
• Kyron Johnson, 6-1, 233, super-sr.
• Steven Parker, 6-4, 222, so.
• Alonso Person, 6-3, 210, RS-fr.
• Hayden Hatcher, 6-2, 225, sr.
• Dylan Downing, 6-1, 235, so.