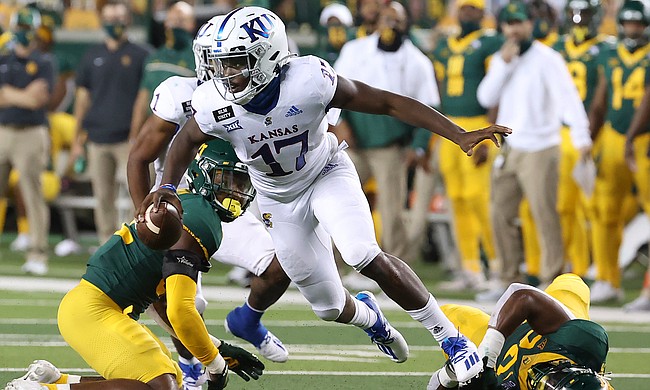 Jalon Daniels has taken a lot of snaps at quarterback during his life, but until Saturday night he had never called out the snap count or led an offense as a starter in college.
As such, the true freshman from Lawndale, Calif., spent quite a bit of the spring and summer preparing for precisely that moment, as much as a leader as the player who throws the passes.
"If you're going to be the leader of the team, the whole team has to be on your side," Daniels told the Journal-World this summer in an interview from his home before his arrival on KU's campus.
Leadership, to Daniels, means more than being the one who runs the offense or sets the tone with his effort and energy. It also means having a voice that people can follow.
Even at just 17 years old — he won't turn 18 until Oct. 29 — Daniels said he knew that having a voice that KU's veterans would respond to would be challenging during the early days of his KU career.
So he decided to spend the preseason locked in on something he learned from Michael Jordan while watching "The Last Dance" documentary this summer.
"One thing he said that really stood out to me was, when you first come in, you don't have the voice to take control so you have to do it with your game," Daniels recalled of Jordan discussing his rookie season. "That first year, I feel if you come in and put your talents on the field and you show everybody what you can do, that's when you get that voice that you need to have the leadership."
It appears to be working.
Said KU running back Pooka Williams Jr. after Saturday's loss to Baylor, which Daniels started and finished 19-of-33 passing for 159 yards: "He's just doing everything a veteran would do."
While Daniels' final stats from his first start certainly do not jump off the page, they only tell half of the story.
Throughout Saturday's game, one could see signs of the young quarterback emphasizing his leadership skills. Whether that came in the form of him encouraging his teammates after busted plays or by showing his fearless nature, clapping furiously after taking a vicious hit while sliding early in the game, Daniels made it clear that being involved with all of his teammates was important to him.
"I feel like if I bring that hunger, everybody's going to be as hungry as I am," Daniels said this summer. "If we want more wins, we all have to have that hunger."
Daniels' two favorite quarterbacks — Green Bay's Aaron Rodgers and Seattle's Russell Wilson — have shown plenty of that throughout their careers. And Daniels always paid attention.
"Aaron Rodgers was the reason I decided to play quarterback," said Daniels, who grew up playing for a Pop Warner football team called the Packers. "He always showed that hunger to get the game over with and ended the games out strong and I always loved that."
And the 6-foot, 200-pound KU quarterback said it was Wilson's size — 5-11, 215 — and ability to scramble around and make plays that caught his eye.
"That's something I've been working on my whole entire life," Daniels said of making plays with his feet.
Although Saturday was his first try as a starter at the college level, being in this position is nothing new for Daniels.
After his sophomore year of high school at Narbonne High, Daniels transferred to Lawndale High and found himself starting from Day 1 after Lawndale's top returning QB moved to wide receiver in the 2018 offseason.
As excited as Daniels was for the opportunity, he knew it would take some time to win the trust of his new coaches and teammates.
"Nobody knew me," he said. "Not one person knew me."
Daniels quickly proved that the unfamiliarity was a non-issue by letting his play introduce him.
In addition to throwing for 2,300 yards and 26 touchdowns as a junior, Daniels ran for 940 yards and 10 more touchdowns, helping lead Lawndale to a state title. He scored the game winner in the state title game on a 16-yard run with 2:01 to play, capping off of a 14-2 season.
A year later, Daniels led Lawndale to a 9-3 record and finished his prep career at 23-5 in two years as a starter and with a 4.0 grade-point average as a student.
Despite all of that success, Daniels said he always viewed his transition to Kansas as starting over and never expected anything to be easy.
He admitted to enjoying hearing the talk from Kansas fans about him potentially being KU's quarterback of the future, but also noted that he had a lot of work to do to earn that opportunity.
It remains to be seen what Daniels' role will be the rest of the season for Les Miles' football team.
Daniels was not made available after Saturday's game because of KU's policy that prevents freshmen from doing interviews during the season, but Miles said his freshman QB "could" start again next week, when the Jayhawks host Oklahoma State. But the KU coach also acknowledged that Week 1 starter Thomas MacVittie and junior Miles Kendrick also remain options at the position.
Provided his mentality has remained what it was before he came to town, Daniels figures to be happy with whatever comes his way.
"I'm coming in to compete with everybody," he said this summer. "It's exciting to know that I could be one of the starting guys, but at the end of the day it's a competition and I'm a competitive person and my mindset has always been that I want to compete with the best."