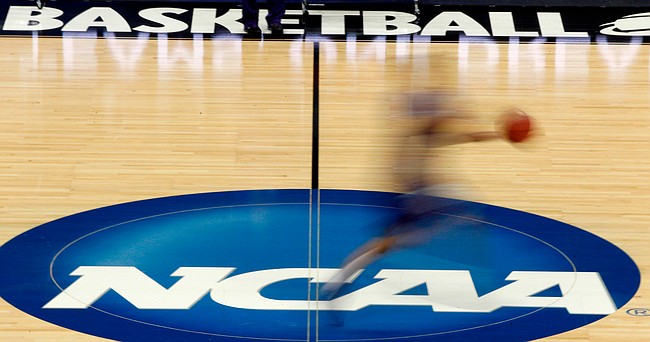 Nineteen days before the official start of practices for the 2020-21 college basketball season, the NCAA has released its first set of COVID-19 testing guidelines for the upcoming season.
The NCAA is suggesting that all members of a college basketball program's "inner bubble" — also known as Tier 1 individuals — be tested three times per week on nonconsecutive days during the regular season and postseason competition periods.
The recommendation is for the three-times-a-week testing to begin one week before a team's first competition.
Earlier this month, the NCAA announced Nov. 25 as the official start date for the 2020-21 season, but many programs, including Kansas, remain in the process of putting together their revised schedules for the upcoming season.
Testing during the preseason, which runs from the first official practice date of Oct. 14 through Nov. 24, is recommended once a week.
"This basketball resocialization guidance is based on the best information available in a rapidly changing COVID-19 environment." NCAA President Mark Emmert said in a news release Friday. "It is predicated on the assumption that rapid testing capabilities will be readily available later this year. We will constantly assess emerging information as we prepare for the start of the basketball season at the end of November."
Friday's guidelines also addressed basic risk mitigation practices, quarantine and isolation requirement, the need to separate the bench used by Tier 1 individuals during competition from all other people present and travel considerations for the 2020-21 season.
"These considerations include, among others, travel protocols that maximize the opportunity for physical distancing and call for universal masking for all individuals traveling; the availability of alternative travel by private car, van, chartered bus or chartered plane; proper communication of all travel rules, protocols and expectations to everyone in the travel party; prepackaged meals, room service, takeout and outdoor dining options as alternatives to inside restaurant dining; and, when feasible, traveling and playing on the same day to avoid overnight stays."
The latest guidelines also recommend that a program's travel party be limited to 30 people or fewer.
As has been standard throughout the past several months, the NCAA document also reminds that schools "should continue to work with appropriate public health officials and consider pausing or discontinuing athletics activities" if a university is unable to isolate new positive cases or quarantine high contact risk cases; if pre-competition surveillance or testing is not possible, in the event of unsuccessful contact tracing or if local test rates or hospitalizations reach the point of being deemed unsafe by local health officials.
"The guidelines reflect recommendations from collaboration with the NCAA COVID-19 Medical Advisory Group, which features representatives from across the membership," the NCAA's Chief Medical Officer, Brian Hainline, said in Friday's news release. "We will continue to work with them and others from the Association in safeguarding student-athlete well-being."