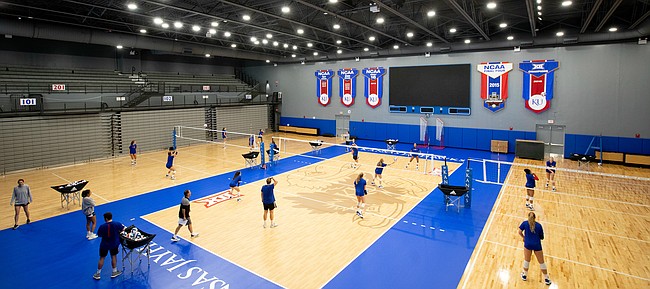 The upcoming Kansas volleyball season won't have an NCAA tournament berth on the line, but KU coach Ray Bechard said recently that you'd never know that from watching his team practice and prepare this preseason.
"We're just going full speed ahead until somebody tells us something different," Bechard said in mid-August.
In early August, the NCAA announced that all nonfootball fall sports championships had been called off in response to the ongoing challenges presented by the COVID-19 pandemic.
As a result, the biggest trophy Bechard's Jayhawks will be playing for this fall is a Big 12 title. But for a program that only recently celebrated its first trip to the Final Four (2015) and first Big 12 championship (2016), the veteran KU coach said that challenge provided more than enough incentive.
"The NCAA tournament's (normally) a big piece of our motivation," Bechard said. "But, given the circumstances and knowing there's only a small percentage of teams still getting to compete, I think there'll be some gratitude for that. Because in the Pac-12 and Big Ten, they're not even getting that opportunity."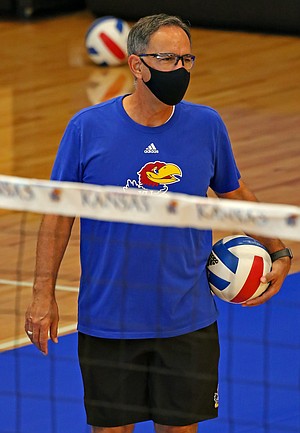 The 2020 season opens Friday with KU hosting Baylor in the first of two matches against the Bears this week.
Loaded with newcomers and returning talent, the 2020 Jayhawks are 17 players deep entering the season. While some of those are freshmen and transfers playing at KU for the first time, Bechard said all of them would have a chance to contribute.
"Our depth is certainly going to be a strength," Bechard said. "There's a lot of times where you say there are three or four players who are just not ready to help you, but that's not really the case for us."
In all, 10 newcomers will be with the Jayhawks this fall, joining seven returning players on a roster packed with potential.
Seven of those 10 new faces will be freshmen — including the Big 12's preseason freshman of the year, Caroline Crawford — and the other three are high-impact Power Five transfers: Jenny Mosser, a senior outside hitter from UCLA; Paige Shaw, a junior outside hitter from Mississippi State; and Anezka Szabo, a junior outside hitter from Nebraska.

All of those new faces have Bechard believing the Kansas offense will have a chance to be more versatile in 2020.
"We've got some pretty live arms," Bechard said. "And we can spread out our attack, so there's been some good things there."
Senior setter Sara Nielsen and redshirt freshman outside hitter Riley Foltz have shown the most consistency in terms of leading the 2020 squad. But Bechard said those two were not the only natural leaders on KU's roster.
"Really, all of our returners have been leaders for us," he said. "The newcomers have felt very welcome and very comfortable, and that's helped us get after it pretty good during the first couple of weeks of practice."
Despite the appearance of face masks at practices and regular discussions about the pandemic, Bechard said he was impressed by his team's poise and tenacity in the early going.
They're excited to play, he said, and they're viewing the 2020 season as a bonus rather than a disappointment. That vibe extends to the longer-than-normal preseason — normally, the Jayhawks would already have been competing by now.
"We've got more time this year, so we're going to use it to our advantage," Bechard said. "I haven't really sensed any of our players having anxiety over the safety of competing and playing.
"We've told them in the past your responsibility to the program starts when you leave the gym and, boy, that's never been more relevant than it is now."
More like this story on KUsports.com