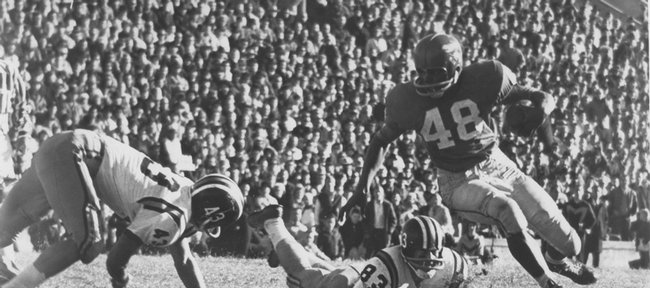 As memories and stories of Gale Sayers' time with the Jayhawks came pouring in following his death Wednesday morning, the Kansas athletic department announced plans for a more permanent tribute in the near future.
In a statement released a few hours after Sayers' passing was announced, KU Athletic Director Jeff Long revealed that a statue of Sayers would be unveiled at David Booth Kansas Memorial Stadium during halftime of KU's home game against Oklahoma State on Oct. 3.
"It is a long overdue honor and will be a bittersweet ceremony," Long said in the statement. "But this will allow us the opportunity to forever immortalize another KU football legend."
A two-time All-American at Kansas before producing a Hall of Fame career in the NFL with the Chicago Bears, Sayers concluded his KU career with 2,675 rushing yards and 3,917 all-purpose yards.
According to Long, Sayers' No. 48 is one of just three numbers to be retired by the KU football program. And although he will not be on hand to see the unveiling of the statue, Long said Sayers was aware of KU's plans to honor him with the statue.
"Thankfully, Gale was able to be involved throughout the sculpting process and had a chance to see photos of the finished statue," Long said in the statement.
Like many associated with the game of football, current KU coach Les Miles was a Sayers fan.
"I cherished every opportunity to watch him play and I am privileged to coach in the stadium that he once played in," Miles said in a statement. "He had a remarkable impact on the game of football and the University of Kansas, and my thoughts and prayers go out to his family."
Added Long, who called Sayers "one of the greatest, if not the greatest, players to ever wear a Kansas football uniform: "His achievements on the field are well documented and he certainly left his mark on the KU football and NFL records books, but Gale Sayers was far more than a football player. He is one of the finest men to ever grace our program. We are so proud of the way he represented our university and the entire state of Kansas."
More like this story on KUsports.com