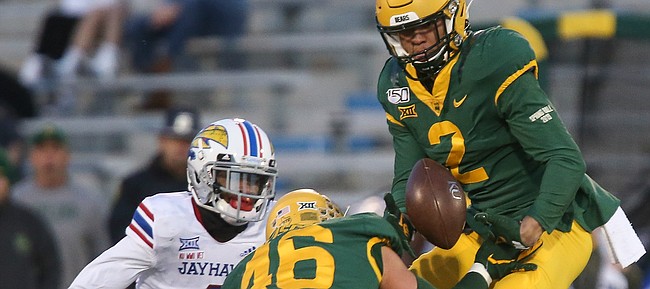 In advance of the Big 12 launching into its pandemic reduced 2020 football schedule, it lost its debut game. Commissioner Bob Bowlsby admitted at the time he didn't think the TCU-SMU matchup that was scheduled to kick off the season Sept. 11 would be the last game to fall by the wayside due to the COVID-19 crisis.
And Bowlsby was proven right long before the Big 12 even reached its late September weekend of conference openers.
Baylor's nonconference meeting with Louisiana Tech was called off the Tuesday of game week, four days before it was supposed to be played, due to positive virus tests among the Bulldogs. That was just the beginning of Baylor's problems.
BU adjusted quickly, scheduling a marquee nonconference game with Houston for this weekend. But those plans were dashed, too, as Baylor announced Friday that game also would be postponed, this time because the Bears didn't meet the Big 12's COVID-19 thresholds for playing.
Reports on Friday, including from Sports Illustrated's Ross Dellenger, indicated Baylor's positive tests and contact tracing led to the Bears not having enough offensive linemen (seven at minimum) available to play versus Houston.
Whether the positive tests with the Baylor football program lead to lengthy quarantines that will impact the Bears' ability to play host to Kansas on Sept. 26 remains to be seen. The game, which now becomes BU's new season opener, is scheduled to kick off at 6:30 p.m. on ESPNU.
Should the game need to be rescheduled, both KU and Baylor have an open date Oct. 10, as part of the Big 12's plan this year involved extra bye weeks to accommodate postponements.
As pointed out by the Associated Press' Ralph D. Russo, 16 FBS games already have been postponed or canceled since Aug. 26.
A quarter of those have involved a Big 12 team: SMU at TCU, Tulsa at Oklahoma State (delayed one week from its original Sept. 12 date), Louisiana Tech at Baylor and Houston at Baylor.
Even while predicting the instability of his conference's football calendar, Bowlsby said days before the Sept. 12 season openers that the league was only a few steps into a long journey. But Bowlsby touted the Big 12's testing plans, mitigation procedures and best practices for following up on positive tests as his reason for optimism.
Big 12 football teams are required to test for COVID-19 three times a week. If a player tests positive, heart-related testing measures are required before he can be cleared to return.
"As much as there continues to be uncertainty," Bowlsby said recently, "and as much as there continues to be a somewhat foggy future for all of us, not just in the sports realm but in our society at large, I feel like we're in the best position we could possibly be in and feel very good about the leadership of the conference."
When the Big 12 landed on its thresholds for game cancellations this year, Bowlsby said it received guidance and input from its athletic directors and coaches. The league decided a team must have 53 players available, as well as at least seven offensive linemen, four interior defensive linemen and one quarterback. If all of those thresholds are met for both teams, a game can be played.
Bowlsby said the line positions were singled out in the framework for obvious reasons.
"You're not going to take a reserve receiver and put him in at guard. And you're not going to take a fullback and have him play tackle," Bowlsby said. "People get hurt when things like that are done. Those are highly specialized positions with highly specialized skills that go along with them. And the people that play them in the trench are very physical."
Ahead of his KU football team's season opener versus Coastal Carolina, head coach Les Miles was optimistic that the thresholds the Big 12 put in place would allow teams to play all of their 10 games.
"It doesn't say the starting quarterback that you started the season with. It says you need to have one to start the game," Miles said. "To me they're giving you every chance that they can to come to the field with a team and play."
Unlike the plan the SEC unveiled this week, which calls for 53 scholarship players to be available, the Big 12's 53-man minimum includes walk-ons.
According to Bowlsby, the Big 12 did it that way because "we think every player on our roster is important."
He added: "They all practice and they all can participate and they all understand how to play the game and have played the game."
If it so chooses, a Big 12 team has the option of playing anyway, even if it doesn't meet the thresholds of 53 players, seven O-linemen, four D-linemen and one quarterback.
"But there also is the opportunity to say let's postpone it," Bowlsby said, "and we'll try and reschedule. And if it turns out we can't reschedule it will be a no contest."
A no contest doesn't impact the win-loss totals for teams. Rather any team involved in such a scenario would simply have one less game on its schedule.
FBS games canceled/postponed since Aug. 26
(via AP's Ralph D. Russo)
N.C. State at Virginia Tech
Marshall at ECU
Louisiana-Monroe at Troy
SMU at TCU
Tulsa at Oklahoma State
Temple at Navy
Louisiana Tech at Baylor
Rice at Marshall
UAB at Rice
Virginia at Virginia Tech
Houston at Memphis
BYU at Army
Central Arkansas at Arkansas State
Charlotte at North Carolina
Florida Atlantic at Georgia Southern
Houston at Baylor