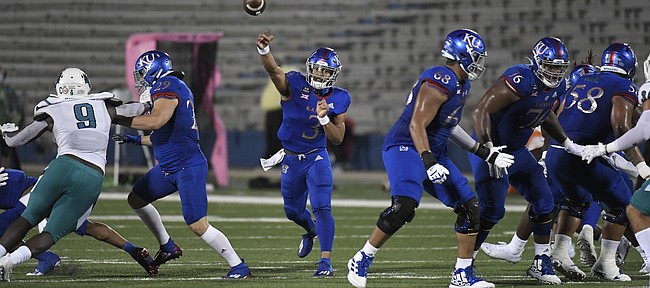 If there was one thing for Kansas football's offensive players to at least feel somewhat positive about following a season-opening home loss to Coastal Carolina, it was the assertive approach their coaches took on 4th downs and 2-point conversions during the Jayhawks' failed rally.
Over the course of the second half, KU went 2-for-3 on 4th downs (and picked up another thanks to a penalty). And as the Jayhawks tried to catch up with the Chanticleers, they went 1-for-3 while going for 2 instead of kicking an extra point.
"I liked it a lot," senior KU receiver Kwamie Lassiter II said of the method late in the game, "just because it showed we're not scared, really."
Ultimately, those decisions to keep the offense on the field instead of subbing in the special teams units fall on KU head coach Les Miles.
How he reaches a verdict in those situations, Miles said after the Jayhawks' loss to Coastal, comes with the help of an analytical book he and the staff have referenced to have a feel for various percentages they should take into account.
"The opportunity to go for 2," Miles said of the three times the Jayhawks did so in their debut, "was certainly the right call."
---
---
KU's 2-point attempts vs. CCU
• 3Q, 2:29 — Kwamie Lassiter catch from Miles Kendrick makes it 28-11
• 3Q, 0:04 — Miles Kendrick incomplete pass for Takulve Williams keeps it 28-17
• 4Q, 7:00 — Miles Kendrick incomplete pass for Kwamie Lassiter II keeps it 35-23
---
---
KU already was in a deep 28-9 hole immediately following its first touchdown of the night, when Miles and the staff decided to go for 2 and successfully made it 28-11 on a Miles Kendrick pass to Lassiter.
The Jayhawks opted for 2 on each of their ensuing two touchdowns, as well. They were down 11 in the final seconds of the third quarter when their next 2-point attempt failed. They trailed by 12 with 7 minutes to go in the fourth when their last crack at an extra 2 points went by the wayside.
As pointed out in a popular article published by Five Thirty Eight a few years ago, when a team goes for 2 should depend on a number of factors, "including point margin, the time left in the game and how good your team is at 2-point conversions."
Although the article was written about NFL teams, it suggested based on that data that going for two creates a better win probability when a team is down by 11. Although different figures would go into the math of whether KU should go for 2 down 11 — Miles said the analytical recommendations in his book are derived from KU's statistics — that's the conclusion he reached, too, when it was 28-17.
Miles said he used a different chart for such situations before he took over at KU, but started using a specific analytics book in 2019 that he and his assistants continue to reference this year.
The head coach called his current attitude on such matters "different" than the way he used to think about 2-point conversions and 4th downs.
"They predict whether or not you're gonna get a second chance and where you should place yourself in this continuum," Miles said. "As much as I hate it, I enjoy it, because I think it gives the view of what you should do soundly. We use it."
KU players such as senior receiver Andrew Parchment, who caught his third-quarter touchdown on 4th and 5, appreciate the strategy.
---
---
KU's 4th down conversions vs. CCU
• 3Q, down 28-3 — 4th and 1 at CCU 47: Daniel Hishaw 1-yard run for 1st down
• 3Q, down 28-3 — 4th and 5 at CCU 14: Andrew Parchment 14-yard TD catch from Miles Kendrick
• 4Q, down 35-17 — 4th and 10 at CCU 15: pass interference and 1st down on Miles Kendrick incomplete pass to Takulve Williams
• 4Q, down 35-23 — 4th and 15 at KU 10: Lawrence Arnold 5-yard catch from Miles Kendrick (turnover on downs)
---
---
"It just shows that (offensive coordinator Brent) Dearmon, (receivers coach Emmett) Jones and Coach Miles, everybody on the offensive side," Parchment said, "believes in us to go for it on 4th down and also go for it on 2 points."
Miles didn't mind admitting it took some convincing for him to come around to the new way of thinking about 2-point conversions and 4th downs.
"When they say it's 4th down and you can go for it on 4th and long, I think to myself, 'This may be the one page that we need to take out of the book,'" Miles joked. "I still think and still have real strong feelings that that's the right way to do it."
The way KU's opener played out, Kendrick ended up being heavily involved in the Jayhawks' assertive offensive plays, throwing three 4th-down passes and making three other passes on 2-point conversions.
Kendrick said he had "full trust" in KU's coaching staff to make the right calls.
"I like being aggressive," Kendrick said. "I think we were in a position where we needed to be aggressive in order to get a little bit of momentum and cut a lead."