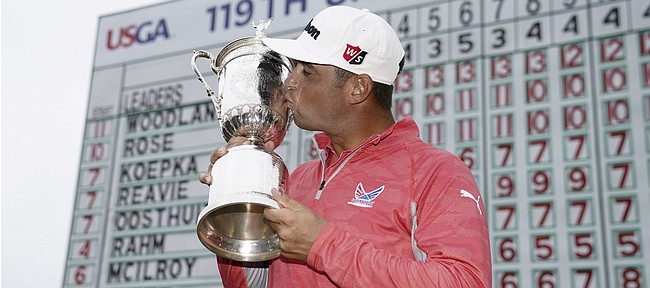 Former University of Kansas golfer Gary Woodland is in New York this week, preparing to defend his U.S. Open crown at Winged Foot Golf Club.
But before moving on to make new memories of what he hopes will be another run to claim the U.S. Open Championship Trophy, Woodland received a special surprise to kick-start his Tuesday practice round.
As he went to tee up his ball on the first hole of the Winged Foot West course, Woodland looked to his right and saw a friendly face appear on a large screen just off the tee box.
It belonged to Amy Bockerstette, a friend of Woodland's who became known throughout the golf world during his run to the 2019 U.S. Open title for her support and words of encouragement that included the tweaking of her signature phrase, "I got this," to "You got this" in support of Woodland.
The junior college golfer with Down syndrome who first met Woodland at the Waste Management Phoenix Open in 2019 as part of a Special Olympics outing, introduced Woodland for his practice round on Tuesday, instantly bringing a smile to Woodland's face.
"Please join me in welcoming to the tee the 2019 U.S. Open champion, the pride of Topeka, Kansas and my best friend, Gary Woodland," Bockerstette proudly said.
In a short interview with a USGA reporter after his tee shot, Woodland's smile returned to his face.
"That was awesome," he said. "She had sent me a video wishing me good luck, but that's way better. Her energy is contagious, it put a huge smile on my face and I'm glad to call her a friend."
Asked at the conclusion of the interview before heading off to play his Tuesday practice round, Woodland was asked if he felt good about his chances this week at golf's second of three majors in 2020.
His answer?
"I got this," he said as he began to walk down the fairway toward his ball.
Originally scheduled for mid-June but postponed to this week because of the COVID-19 pandemic, Woodland has been able to enjoy the title of defending U.S. Open champion a little longer than most golfers do in a given year.
His return to the course after the PGA Tour joined the rest of the sports world in halting play in mid-March, has been solid. In nine starts since the sport picked by up in Texas in mid-June, Woodland has made seven cuts and recorded two top-10 finishes.
He placed ninth at the Charles Schwab Challenge during the PGA Tour's first week back and tied for fifth at the Workday Charity Open in mid-July.
The 36-year-old Topeka native is currently ranked 43rd in the FedEx Cup standings and he enters the U.S. Open ranked 25th in the Official World Golf Rankings.
Woodland will begin his Open title defense at 12:05 p.m. Thursday, playing with Andy Ogletree and Shane Lowry in Round 1 and starting on the very same tee that Bockerstette introduced him at on Tuesday.