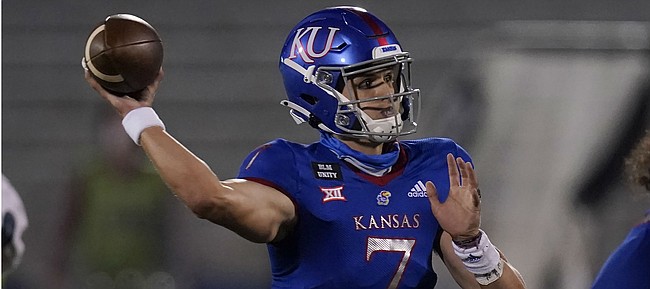 Les Miles' quarterback secret lasted about as long as possible, all the way up to a few minutes before his Kansas football team made its season debut Saturday night, when senior Thomas MacVittie was finally announced as the starter in KU's eventual 38-23 loss to Coastal Carolina.
Miles went out of his way to avoid giving Coastal Carolina any clues about who would get the job over the past several weeks, opting to not decide a winner in the competition — or at least not to announce it publicly — until the Jayhawks were about to take the field in front of a fan-less David Booth Kansas Memorial Stadium.
Even the pre-game video starting lineups announced both MacVittie and junior Miles Kendrick as starters.
KU made the announcement via Twitter six minutes before the game began.
MacVittie's first drive went for 41 yards as KU opened on offense. But the series ended in an interception when freshman receiver Lawrence Arnold got his hands on a 3rd-and-6 throw but couldn't bring it down.
MacVittie remained the QB for the second series, after the turnover. He completed his first two passes, but receiver TK Williams was hit hard on the second of those, as KU opened its season with back-to-back giveaways.
Kendrick came in to play QB on KU's third series, as KU indeed played multiple QBs, as Miles indicated earlier this week it would.
Robinson, others don't dress
The KU offense made its season debut without would-be starting receiver Stephon Robinson Jr. The speedy senior wideout was among the 39 players on the roster who didn't dress for unspecified various reasons.
"Wish I could be out there with my guys tonight," Robinson tweeted shortly after the game began. "Turn up for me."
Senior tight end Jack Luavasa, who was listed as a starter on the depth chart, also sat out.
Other possible contributors who did not dress were safety Valerian Agbaw, linebacker Taiwan Berryhill, running back Amauri Pesek-Hickson, linebacker Cooper Root and offensive tackle Nick Williams.
KU didn't announce before the game why players were out.
Even later start
The opener, originally scheduled to kick off at around 9 p.m., got pushed back by FOX Sports 1.
The nationally televised nonconference matchup didn't start until 9:20, allowing more time for the MLB game between the Chicago White Sox and Detroit Tigers to wrap up.
Social awareness talk
As part of the Big 12's "You See Us Differently" anti-racism campaign, teams can wear conference-approved social justice or unity messages on their uniforms.
In a video KU posted on its social media platforms this week, Athletic Director Jeff Long spoke with athletes about the importance of such messaging.
KU football senior receiver Kameron McQueen joined Paige Shaw from KU volleyball and Sam Barnett from KU soccer for the discussion.
Said McQueen: "I thought it was really encouraging that the conference and the university really wasn't turning a blind eye to what's going on in the real world. I feel like we can get caught up in the sports that we're playing and just the sports that we're playing and we forget about the athletes that are on the field are actually really human. It was really encouraging to see that they're giving us a voice and a platform to encourage change in the world."
Both the KU football and soccer teams chose to wear a patch for Black Lives Matter and "unity" on their uniforms.
"We felt it was important to take the politics out of what's going on with the Black Lives Matter statement," McQueen said. "We view it more as what it is, an actual statement, saying that Black lives actually matter. We felt that it was a good opportunity for us to put that statement on something that everybody sees, which is our jerseys."
McQueen said they wanted to include "unity" in their uniform messaging, too, because the roster includes players from various backgrounds.
"The page we're trying to get on is just everybody has equal rights, and fighting inequalities and social injustices in America right now," McQueen said.
Holani remembered
The Jayhawks' helmets for the opener featured a special new sticker on the back in honor of former defensive lineman Isi Holani, who died a few weeks back.
The decal read, "ISI," in all caps, with wings on each side of his name.
A native of Kaumana, Hawaii, the 6-foot-3 defensive tackle played for the Jayhawks from 2016 to 2018.
KU center Api Mane, who played one season with Holani, said recently Holani's unexpected death during the preseason had a "huge impact" on this year's team.
"There's a handful of guys who actually played with him in his last year at KU. Definitely brought all of us closer," Mane said. "Isi was a wonderful man and he lived an amazing life. Rest in peace to my brother."
Former RB McAnderson now sideline reporter
He wasn't in a uniform and pads bowling over defenders like he used to as a player, but Brandon McAnderson officially began a new stint with KU football on Saturday as the new sideline reporter for the athletic department's radio broadcasts.
"I have always loved the program and being a Jayhawk has always felt like family," McAnderson said in a release announcing his hiring. "To be a part of something great as a player and have the opportunity to cover the team now is a special opportunity."
McAnderson played for former KU coach Mark Mangino from 2003 to 2007 and was a team captain when the Jayhawks won the Orange Bowl.
As a senior, McAnderson rushed for 1,125 yards and 16 touchdowns as KU went 12-1. He's tied for fourth in the KU record books for career rushing touchdowns with 23.
CCU coach wished for kickoff change
For a small amount of time earlier this week, Coastal head coach Jamey Chadwell thought Saturday's opener versus KU might be played much earlier in the day.
"I wish they would have moved us to that (11 a.m.) kickoff, to be honest with you," Chadwell said earlier this week, referencing the time slot that ended up being filled by the Kansas State-Arkansas State game, after the Baylor-Louisiana Tech matchup was postponed.
Chadwell liked that the Chanticleers would be playing on national TV on FOX Sports 1, but he wasn't as big a fan of kicking off a game at what's 10 p.m. local time for the CCU players, in Conway, S.C.
"Our guys will be playing until 2, 2:30 a.m.," Chadwell said of a potentially long college football game. "That's not ideal by any means."
Most KU assistants on sideline
While some coordinators like to view the action from up high, taking their spots in the booth for games, both offensive coordinator Brent Dearmon and defensive coordinator D.J. Eliot again opted to work from the sideline this year.
In fact, only three KU assistants coached from high up in the press box: safeties coach Jordan Peterson, defensive line coach Kwahn Drake and tight ends coach Josh Eargle.
The rest of the staff joined head coach Miles and the coordinators on the field: receivers coach and passing game coordinator Emmett Jones, special teams coordinator and running backs coach Jonathan Wallace, outside linebackers coach Chidera Uzo-Diribe, defensive backs coach Chevis Jackson and offensive line coach Luke Meadows.