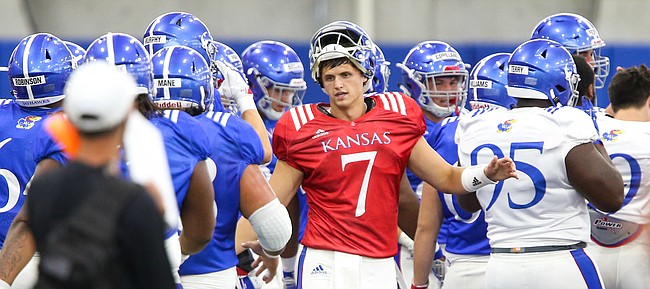 Kansas football coach Les Miles decided not to publicly name a starting quarterback ahead of his team's season debut Saturday night versus Coastal Carolina, maintaining in interviews that the competition would last through this week.
Miles even claimed the Jayhawks might play both Thomas MacVittie and Miles Kendrick in the opener.
With that as the backdrop for their week of preparation, both Kendrick and MacVittie described the vibe of their battle.
"It'll be a competition continuing through the season," is how MacVittie put it. "Just because the first game there's a starter set, that doesn't mean that the competition lessens throughout the season."
Kendrick described it a little differently, taking the focus away from the competition itself and saying that every QB on the KU roster is striving to be a leader, and in their position room they want to bring out the best in each other.
"I think it's only going to improve this offense and improve this team," Kendrick said of their collective approach.
The competition playing out at KU's closed practices apparently was close enough that Miles didn't want to pick a starter prematurely.
Both quarterbacks had different ideas about why their head-to-head battle for the top spot on the depth chart has been so close and lasted so long.
MacVittie, a 6-foot-5, 225-pound senior whose college career began at Pitt and took him to Mesa Community College (Ariz.) before he transferred to KU, said having "two older guys" vying for the job made it neck and neck. MacVittie said both have learned from struggles in their past, too.
"It's nothing but respect between me and Miles," he added.
Kendrick, a 5-10, 205-pound junior who played previously at the College of San Mateo, said he wasn't sure why KU's QB competition turned out so even.
"I think the coaches talk amongst each other and they've come to a decision that they want to have a little more time," Kendrick said earlier this week. "I think we've got enough time to see how this thing will turn out."
Only one of the candidates, of course, will go down in the record books as KU's Week 1 starter in Year 2 of the Miles era — even if Miles follows through with his assertion that both could play against Coastal.
Though Miles didn't want to indicate if there was even a leader in the race heading into this week, he projected confidence while maintaining some secrecy about what's to come.
"I think there's a number of real quality people there and I think that's really the most important piece, taking snaps and making sure that you know that offense and your communications with your teammates are tight," Miles said. "We're fortunate to have a couple of guys that could do that."
Neither MacVittie nor Kendrick has started in an FBS game before.