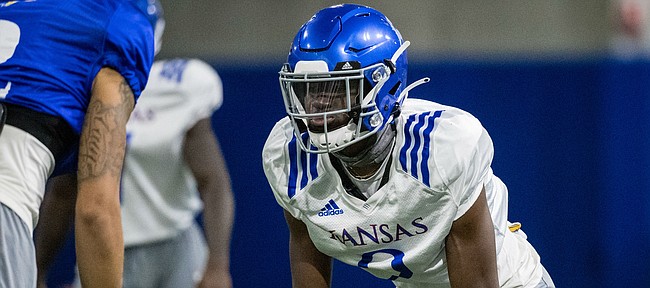 It didn't take long for Robert Jackson to realize that KU freshman cornerback Karon Prunty had a bright future.
Jackson was only Prunty's head coach for one season at I.C. Norcom High School in Portsmouth, Virginia. Jackson took over the program in the offseason, and only needed to see Prunty in a few drills to fully understand his potential.
"I knew right away that he was special," Jackson told the Journal-World in a phone interview. "We knew we had a special player. I was just surprised his recruiting wasn't through the roof at that time."
Jackson's prophecy proved to be true.
Prunty was listed as a starting cornerback in KU's original depth chart, which was released on Monday ahead of Saturday's season opener against Coastal Carolina. In roughly 12 months, Prunty went from an under-recruited prospect originally committed to Liberty to a true freshman starter for a Power Five program.
"I'm not sure how good he thought he could be," Jackson said. "He played both sides of the ball. He ran punts and kickoffs back for touchdowns. He was one of our leading receivers. But I told him if he's going to make money that it's going to be at that defensive back position."
Prunty's senior season is a big reason for his recent trajectory. Prunty showcased what would make him succeed as a cornerback at the next level during a 7-5 campaign under Jackson, who has since stepped down to become the athletic director at that same high school.
During Prunty's senior season, the 6-foot-1, 185-pound corner showed that he had the speed to hang with any receiver on the other side of the ball. In fact, Prunty won a state title in the 55-meter run at the Class 3 state indoor meet last year, and clocked a season-best time of 10.89 en route to a runner-up finish in the 100-meter run at the outdoor state meet.
Prunty has good hips and feet, which helps him stay with receivers through a variety of different route combinations. He has the ball skills to make a play when given the opportunity. Prunty also isn't afraid to come up and make a tackle when necessary.
Jackson's favorite moment from Prunty's senior season took place in an eventual loss to Maury. Despite playing hurt, Prunty defended multiple consecutive fade routes against four-star receiver KeAndre Lambert, a Penn State signee, late in the game. Lambert didn't catch a single one of those targets.
"That stood out to me as what type of kid he was," Jackson said.
Prunty's new teammates and coaches have since learned that, too. Second-year defensive backs coach Chevis Jackson challenged senior receiver Andrew Parchment, an All-Big 12 honorable mention selection in 2019, to go right at Prunty early on in camp.
"He didn't back down," Parchment said. "That's what Big 12 receivers are going to do, especially when they see a freshman corner on paper. They are going to go out there and test you early."
KU quarterbacks Miles Kendrick and Thomas MacVittie, who are both expected to play this weekend according to Les Miles, have taken notice of the rookie corner in practice as well.
"He's a very savvy player," Kendrick said. "His game goes beyond his athletic ability also. He's got a high IQ and can think at a high level and use that to make plays."
Prunty is supposedly more quiet, which is probably considered a rare trait for someone at his position. But Kendrick believes Prunty has the perfect personality to round out the cornerback room ahead of the 2020 season.
"I think he's meshed really well," Kendrick said. "He's a little bit on the quiet side. For me, I think I kind of like that. He brings a little bit of focused mentality to that group. I think they all compliment each other well."