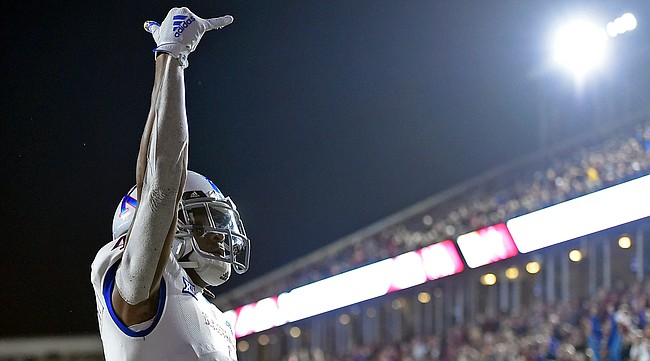 No college football player has to play this year, in the midst of a pandemic. But Kansas receiver Andrew Parchment wanted to anyway.
With his eyes set on a future in the NFL following what will be a truncated 10-game season at KU, Parchment wasn't interested in opting out. He hopes to use his final collegiate games to prove his personal goals are more than just talk.
"I want to play at the next level, and I see myself as that type of player. For me, I just felt like I haven't done enough, I haven't gained enough respect, whether that's in the conference or in the country," Parchment explained earlier this week, when asked during a video conference with reporters about his decision to play this year.
Those who followed KU in 2019 obviously know Parchment well. The 6-foot-2 wideout delivered a breakthrough campaign in his first year with the program. The former Northern Illinois and Iowa Central Community College player emerged as KU's most productive passing target after joining the Jayhawks as a transfer.
Parchment's potential became clear in his junior year debut, as he hauled in eight passes for 121 yards in the first game of the Les Miles era, a 24-17 win over Indiana State.
It was Parchment's first of four 100-yard receiving games. He ended up leading KU in receptions (65) and receiving yards (831), and his seven touchdowns ranked second by one to Stephon Robinson Jr.'s eight. Parchment's 75-yard touchdown versus West Virginia was one of many highlight moments for the receiver from Fort Lauderdale, Fla., who was only considered a two-star junior college prospect by Rivals in the Class of 2019.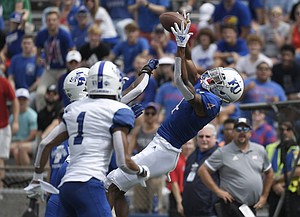 Even though Parchment was proud of what he accomplished in his first season competing at the Power Five level, he said this past offseason he wanted to make sure he set himself up for even more success in 2020.
"I don't take anything for granted," Parchment said.
Between weight lifting, working on his route running and following the instructions of KU receivers coach Emmett Jones, Parchment thinks he followed the proper steps to set himself up for an even more productive season as a senior.
According to one of the quarterbacks who has been throwing the ball to Parchment during recent preseason practices, KU's top receiver might actually be more versatile this year.
"He stretches the field vertically," Thomas MacVittie said, "as we've seen last year, and I think he's really worked on his intermediate and quick routes. I think that's one thing you'll really see this year out of No. 4, is that he can stretch the field and he can beat you deep, but he can also beat you short."
Selected to the preseason All-Big 12 first team as well as the Biletnikoff Award watch list heading into the fall, Parchment looked "strong" during KU's preseason camp, Miles shared.
KU's head coach called Parchment a "talented guy" and said the staff expects the tall, speedy receiver to play "extremely well" in Saturday's opener versus Coastal Carolina (9 p.m., FOX Sports 1).
"When you throw a 50-50 ball, it's really 60-40, Parchment," Miles said.
Parchment's abilities and confidence help him stand out, quarterback Miles Kendrick said. The "swag" Parchment provides for not just the offense but the entire team, Kendrick explained, is a crucial part of what makes him effective.
"He has a lot of speed and he can take that top off a defense," Kendrick said. "I think that's his number one ability. You're gonna see the DBs Week 1, Game 2, basically the DBs really respect his speed, give him a bit of that off coverage, because he is a guy that can run by you and make that big play."
The more times Parchment delivers chunks of yardage, the more likely he is to grab the attention of NFL scouts. But he said those highlight plays aren't on his mind when he thinks about what he needs to accomplish.
"I just need to come to work every single day and do what I did last year," Parchment said, "and that's just produce whenever my team needs me, whenever Coach Miles or (offensive coordinator Brent) Dearmon needs a leader, even if it's off the field."
His potential path to playing in the NFL in 2021, Parchment said, will have to include an "underdog mindset." He'll remind himself that "nobody" believes in him or this team and use that as motivation to prove people wrong.
"And going into this season I feel like everyone's going to know my name at the end of this year," Parchment predicted.