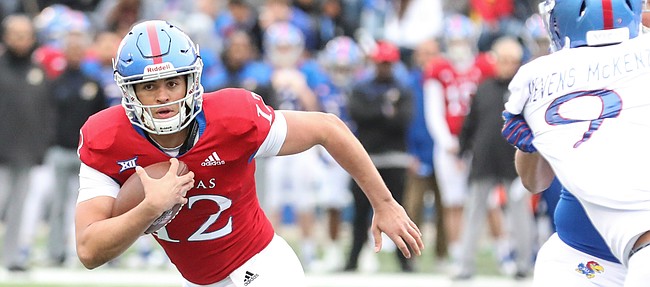 Maybe the Kansas football offense won't feature a lot of Torry Locklin early in the season. Or maybe Les Miles doesn't want Coastal Carolina spending time preparing for Locklin.
Either way, KU's head coach downplayed this week his team's interest in running plays out of a Wildcat formation.
The subject came up during the Big 12 media teleconference on Monday, when Miles fielded a question about the likelihood of running out of quarterbacks this year, and whether that might lead to more specialty packages.
"We've not spent a lot of time on a wildcat package," Miles said.
Locklin, a 6-foot-2, 210-pound redshirt freshman, appeared sparingly in four games in 2019, as a Wildcat QB and running back. While he remains listed as a running back on KU's roster, Miles stated earlier in the preseason that Locklin could play that position, as well as the Wildcat and slot receiver spots.
The former Texas Class 3A Division 1 state champion QB made his KU debut with a cameo at Texas a year ago, after Brent Dearmon became the offensive coordinator. Locklin only had three carries for four yards as a true freshman.
Miles said recently true freshman running back Daniel Hishaw Jr. (5-10, 200) is similar to Locklin, "not quite as tall, but physical and capable of moving the chains."
Playing during pandemic
Heading into KU's first game of 2020 and a COVID-shortened schedule, Miles said he doesn't have any misgivings or doubts about the ability of teams to play safely this season.
"It does not appear to me that when we take the field in the game that it'll be any different than when we take the field in practice," Miles said.
With players getting tested for the virus regularly, teams taking precautions in the forms of quarantines for affected players and games being postponed if a team is hit with a virus outbreak, the hope for college coaches and administrators is when games are played the men on the field will be in an environment where the virus won't be present.
"And practice has gone well for us," Miles said. "I would say that the percentages of a very significant (COVID) virus issue would be not likely."
Back in July, KU had to shut down workouts temporarily after 12 players tested positive for COVID-19. It is unclear how many Jayhawks have contracted the virus already.
Citing HIPPA, Miles said this week he couldn't reveal the exact number.
"We've had a couple," he said.
'Hawk Talk' back this week
Miles' radio show, "Hawk Talk," returns this week, as the plan is to broadcast every Wednesday (7-8 p.m.) through the end of November, KU announced.
The show will still record live in front of an audience at Johnny's Tavern - West Lawrence. Because of the COVID-19 pandemic, attending comes with safety measures, which include:
• masks are required to enter the restaurant
• fans will be seated immediately upon entry (calling ahead for reservations is available)
• Miles and host Brian Hanni will be socially distanced at least 6 feet from guests
• no autographs or fan interactions with Miles will be allowed
KU plans to have 12 episodes of "Hawk Talk" with Miles, including on bye weeks. There will be no show, however, the first week of December, ahead of the Dec. 5 season finale at Texas Tech.