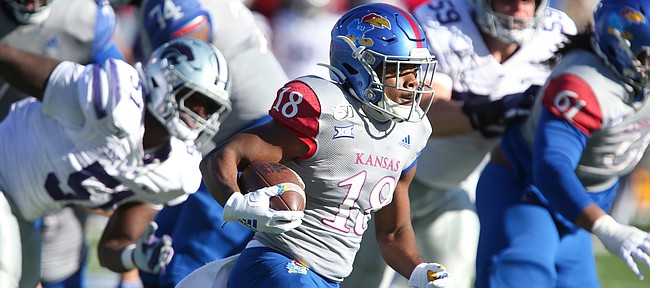 Pooka Williams is the undisputed star of the Kansas football offense. If you ask some of the Jayhawks, though, the preseason All-Big 12 running back has more than just a backup or sidekick in Velton Gardner.
Even though Gardner is entering his sophomore season having not yet carried the ball more than five times in a KU game, at least one of his teammates views Gardner as the co-star in Williams' magic show.
Senior receiver Andrew Parchment considers the KU duo one of the best running back combinations in the country.
"That's 1A and 1B," Parchment proclaimed earlier this week.
A bit of an afterthought in KU's offensive game plan many weeks in 2019, Gardner was expected to be the team's third-string back as a true freshman. But once Khalil Herbert decided to redshirt and ultimately left the program, Gardner, a three-star Dallas athlete in KU's 2019 recruiting class, got a jumpstart on his college career.
All of Gardner's carries came in the final eight games of the season, as he finished with 26 rushing attempts, 138 yards, 5.3 yards per carry and two touchdowns.
It's safe to say KU is looking for Gardner to produce much more in his second season.
Said head coach Les Miles, ahead of the Jayhawks' Saturday opener versus Coastal Carolina: "I would expect that he would play a lot of snaps in this game and he would continue to grow."
Gardner's teammates, who have seen the 5-foot-9, 190-pound sophomore perform at KU's closed practices the past several weeks, think what he showed in games a year ago was just a glimpse of his overall talent.
Even as a freshman Gardner broke long touchdown runs of 45 and 32 yards. He finished tied for fourth on the team in TDs scored (two), despite his limited role.
One of KU's quarterbacks, senior Thomas MacVittie, predicted Gardner will start to become more of a known commodity quickly in the weeks ahead.
"He's got a nasty stiff arm, and we've seen that plenty through camp. That's probably something that'll surprise a lot of people," MacVittie shared. "And he's fast. He got a lot faster from last year. He can really get around the corner. I won't talk too much about his speed, but that's something you guys are going to see Saturday, as well."
A 1,000-yard rusher in each of his first two seasons at KU, Williams will remain a focal point of the offense, of course. But the Jayhawks clearly anticipate Gardner becoming dynamic, too.
Miles called the sophomore strong and elusive, and the coach said he looked forward to seeing KU's No. 2 back in action, because he imagines Gardner will fare well.
"It's a wonderful advantage to your team," Miles said, "to put some very fresh legs at running back so that they get to see our best."
Perhaps, as Miles alluded to, KU will be able to call upon both Williams and Gardner throughout each game to optimize the rushing attack.
In Parchment's opinion, there's so little difference between the backs that he's confident in the outcome no matter if it's Williams or Gardner with the ball in his hands.
"Velton takes a lot from Pooka, but Pooka takes a lot from Velton, as well," Parchment said. "They're a very good mix and match together, because I don't feel like we lose anything when Velton's in the game and I don't feel like we lose anything when Pooka's in the game. And it gets very scary when both of them are in the game."