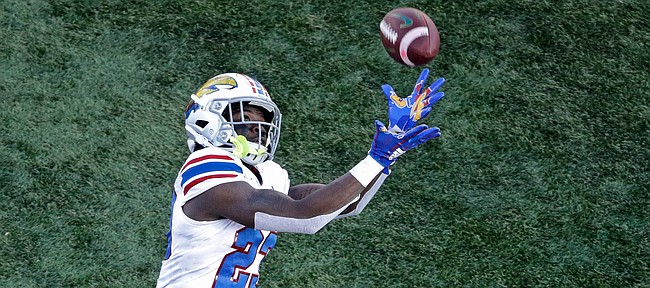 Kenny Logan Jr. appeared in all 12 games for the Kansas football team as a true freshman a year ago. But if your eyes weren't glued to the action during special teams situations you might have missed him.
Logan should be much easier to spot when the Jayhawks play this season, with his role expanding to defense.
"I think he'll play several spots for us," KU head coach Les Miles said of Logan, a defensive back and returner from St. Augustine, Fla. "Could easily be playing the Hawk linebacker, could be the box safety kind of guy. But Kenny's going to play. He's going to play significantly soon."
One of the more highly regarded three-star prospects in Miles' first KU recruiting class, Logan, a three-star athlete in the Class of 2019, picked up offers from Auburn, Ole Miss, Nebraska, Miami (Fla.), Iowa State and other programs before joining the Jayhawks.
In his first year at KU, Logan was too talented to keep off the field. The coaches deployed him on special teams, where much of his reps came on kickoffs. Logan returned nine kicks, averaging 16.7 yards a return. Plus, he ended up returning a team-high five punts, and Logan's 14-yard return at Texas proved to be the Jayhawks' longest of the season.
He also recorded 14 tackles as a freshman, most of those coming in the season's final four weeks.
Anyone who did happen to see some of Logan's maneuvers in 2019 spotted him wearing the No. 23, but that will be different this year, too. Logan secured the coveted No. 1 jersey for the defense, as it became available with Bryce Torneden graduating.
"I just put my front foot forward and worked hard through camp and practice this year and last year," Logan said of how he ended up with the number. "And I guess I showed the coaches that I deserved it."
If Logan does end up primarily playing the Hawk position, occupied by Torneden last year, Logan said there's a lot he can take from how Torneden manned the spot and add to his game, even though he thinks they're probably different types of players.
"I really try to focus and make sure I'm doing the right thing at my job. I don't really try to compare myself to anybody else," Logan said. "I try to make sure I'm doing the best thing my team needs me to do."
The defense likely will require him to make plays as soon as possible. Receiver Kwamie Lassiter II reported Logan has already shown a propensity to do so at KU's closed preseason practices.
Linebacker Dru Prox said Logan possessed all the physical tools a year ago, but now defensive calls and assignments are starting to click for him.
"I feel like he's developed a lot mentally. It's night and day from last year," Prox said, adding that Logan's grasp of schemes has shown during practices.
Cornerback Kyle Mayberry shared that Logan and Duece Mayberry have been the best in practices at picking off passes. The older Mayberry brother, a fifth-year senior, said Logan has come a long way since arriving at KU a little more than a year ago.
"He's just going and getting the football," the veteran said of the sophomore. "That's one of his outstanding traits."
Logan didn't mind expressing his belief that he has the best hands of any of KU's defensive backs. He said his ball skills just come from putting in extra work after practices through the years, because he's always looking for ways to upgrade his skills.
That's a characteristic that should prove useful as Logan transitions to larger duties this year.
As a freshman, Logan was at cornerback. Now he's a safety KU could use in a few different ways. And he still could end up being a punt and kick returner, too. Logan said he continues taking practice reps as a returner, along with Stephon Robinson Jr., Jamahl Horne, Velton Gardner and Lassiter.
Logan's older brother, Brandon James, was a standout returner for the Florida Gators more than a decade ago, scoring five career touchdowns on special teams. Logan hopes he can replicate some of that success at KU, "and rock the stadium a little bit, you know."
By contributing both on special teams and defense, Logan said he feels like he's back to doing what he loves.
If his progress as a player is as far along as those around him profess, Logan should be much easier to find on game days this fall.
His new defensive responsibilities are ones he's prepared to embrace.
"It's now like I have to be locked in all the way and just focus on defense and making plays for my team," Logan said, "so we can get off the field and help our offense get back on."