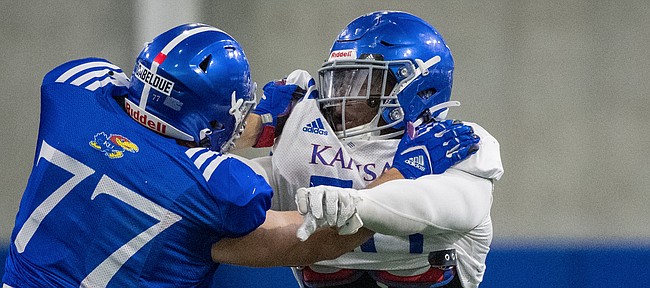 When Kansas football coach Les Miles speaks publicly about his team's defensive linemen, he describes them as "big, strong, athletic men."
While that may be true, senior defensive lineman Sam Burt also was accurate in his assessment, calling the unit "kind of a young group."
The two statements don't have to be mutually exclusive. In fact, the Jayhawks likely need some of their D-line newcomers to look more like veterans than freshmen.
When speaking recently about what the position group had to offer, the first defensive linemen Miles mentioned were juniors Caleb Sampson and Malcolm Lee, along with Burt. But the next five players Miles brought up were freshmen: Marcus Harris, Caleb Taylor, Jereme Robinson, Da'Jon Terry and Kenean Caldwell.
Burt said that at KU's closed preseason practices, the "older guys" — Sampson and Lee — have proven they can be productive.
"They've been just firing on all cylinders," Burt said, "really doing well."
But asking the few older D-linemen to play all the reps on game days isn't realistic. And because the Jayhawks lost their most productive linemen from 2019 — Darrius Moragne (39 total tackles, 4.5 tackles for loss), Jelani Brown (26 tackles, 2.5 TFL) and Codey Cole III (23 tackles, 2.5 TFL) — some younger players will have to emerge for the group to have true depth.
Miles forecast that Harris, a redshirt freshman, will "be ready to play Big 12 football."
According to Burt, KU's D-linemen have made "remarkable" improvements entering this season. Burt said during a video conference with reporters earlier this week that he wanted to give special mention to both Harris and Terry, another redshirt freshman.
"They did a really good job in the offseason just working hard," Burt said. "DT (lost) some weight and Marcus just (got) stronger."
Burt said that for much of the offseason, the typical structure for strength and conditioning and spring practices was nonexistent because of the COVID-19 crisis. He said the D-linemen had to find ways to make personal advancements on their own before they and their teammates were allowed to return to campus in June.
That also made it difficult for the linemen to address one area they hoped to during the offseason. Burt said bonding was one goal for the group, "working together instead of working separately."
Still, Burt, an Abilene native and former walk-on, said individual players could focus on some technical aspects of their jobs up front that needed refining.
"We wanted to work on our releases and more attacking off the ball and things like that," he said.
Those are some of the ways Harris ended up impressing Burt, too. Burt described his young teammate as an "up-and-coming" defender and said Harris does "a lot of things right" at practices. The senior can tell the redshirt freshman took the time in the offseason to prepare his body.
Robinson, Burt noted, took advantage of his grayshirt year — he didn't enroll until the spring semester of 2020 after signing in 2019 — and looks to be developing.
"We all started learning things when we got into camp," Burt said of when practices began a few weeks back, "and (Robinson has) picked up things pretty quick. And he's been doing really well in scrimmages, too."
Caldwell, a true freshman, has proven to be a good listener, Burt said, and that has allowed him to adapt well and perform when it's time for his reps in scrimmages.
Overall, Burt said he has been impressed with the D-line during the preseason.
"I'm really excited to see what we can do," he said.
2019 individual statistics for returning KU D-linemen
• Malcolm Lee — 18 total tackles, 1.0 TFL, 0.5 sacks, 1 QB hurry (10 games)
• Sam Burt — 15 tackles, 1.0 TFL (10 games)
• Caleb Sampson — 12 tackles, 2.0 TFL, 2.0 sacks, 3 pass breakups (12 games)
• Marcus Harris — 2 tackles (2 games)
• Da'Jon Terry — 2 tackles (2 games)
• Jelani Arnold — 2 tackles (11 games)
2020 KU football D-linemen
DE - Clinton Anokwuru, 6-3, 235, freshman
DL - Marcus Harris, 6-2, 270, RS-freshman
DL - Jack Stallard, 6-3, 245, RS-freshman
DL - Caleb Taylor, 6-2, 260, freshman
DL - Reuben Lewis, 6-4, 325, senior
DL - Jereme Robinson, 6-3, 265, freshman
DL - Jelani Arnold, 6-2, 270, junior
DL - Sam Burt, 6-4, 293, senior
DL - Da'Jon Terry, 6-4, 345, RS-freshman
DL - Kenean Caldwell, 6-2, 295, freshman
DL - Caleb Sampson, 6-3, 280, junior
DL - Malcolm Lee, 6-5, 285, junior