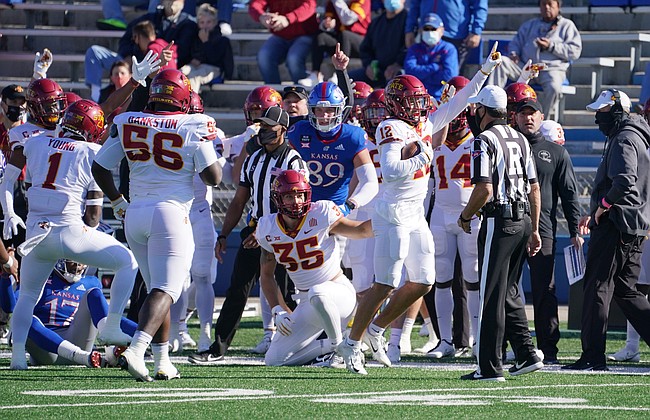 Missing key starters on both sides of the ball, the Kansas football team never really stood a chance.
The Jayhawks gave it their best effort, but ultimately were no match for No. 23 Iowa State in a 52-22 loss Saturday afternoon at David Booth Kansas Memorial Stadium. The Cyclones, who were favored by more than four touchdowns entering this game, bounced back from its lone Big 12 loss of the season to improve to 4-2 on the year, including 4-1 in league action.
Kansas is now 0-6 overall, which includes five lopsided losses against conference foes.
But KU's latest defeat was probably certain before the game even started. The Jayhawks, who already have one of the worst offensive lines in all of college football, were without two starters in center Api Mane and right tackle Adagio Lopeti. As a result, right guard Chris Hughes had to slide over to center.
In addition, KU also revealed before the game that eight other contributors were going to be out against ISU. Those players included linebacker Denzel Feaster and safety Davon Ferguson on the defensive side. Punter Kyle Thompson along with receivers Takulve Williams and Stephon Robinson Jr. were also on the initial list of inactives.
It all led to a predictable slow start for the Jayhawks, who fell into a 13-0 hole out of the gate. Iowa State put together a 6-play, 80-yard scoring drive on its first offensive possession in which four of those plays went for double-digit yardage.
Document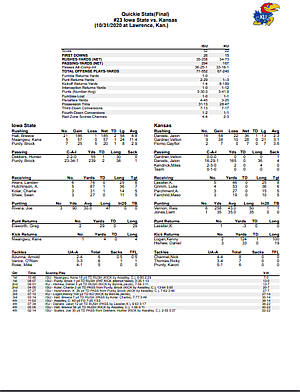 The game was never really in doubt after that, though KU still had its moments. Freshman running back Daniel Hishaw Jr. scored on a 5-yard touchdown run at the 9:01 mark in the second quarter and Kenny Logan had a 100-yard kickoff return in the third quarter.
True freshman quarterback Jalon Daniels also had a 12-yard rushing touchdown in the second half for KU. It marks the first time since the season opener that the Jayhawks have scored more than 14 points in a game.
Iowa State scored 15 points in the third quarter to ultimately put the game way, and has now won six consecutive meetings against Kansas.
• Offensive highlight: KU's first score — and really the drive leading up to it — offered a glimmer of hope for Kansas fans.
Freshman running back Daniel Hishaw Jr. scored on a 5-yard touchdown run, and had to pull out all the tricks to do so. He made a nice cut, used a stiff arm on another defender, and ultimately willed his way to the end zone.
Earlier on that possession, true freshman quarterback Jalon Daniels connected with a freshman receiver Luke Grimm for a big pickup. It set things up for Hishaw's nifty score. More than that, though, it was a drive that featured a few different freshmen making plays for the Jayhawks.
It is going to be a tough season for the Jayhawks, but that was a drive that at least provided a glimpse of their potential.
• Defensive highlight: Kenny Logan had an interception, but he will get his due in the next part of this quick recap. So let's use this segment to mention the play of freshman defensive lineman Marcus Harris.
Harris, who is one of the many young playmakers on KU's defense, has had plenty of positive moments this season. He recorded a tackle-for-loss in the loss to Iowa State, in which he had to overcome a double-team block by the opposing offensive line.
• Special teams highlight: The Jayhawks were on the other end of a special teams score this week.
After giving up two punt returns for touchdowns in the loss to Kansas State last weekend, Kansas took a kickoff to the house on Saturday. Logan went 100 yards to the distance, making a few impressive cuts along the way.
• Up next Kansas will travel to Oklahoma at 2:30 p.m. Saturday.
SCORE BY QUARTERS
FIRST QUARTER
10:46 — Kene Nwangwu 18 run. Connor Assalley kick. Six-play drive for 80 yards. (ISU 7, KU 0.)
8:07 — Brock Purdy 1 run. Assalley kick missed. Three-play drive for 35 yards, in 1:13. (ISU 13, KU 0.)
SECOND QUARTER
9:01 — Daniel Hishaw Jr. 5 run. Jacob Borcila kick. Seven-play drive for 59 yards, in 3:11. (ISU 13, KU 7.)
4:00 — Charlie Kolar 3 pass from Purdy. Assalley kick. Thirteen-play drive for 64 yards, in 5:00. (ISU 20, KU 7.)
THIRD QUARTER
7:27 — Xavier Hutchinson 36 pass from Purdy. Assalley kick. Seven-play drive for 62 yards, in 3:46. (ISU 27, KU 7.)
7:12 — Kenny Logan Jr. 100 kickoff return. Borcila kick. (ISU 27, KU 14.)
3:14 — Breece Hall 7 run. Kolar pass from Purdy. Seven-play drive for 77 yards, in 3:49. (ISU 35, KU 14.)
FOURTH QUARTER
11:02 — Assalley 40 field goal. Seven-play drive for 25 yards, in 1:53. (ISU 38, KU 14.)
7:34 — Jalon Daniels 12 run. Kwamie Lassiter II pass from Andre Parchment. Nine-play drive for 63 yards, in 3:17. (ISU 38, KU 22.)
5:05 — Hall 58 run. Assalley kick. One-play drive for 58 yards, in 0:11. (ISU 45, KU 22.)
2:14 — Joe Scates 30 pass from Hunter Dekkers. Assalley kick. (ISU 52, KU 22.)