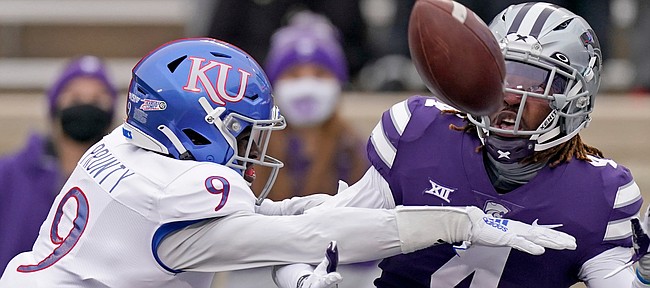 Kansas football coach Les Miles can't seem to get through a press conference these days without mentioning one of the program's youngest talents by name.
Miles doesn't necessarily have to be asked about the secondary or even the KU defense, but inevitably he will find a way to bring up cornerback Karon Prunty.
Typically, Miles highlights the true freshman starter as a way to allude to both how many young players the Jayhawks (0-5 overall, 0-4 Big 12) are relying upon and why he's anticipating a bright future for the struggling program.
Earlier this week, Miles was in the middle of addressing the Jayhawks' defensive issues in the second halves of recent losses when it prompted him to transition to the subject of Prunty's coverage abilities.
When Prunty, a 6-foot-1, 189-pound freshman from Portsmouth, Va., broke up a would-be touchdown pass to Kansas State receiver Malik Knowles this past Saturday it gave him six breakups on the season — currently the most among all FBS freshmen — and continued his streak of breaking up at least one pass in every game of his young career to date.
"So guys that are playing for us as young players," Miles said, "really are making great contributions."
Prunty, rated by Rivals as a two-star signee in KU's 2020 recruiting class, is still in search of his first interception as a Jayhawk, but his six passes defended tie him with Alabama's Malachi Moore, North Carolina State's Shyheim Battle and Syracuse's Garrett Williams for the most among Power Five freshmen. Moore was a four-star prospect in the Class of 2020, while both Battle and Williams redshirted in 2019. Louisiana Tech's Cedric Woods, a true freshman like Prunty and Moore, leads FBS freshmen with seven passes defended in six games.
As K-State showed when Will Howard threw toward Prunty's man, Knowles, early on a 30-plus yard deep shot, opponents like to test a freshman cornerback.
KU senior safety Ricky Thomas said those encounters leave Prunty's teammates impressed.
"I feel like he has no ceiling," Thomas said of Prunty. "I feel like he gets better every week. He's a great guy and by the time he leaves here he's going to be one of the best."
Redshirt freshman outside linebacker Steven Parker described Prunty as humble, and because the corner doesn't let anybody get to him, Parker added, it helps him with his challenging job of covering Big 12 receivers.
Parker also said Prunty always stays on track and keeps learning.
"He takes coaching and he listens," Parker said, "and tries to make the best out of his plays."
A track star, too, at I.C. Norcom High School, in Portsmouth, Va., before heading to KU, Prunty's speed and size have helped him stand out since he won a starting job at cornerback entering the season. Through five games he's the only Jayhawk in the secondary who has started every contest.
Sophomore safety Kenny Logan Jr. said Prunty often impresses him with the "courage" the freshman shows with his coverage. Logan pointed to Prunty's "will" to make a stop for the defense as one of his best attributes.
"Karon's been playing with a lot of growth, a lot of development this year," Logan said. "We continue to depend on him to make big plays each and every game."