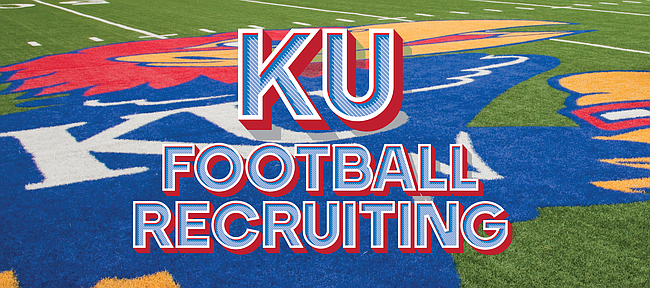 If all goes according to plan, an influx of new players will be joining the Kansas football secondary next year.
KU picked up a sixth commitment from a high school defensive back in the Class of 2021 — all of whom are from the southeast — when Jayson Gilliom announced Monday night his plans to sign with the Jayhawks.
Rated a two-star prospect by Rivals, Gilliom, from Swanee, Georgia, is listed at 6-foot-2 and 192 pounds. Previously committed to Furman and set to play in the Southern Conference, Gilliom backed off of those plans to join the Jayhawks' recruiting class.
Up to this point, KU is the only FBS program to offer Gilliom a scholarship.
Though Gilliom is playing cornerback for his high school team, North Gwinnett, KU's coaches envision him playing safety at the college level, he told Jon Kirby of Jayhawk Slant.
"They like my cover ability, but they also like my size for me to come up and fill the hole as a safety," Gilliom said. "But I feel like I'm a very versatile player. I can play corner. I can play safety. I can play wherever they want me to play."
KU safeties coach Jordan Peterson, as well as defensive backs coach Chevis Jackson and head coach Les Miles were involved in recruiting Gilliom, who is more under the radar than the other five defensive backs in KU's recruiting class. All of them are rated as three-star prospects: cornerback Omar Burroughs (from Florida), corner Kameron Grays (Alabama), corner Shad Dabney (Georgia), corner Devonte Wilson (Florida) and safety James Wright (South Carolina).
With Gilliom joining the group, KU now has 21 of its maximum 25 spots in the upcoming recruiting class filled, with 18 of those players rated as three-star prospects.
All verbal commitments, of course, are nonbinding. The earliest that Class of 2021 prospects can sign is Dec. 16.
KU football Class of 2021 commitments
(Rivals rankings)
• Majik Rector — 3-star Texas prep WR
• Ben Easters — 3-star Indiana prep QB
• Jaddai Henry — 3-star Texas prep WR
• Kelan Robinson — 3-star Texas prep WR
• Devin Neal — 3-star Lawrence prep RB
• Mason Brotherton — 3-star Arkansas prep TE
• De'Kedrick Sterns — 3-star Texas prep OL
• Andrew Simpson — 3-star California prep LB
• Trey Staley — 3-star Georgia prep LB
• Omar Burroughs — 3-star Florida prep DB
• Devonte Wilson — 3-star Florida prep DB
• Kameron Grays — 3-star Alabama prep DB
• Christien Hawks — 3-star Norton prep OT
• D'Marion Alexander — 3-star Texas prep LB
• Tommy Dunn Jr. — 3-star Texas prep DL
• Shad Dabney — 3-star Georgia prep DB
• James Wright — 3-star South Carolina DB
• Tanaka Scott Jr. — 3-star Alabama WR
• Deldrick Withers — 2-star Arkansas prep DE
• Larson Workman — 2-star Texas prep OL
• Jayson Gilliom — 2-star Georgia prep DB