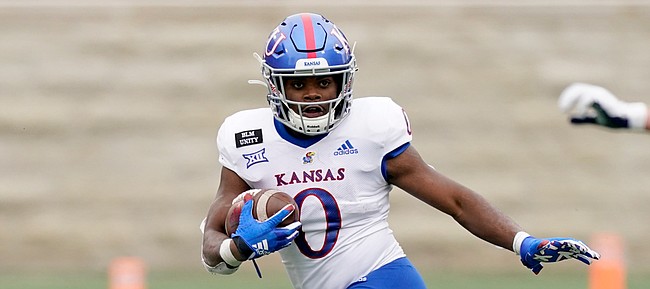 Playing for the first time this season without preseason All-Big 12 running back Pooka Williams, the Kansas football team's rushing attack, which hadn't been that productive with Williams, once again rarely found success in a blowout loss to rival Kansas State — even with the added element of a rushing quarterback.
Although Daniel Hishaw Jr. technically got the start because he was the first running back on the field for KU in Manhattan on Saturday, it was sophomore Velton Gardner who became the Jayhawks' primary back, as expected.
Gardner finished with a career-high 16 carries and rushed for 72 yards, but it wasn't until late in a 55-14 road loss that KU's running backs did much more than eke out yardage against K-State's defense.
Only one of Gardner's seven carries in the first half went for more than four yards, and the Wildcats stuffed him for gains of two yards or less on five of those attempts.
KU already trailed 48-7 in the third quarter before Gardner finally broke loose for a lengthy run of 27 yards, on KU's 10th possession of the defeat.
Hishaw rushed six times for 14 yards at K-State. His longest carry, of five yards, came in the middle of the third quarter, just before Gardner gave KU its longest rush of the afternoon.
The Jayhawks (0-5 overall, 0-4 Big 12) failed to accumulate 100 rushing yards between their running backs for the second week in a row, as Gardner and Hishaw combined for 22 rushes and 86 yards seven days after Williams and Gardner produced 74 yards on 22 carries at West Virginia.
It was actually true freshman quarterback Jalon Daniels who had the most rushing attempts for KU in the loss at K-State. In his third career start, Daniels set new career-highs with 17 carries and 27 yards.
Document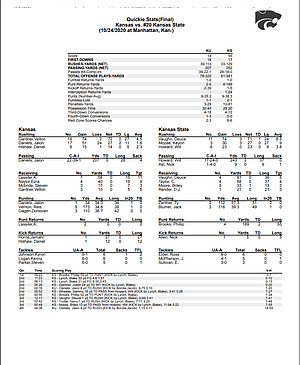 While those numbers include the four times the Wildcats sacked Daniels, for a net loss of 24 yards, on the 13 carries that took him beyond the line of scrimmage Daniels picked up 51 yards.

Both of KU's touchdowns at K-State — one late in the second quarter and the other late in the fourth — were on Daniels runs inside the 10-yard line of Wildcats territory.
K-State rendered the KU rushing attack fruitless for the majority of the game. In the first quarter, the Jayhawks averaged 2.1 yards per carry on 14 attempts. In the second quarter, K-State limited the visitors to 2.8 yards per rush on nine carries. KU's run production made a leap in the third quarter, with 7.3 yards per carry on six attempts. Then it dropped again in the fourth quarter: 1.5 yards per carry on 10 rushes.
KU's 113 rushing yards as a team at K-State were the most since the Jayhawks ran for 169 yards at Baylor — the last time Daniels started and played the entire game.
At the midway mark of their 10-game season, the Jayhawks' 124.6 rushing yards per game ranks 75th among the 101 FBS teams that have played. Their 3.26 yards per carry ranks 80th.
KU RBs production, by game:
• vs. Coastal Carolina: 25 combined carries, 150 yards, 1 TD (6 yards per carry)
• at Baylor: 29 combined carries, 146 yards, 2 TDs (5.0 YPC)
• vs. Oklahoma State: 30 combined carries, 114 yards, 1 TD (3.8 YPC)
• at West Virginia: 22 combined carries, 74 yards, 0 TDs (3.4 YPC)
• at Kansas State: 22 combined carries, 86 yards, 0 TDs (3.9 YPC)
Velton Gardner rushing production, by game:
• vs. CCU: 11 carries, 81 yards, 1 TD (7.4 YPC)
• at BU: 14 carries, 70 yards (5 YPC)
• vs. OSU: 11 carries, 31 yards, 1 TD (2.8 YPC)
• at WVU: 11 carries, 43 yards (3.9 YPC)
• at KSU: 16 carries, 72 yards (4.5 YPC)
KU rushing yards by QBs, by game:
• vs. CCU: Thomas MacVittie 6 carries 37 yards; Miles Kendrick 4 carries, minus-11 yards; Jalon Daniels 2 carries, minus-7 yards
• at BU: Daniels 14 carries, 23 yards
• vs. OSU: Kendrick 6 carries, minus-17 yards; Daniels 4 carries, 4 yards
• at WVU: Kendrick 9 carries, minus-2 yards
• at KSU: Daniels 17 carries, 27 yards, 2 TDs
KU team rushing totals, by game:
• vs. CCU: 178 yards (4.7 YPC)
• at BU: 169 yards (3.9 YPC)
• vs. OSU: 101 yards (2.5 YPC)
• at WVU: 62 yards (2 YPC)
• at KSU: 113 yards (2.9 YPC)
Big 12 road losing streak lives on
KU's latest loss in the Sunflower Showdown extended the program's lengthy Big 12 road losing streak to 52 games.
The Jayhawks haven't won a league game in an opponent's stadium since their 2008 trip to Iowa State. KU's remaining 2020 road games are at Oklahoma and Texas Tech.