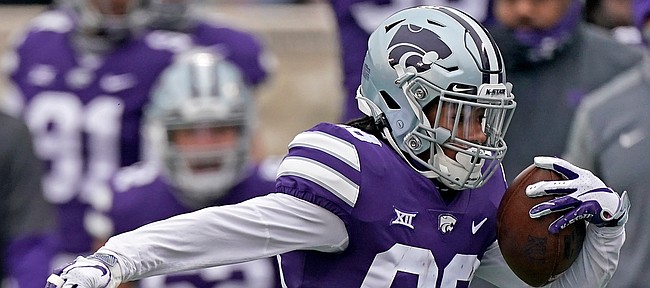 The winless Kansas football team found a new way to lose in 2020 on Saturday in Manhattan.
In earlier games this season, it had been KU's offense or defense — or both — that did the Jayhawks in. But during the Sunflower Showdown, the Jayhawks' special teams no-showed and took the majority of the blame in a 55-14 rout.
No punt was safe once Kansas State sophomore Phillip Brooks got his hands on the football. And his record day that included 189 return yards and a pair of first half touchdowns ultimately helped the Wildcats crush their challengers from Lawrence.
"We did not expect some of the long runs that happened on special teams," KU head coach Les Miles said after Brooks broke a K-State record for punt return yards in a game and became the program's first player with two punt return touchdowns in a game.
Document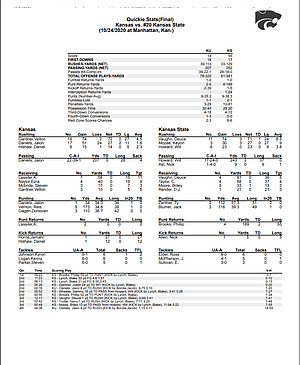 As No. 20 K-State (4-1 overall, 4-0 Big 12) won the rivalry game for the 12th year in a row, Brooks delivered returns of 55, 40, 52 and 42 yards against an overwhelmed KU punt coverage team that was without punter Kyle Thompson (undisclosed injury).
Considering Brooks scored a 55-yard TD the first time he touched the ball, why didn't KU start punting the ball out of bounds?
"I think some of those were directional kicks out of bounds," Miles replied during his postgame press conference. "So that's the problem. We were looking for out of bounds only, and some of those punts didn't go out of bounds only."
Second-Year K-State head coach Chris Klieman felt strongly enough about his team's advantage on special teams that he called a timeout after a K-State 3rd down stop with just 0:08 showing on the second quarter clock.
The premonition turned what was already a rough half for KU's specialists into an all out disaster. Without both Thompson and backup punter Donovan Gagen, who got hurt trying to make a stop on an earlier Brooks punt return, freshman Reis Vernon booted the ball 32 yards and into the arms of Brooks. A few jukes later, Brooks raced down the sideline for 52-yard touchdown return that allowed K-State to head to intermission up 34-7.
"There were a couple of returns that were just unbelievable," Miles said. "It looked like the floodgates had opened and everybody that had a ball punted to them was going to score."
The game actually might not have been quite so lopsided before halftime had it not been for a different kind of special teams blunder, with only 1:21 left in the second quarter. A muffed return by senior Kwamie Lassiter II negated a three-and-out effort by the KU defense and allowed K-State, up 20-7 at the time Tyler Burns recovered the ball, to eventually pad 14 points onto its lead before the break.
"Really I should've, I could've got under it," Lassiter said of the punt. "But I've just got to make routine plays that I can make."
Prior to Brooks' second punt return showcase of the half, the Wildcats scored their first offensive TD of the afternoon as the result of a short, 41-yard field following the Lassiter muff. True freshman QB Will Howard hit Sammy Wheeler for a 16-yard score three plays after the botched return, and K-State extended the lead to 27-7.
"I think it was the play of the game in terms of us," Miles said of the muff as a turning point. "It's a monster to overcome."
The only positive series for the KU offense — when the game was still competitive — came about with an assist from a botched play. Starting quarterback Daniels, who handled the job throughout the loss, initially dropped the snap on a 3rd and 4 in the second quarter. As the play broke down, the freshman QB spotted sophomore tight end Mason Fairchild coming open and hit him for a 27-yard gain.
Daniels would connect with Lassiter three times in the next four plays, as well as once with Ezra Naylor, as the Jayhawks (0-5, 0-4) moved into the red zone.
A would-be TD pass to Andrew Parchment (no catches on at least four targets) was overturned when the replay showed part of Parchment's toe came down out of bounds. But on 3rd and 3, Daniels ran a zone read play in for an eight-yard TD.
It was a bounce-back series for the 17-year-old starting QB, whose previous possession ended terribly, with cornerback Justin Gardner seeing a screen pass coming from a mile away and turned it into a pick-six for the Wildcats, and a 20-0 advantage.
KU's defense actually performed relatively well in the first half, as the Wildcats produced just 150 offensive yards and five first downs. But K-State scored three non-offensive TDs and the special teams disasters sunk the Jayhawks' chances.
"Certain situations happen," KU linebacker Kyron Johnson said of the numerous special teams issues. "And that's just a situation that happened. We've got to be on our feet and on our toes and ready to go."
Added safety Ricky Thomas: "On defense we just try to focus on defense. We only can control what we can. We try not to show emotions to that."
It took a while for the heavily favored Wildcats to warm up coming off a bye week, and part of their problems were self-inflicted, with seven penalties in the first quarter.
The Jayhawks fell behind early, 7-0, not because of their defense, which forced K-State to punt each of the first two times it went on the field, but due to special teams missteps.
After fill-in punter Gagen punted the ball away safely for 26 yards, Ross Elder ran into him, drawing a five-yard penalty. Gagen punted again, this time for 38 yards, but Brooks began his dominating day by taking the ball 55 yards for a touchdown.
The Wildcats began piling on just a few minutes into the third quarter, as the home team's offense produced by far its best drive up to that point, scoring their first TD of the game that didn't come on special teams or as the result of a takeaway.
Just after halftime, on the KU defense's seventh trip onto the field, K-State finally scored on a series that started in its own territory. It only took six plays for the Wildcats to go 69 yards and KU trailed, 41-7, following a Deuce Vaughn (11 carries, 71 yards) rushing TD from one yard out.
K-State went right on burying its rivals on the next possession, too, basically replicating that initial third quarter TD drive. Except this time, as the Wildcats made it 48-7, it was Harry Trotter capping a long series with a one-yard rushing TD.
As the KU defense wore down, the Wildcats were up 55-7 before the quarter ended, with its final TD drive of the third covering 94 yards and concluding with a nearly effortless pass from Will Howard (17-for-24 passing, 243 yards, two touchdowns) to Briley Moore.
"It was just slight mistakes," Johnson said of the difference between the first and second halves for KU's defense. "Slight mistake that we made."
The KU offense finished with 320 total yards and went 4-for-18 on 3rd downs. Daniels completed 22 of 39 passes for 207 yards, with one interception and no TDs. Daniels rushed for both of KU's scores in the blowout.
The rivalry game, which KU hasn't won since 2008, didn't come close to playing out the way the Jayhawks anticipated.
"I felt like coming out it was supposed to be a different game," Lassiter said. "It was 20-7 when I muffed a punt and then they went down and scored. Yeah, that stings."
KU returns home next week to play host to Iowa State.