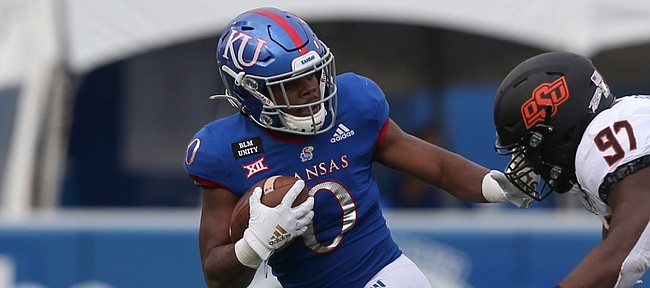 — Kansas (0-4 overall, 0-3 Big 12) at No. 20 Kansas State (3-1, 3-0) • 11 a.m. kickoff, Bill Snyder Family Stadium • Game-time forecast: 38 degrees, partly sunny, 0% chance of rain • TV: FOX Sports 1 • Radio: KLWN, FM 101.7 / AM 1320
— Log on to KUsports.com for our live coverage and follow our team on Twitter: @KUSports, @BentonASmith, @mctait and @SJacksonLJW
Keys for Kansas
1. Find out what your other RBs can do
Ideally, upon losing arguably the most important skill player on the roster earlier this week, the Kansas football team would be able to ease into life without running back Pooka Williams by leaning on its veteran receivers and the passing game.
However, the Jayhawks' lack of any consistency at quarterback and struggles along the offensive line make that a risky venture.
So KU might as well go ahead and find out what the running game looks like without Williams, the preseason All-Big 12 talent who opted out of the remainder of the season.
"I think our running backs are going to be really talented and very capable," head coach Les Miles said on his "Hawk Talk" radio show. "Nobody's Pooka Williams. But we have guys that are the difference in really good play."
Even before Williams left the team, sophomore Velton Gardner led the Jayhawks with 225 rushing yards, 4.8 yards per carry and 56.2 yards a game on the season.
Miles likes the speed and shiftiness Gardner, listed at 5-foot-9 and 190 pounds, gives KU when the ball is in his hands.
"The first (defensive player) through," Miles said, "you're not going to touch him."
As Gardner moves up the depth chart, KU will need much more from other backs, too. And true freshman Daniel Hishaw Jr. seems the most likely to benefit from the situation.
"He's a big, strong man," Miles said of Hishaw, listed at 5-10 and 200 pounds.
Hishaw only registered eight carries combined in KU's first four games. But he impressed late in a lopsided loss to Oklahoma State, rushing five times for 51 yards in the fourth quarter.
2. Mistakes could be more costly than ever
The Jayhawks have been far from mistake-free when it comes to turnovers, losing the ball six times total in their four straight losses. But they also haven't destroyed their own chances of success with giveaways since coughing the ball up three times versus Coastal Carolina in the opener, leading to 21 CCU points.
The Sunflower Showdown is no time to regress in the ball security department. K-State enters the weekend plus-seven in turnover margin (tied for third-best in the country), with six interceptions and two fumble recoveries.
"Any time that you line up, the most important criteria that you have for victory is the turnover margin," Miles said. "If you are winning that race by seven," he added, "that's a great characteristic of a great football team."
KU players have not lost a fumble since the opener, but in three losses since, interceptions (three total, all thrown by Miles Kendrick) and a complete lack of defensive takeaways until the WVU game kept the Jayhawks from winning the turnover margin — they finished even at Baylor and WVU and lost it versus Oklahoma State.
A clean offensive game will be a necessity for KU in Manhattan, against a group of Wildcats that has given the ball away just once during a 3-1 start.
3. Speaking of avoiding mistakes…
The Wildcats are wreaking havoc this season on special teams, a considerable source of their success.
Incredibly, K-State has blocked some form of a kick in each game it has played so far. The Wildcats' menacing punt coverage units came away with a blocked punt versus Arkansas State, Oklahoma and Texas Tech.
Then, at TCU, defense end Wyatt Hubert blocked a field goal.
The Jayhawks haven't had a punt, field goal or PAT blocked yet in 2020. But punter Kyle Thompson (26 punts, 39.9 yards per punt) and kicker Jacob Borcila (2-for-3 on field goals, 5-for-5 on PATs) and the men responsible for keeping their kicks from getting deflected, no doubt, have seen and heard all about the Wildcats' knack for knocking punts and kicks astray.
The preparation the Jayhawks put in for this test is sure to show up during the game, good or bad.
KU hasn't had a punt blocked since 2018 at Oklahoma. Texas Tech blocked a field goal at KU in 2019, and KU had a PAT blocked in a narrow loss last year at Texas.
Mega Matchup
KU run defense vs. K-State rushers
Once K-State lost would-be starting quarterback Skylar Thompson to a season-ending injury, the Wildcats shifted to a more run-heavy offense. So if the Jayhawks want to end their 11-game losing streak in the rivalry series, stuffing the run would be a great place to start.
K-State used 42 rushing plays for 198 yards in a win over Texas Tech (the game in which Thompson got hurt and had to be replaced), while attempting just 22 passes, completing 12 for 206 yards.
The Wildcats then went to TCU and won while freshman QB Will Howard completed just eight passes on 19 throws for 117 yards. K-State did most of its damage on the ground, running 38 times for 172 yards.
The Jayhawks should be used to opponents running the ball early and often by now. Coastal Carolina produced 185 yards on 42 carries, Baylor went for 203 yards on 43 run calls, Oklahoma State ran the ball a whopping 60 times for 295 yards and West Virginia finished with 226 yards on 38 runs.
WVU was the first KU opponent this season to attempt more passes (44) than runs. KU foes are averaging 45.8 rushing attempts a game, the eighth-highest opponent rate among all FBS teams. KU is allowing 4.97 yards per carry, which ranks 64th out of the 77 teams that have played up to this point.
The Jayhawks are surrendering a lot of big rushing gains, too. Just last week WVU back Leddie Brown, though stopped in the backfield a couple times early on, finished with 195 yards, boosting his numbers with runs of 14, 10, 21, 15, 12, 15, 14 and 87 yards.
That's the type of success K-State will be aiming for with running backs Deuce Vaughn (4.8 yards per carry) and Harry Trotter (3.1 yards per carry), as well as QB Howard (4.9 yards per carry). And those are the exact types of chunk yardage runs the Jayhawks can not afford to give up if they want to be competitive.
Jayhawk Pulse
A third of the way through their Big 12 schedule, the Jayhawks are averaging a league-worst 12.7 points and giving up 44 points a game (ninth) versus conference opponents.
Asked earlier this week what would show that KU is moving in the right direction, senior receiver Andrew Parchment had a straightforward answer.
"Winning," Parchment replied.
It's a rivalry week and KU just lost its star running back, but the desire to win remains the ultimate driving force behind all the Jayhawks are doing. Parchment said the team must keep building toward that elusive victory.
"Just us not giving up, us continuing to play all four quarters and understanding that what we're trying to do here, it's not easy," Parchment said. "Twenty, 30 years down the line, when I watch the national championship I want to make sure that KU is in contention. So I want to make sure that I'm laying the foundation down right now. And if this right here is my part in history, then that's what it is."
Tale of the Tape
KU ….. K-State
KU run D vs. K-State run game √
√ KU pass D vs. K-State pass game
KU run game vs. K-State run D √
KU pass game vs. K-State pass D √
Special teams √
Prediction
K-State 34, KU 17