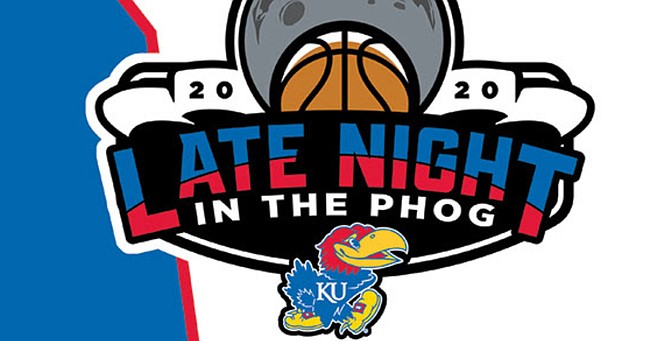 Showcasing just how deep the 2020-21 Kansas men's basketball team is, sophomore guard Tristan Enaruna stole the show and led the crimson team to a 23-18 victory during Friday's pre-recorded virtual Late Night in the Phog scrimmage.
After playing a minor role as a reserve during his freshman season, Enaruna was more aggressive from the start during Friday's scrimmage.
"It took him a little time," KU coach Bill Self said during the broadcast. "But I actually believe he's going to be a really good player and have a good year for us."
In order to do that, Enaruna, whom Self described as "smooth" during the broadcast, will need to assert himself this season.
"More of an alpha. More of an assassin type," Self said.
Enaruna hit two 3-pointers early on and led all scorers with 10 points. He also recorded a block midway through the 10-minute scrimmage.
Junior guard Ochai Agbaji, who scored seven in a row at one point, also hit a pair of 3-pointers. Junior forward David McCormack (3) and freshman big man Gethro Muscadin (2) rounded out the scoring for the crimson team, which also included freshman Bryce Thompson and redshirt freshman Dajuan Harris, who each recorded a pair of assists.
Juco transfer Tyon Grant-Foster led the blue team with 5 points, while seniors Marcus Garrett and Mitch Lightfoot each chipped in 4 points.
Second-year players Jalen Wilson (3) and Christian Braun (2) completed the scoring for the blue squad, which only led once — after Braun's bucket made it 2-0 on the first possession.
Asked what he would take away from the Late Night scrimmage, Self answered without hesitating.
"Nothing," he said during the action. "We'll forget about this as soon as it's over."
He might, however, remember what he saw from Enaruna, who also scored at the free throw line and with his left hand in transition.
"If Tristan can do that — wow, we've got ourselves a player," Self said after Enaruna's second 3-pointer. "Tristan, Christian and Jalen are huge keys. (They) need to show some improvement. And I think they have and I think they will."
Crimson (23)
Tristan Enaruna 10, Ochai Agbaji 8, David McCormack 3, Gethro Muscadin 2, Bryce Thompson 0, Dajuan Harris 0.
Blue (18)
Tyon Grant-Foster 5, Marcus Garrett 4, Mitch Lightfoot 4, Jalen Wilson 3, Christian Braun 2.
Women's scrimmage
The crimson team, led by a balanced offensive attack and 4 points from freshman guard Mia Vuksic, won the KU women's basketball scrimmage on Friday night, defeating the blue team 15-14.
Senior forward Tina Stephens scored 8 points to lead the blue squad, which featured some flashy play from freshman forward Ioanna Chatzileonti.
Brandon Schneider's team is as deep as it has ever been and features a mix of veterans, newcomers and players who missed last year because of injury.
"The depth that we have is going to be key," Schneider said.
After finishing last season at 15-14, the Jayhawks are hopeful that the momentum gained by climbing above .500 will carry over into the 2020-21 season.
"We just want to be the type of team that's easy to support," Schneider said. "If you do the right things in the classroom and the community and you come out and you pour your heart and soul into trying to win, then people will come out."
More than basketball
Both programs also used Friday's event to showcase the social justice efforts they've engaged in over the past few months, including a march across campus for racial equity that the women's team organized in August.
The event also looked at a series of educational meetings that the men's team had with leaders in the community.
"These last six months have shown us there's things more important than sports going on out there," Self said during the segment.
And KU junior Ochai Agbaji added that "I'm more proud than I've been at any time in the two years I've been here."
Self also donated $5,000 to Just Food and gave the same amount to a KU student after the members of his coaching staff collectively did enough during a half-court shot competition to earn the money. There were no makes, but Norm Roberts and Jeremy Case each hit the rim for $2,000 apiece and Brennan Bechard hit the backboard for another $1,000.
Markieff Morris cameo
Recent NBA champion and former Jayhawk Markieff Morris dropped in during the broadcast to say hello to Kansas fans and remind folks of the ring he recently won with the Los Angeles Lakers.
That kicked off a stretch of highlights from all of KU's current NBA standouts.
Family affair
Friday's individual player introductions included a twist. Instead of the typical fanfare with smoke, lights and lasers, the introductions this year were done by players' family members.
Several of the videos of the women's introductions were sent in from other countries. This year's roster features players from Croatia, Denmark and Greece, as well as one from Quebec, Canada.
The KU women took the court after their names were called, while Self's players showed off their dance moves after they were introduced.
Memorable skits
The women's team kicked off the acting portion of Friday's event with a skit that featured the coaches and players swapping roles.
The men followed that up with their own version of the same thing. Marcus Garrett impersonated Kurtis Townsend, Ochai Agbaji mimicked Norm Roberts and David McCormack played the role of strength coach Ramsey Nijem. Senior Mitch Lightfoot, who kicked off the skit by saying he had been at KU for "12 years," had the challenge of playing head coach Bill Self.