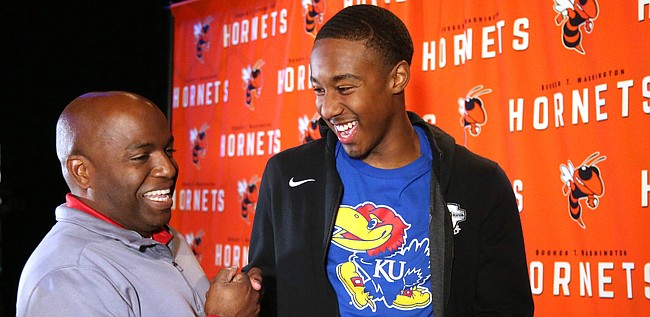 Kansas freshman Bryce Thompson has been known as a scorer throughout his basketball playing life, and his ability to put the ball in the basket has expanded with each passing year.
But those who know the KU freshman best believe his defense could be an equally dangerous element of his success at the college level.
"Bryce is a good defender," his father, Rod Thompson told the Journal-World during a recent phone interview about his son's transition to KU. "He was the best defender in the state last year. I don't know how much that says coming out of Oklahoma, but he can definitely defend."
That fact was a key part of the recruiting process for the five-star prospect from Tulsa, Okla., who picked Kansas over Oklahoma, Oklahoma State and North Carolina last November.
Rod said coaches like Roy Williams, Tom Izzo and, of course, Bill Self, often talked to him about his son's potential as a defender. And most of them, Rod said, believed that the elite scorer's willingness to play defense would only enhance his ability to make an immediate impact as a freshman.
"A lot of the schools recruiting him felt like he could turn into a very, very good defender at the next level," Rod said of his son. "That was something they saw over the summer with him."
According to Self, the reason behind that thinking was simple.
"He has all the attributes to become good defensively," Self recently told the Journal-World. "Bryce is long, he's quick, he's smart, he understands angles and has good hands. So there's no reason why he cannot become a good defender."
Like with most KU players, however — even upperclassmen — Thompson likely will not become a reliable defensive stopper overnight. He'll have to learn the nuances of playing defense in Self's system and will have to succeed and fail repeatedly to figure it all out.
That process is by design and, according to Self, often is a direct result of players being asked to do things defensively that they've probably never been asked to do before.
"I don't think he'll be near as good defensively in November as he will be in March because, obviously, it takes time," Self said. "But I think he'll focus on the right things."
So far, that has led to a strong start.
"Bryce has been absolutely terrific," Self said last week. "Incredibly bright, great feel. He's not by any stretch where he needs to be. But as far as being prepared to be a freshman here, he's probably as prepared as anybody we've had. I'm very excited about him."
The KU newcomer's ability as a defender starts with his length. At 6-foot-5, 188 pounds, the two-time Gatorade Oklahoma Player of the Year has the size to make it tough for offensive players to get by him and finish over him.
He also has natural instincts that serve him well as a shot blocker and ball thief. His father also says that his competitive nature often brings out his best defensive possessions at game point.
"Bryce probably relies more on his length than he does his feet," Rod said. "But he really does a good job and can defend, block shots, all of that."
While those skills helped get him to Kansas, Rod, who played for Self at Tulsa, said he was eager to see what comes next.
"I think you'll definitely see coach Self and them really push him and try to get him to maximize his ability as a defender," Rod said. "I think he's going to be a lot better in that area than what people may have seen."