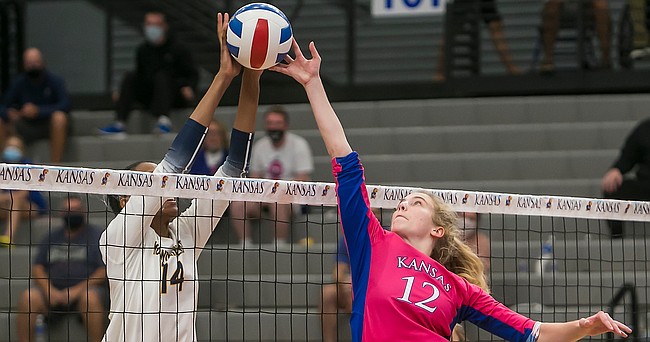 The Kansas volleyball team's two-match series at TCU, scheduled for Thursday and Friday at Schollmaier Arena in Fort Worth, Texas, has been postponed.
In addition, TCU's home matches against Texas scheduled for Oct. 30-31 also have been postponed.
A specific reason for the postponement was not given by either school, but, according to a news release from TCU, the home team postponed the matches "in accordance with Big 12 Conference volleyball match interruption guidelines."
Officials from schools said the Big 12 will work with the institutions to reschedule the matches for later this season.
After opening the season with a thrilling home victory over now-No. 2 Baylor, the Jayhawks (1-7) have dropped seven consecutive matches to BU, top-ranked Texas, West Virginia and Oklahoma.
Three of those losses came in five sets and the other four were three-set sweeps.
Next up on KU's current schedule is a pair of matches against Kansas State on Oct. 29 and Oct. 30 — both at 6:30 p.m. — at Horejsi Family Volleyball Arena. Those matches will be broadcast on by Big 12 Now on ESPN+.