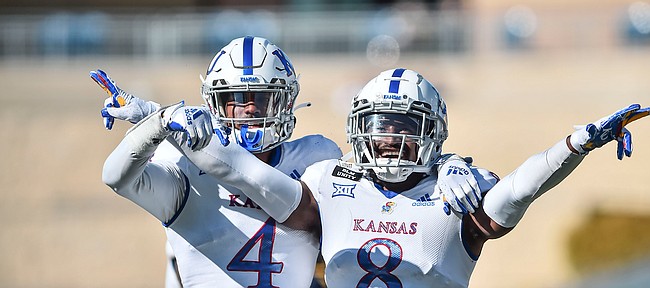 While Les Miles observed his Kansas football team from afar this past weekend, the recuperating head coach enjoyed watching the defense perform, especially during the first half at West Virginia.
"There was a lot of pass breakups," Miles recalled earlier this week of one aspect of KU's play that encouraged him as he isolated one final day due to his COVID-19 diagnosis. "There was a lot of action around the ball."
As Miles alluded to, the KU defense did more than secure its first two takeaways of the season during the 38-17 loss at WVU. The Jayhawks also broke up more passes in one game than they had in any game since Miles took over in Lawrence. KU's 10 pass breakups at WVU also were the most for the program since the 2014 team broke up 14 passes against Iowa State. The total at WVU tied KU with Boston College for the most in a game this season.
Senior cornerback Elijah Jones led the way with three pass breakups. Fellow starting defensive backs Ricky Thomas (safety) and Karon Prunty (cornerback) added two apiece. Safety Kenny Logan Jr. and cornerbacks Kyle and Deuce Mayberry were credited with one each.
Miles said the defensive backs found success as KU used a mix of defensive coverages, and played mostly Cover 1 — man-to-man in the secondary for every player except one safety. But the corners and safeties also benefited from the pressure KU created up front.
"The QB did not have a lot of time to throw early on in the game," Miles said. "The pass breakups kind of came in that the quarterback knew, too, that he had to get rid of the ball."
KU was only credited with two QB hurries and one sack — all from linebacker Dru Prox — but WVU quarterback Jarret Doege, in the first half especially, had trouble finding a rhythm as KU created difficult situations with blitzes and its pass rush.
When KU (0-4 overall, 0-3 Big 12) blitzes and its cornerbacks are in man coverage, Jones said the defensive backs don't feel extra pressure.
"That's what we want," Jones said. "We want that matchup. We want to show our talent. So we're ready for whatever comes to us."
Prunty, a 6-foot-1, 185-pound true freshman from Portsmouth, Va., has started every game and currently leads KU on the season with five pass breakups, a number that ties him for 13th nationally among FBS players.
Miles has raved about Prunty and his potential all season, and the coach also had high praise for Jones coming off the WVU game.
"If he puts his head down and works hard," Miles said of Jones, who has started the past three games, "he'll be something special."
Jones chuckled on Monday during a video press conference with reporters when asked who among the defensive backs is typically the best at breaking up passes. He gave credit to the entire secondary, saying they're all good at doing that.
Against WVU specifically, Jones said the defensive backs showed what they're capable of.
"We were just working on flying around and trying to snatch the ball out of the air," he said, "and doing our job."
While players at other positions get chances to break up passes, too, it's cornerbacks who most often are challenged in man coverage situations.
Prunty may be new on the scene and make mistakes from time to time (he was flagged for pass interference on one play at WVU), but Jones is impressed with how the freshman has handled it all.
"He's a young prodigy — for real," Jones declared.
The senior said he, Prunty and KU's other cornerbacks have watched footage and worked on technique to improve. Those pursuits paid off in the first half at WVU, as Doege went 13-for-27 passing.
Jones said he trusted what he saw on the field as well as what his position coach, Chevis Jackson, told the corners leading up to the WVU game.
Now the Jayhawks, who broke up just seven passes in their first three games combined, have to prove they can make plays in coverage consistently — and for more than one half. Nine of KU's 10 pass breakups at WVU came before intermission.