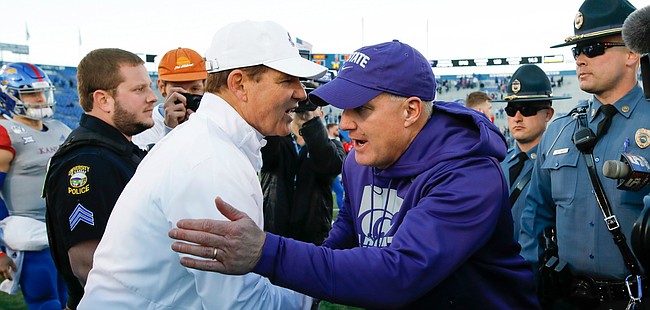 If ever there was a time for an opponent to look past the Kansas football team, it's this week.
The Jayhawks are winless. Their star running back just opted out of the season. And even with Pooka Williams, KU averaged just 261.3 yards per game (75th in the country, out of 77 FBS teams that have played) and 15.3 points (74th) during its 0-4 start.
But Kansas State coach Chris Klieman said this week he isn't worried about his 20th-ranked Wildcats failing to take the Jayhawks seriously.
"We're not good enough to overlook anybody," Klieman insisted, ahead of Saturday's Sunflower Showdown in Manhattan. "Our kids know that."
K-State lost its season opener at home, 35-31, to Arkansas State, before rattling off three wins in a row over Oklahoma, Texas Tech and TCU.
Klieman said when the Wildcats don't prepare well, they don't put a good product on the field.
"Our guys know that this game is so difficult and it's hard to win college football games," said Klieman, who is 11-6 since taking over at K-State. "You don't win games on Saturdays. I think you win them Monday through Friday."
Because Klieman has his weekly press conferences on Tuesdays, the head coach and his players entered the media session aware that KU would be without Williams, a preseason All-Big 12 running back who announced on Monday he had played his final game of 2020.
Klieman wished Williams and his family well and then drew a parallel between KU's situation and something the Wildcats went through a few week ago.
"Often times, it galvanizes a football team when somebody leaves," Klieman pointed out.
After K-State lost quarterback Skylar Thompson to a season-ending injury against Texas Tech, Klieman said the Wildcats "really came together" and then won on the road at TCU.
"KU is going to show up to compete no matter what, and they're going to give us their best effort for sure," Klieman predicted.
While the Wildcats (3-1 overall, 3-0 Big 12) have one less Jayhawk to worry about, junior defensive lineman Wyatt Hubert said Williams' absence shouldn't alter how K-State heads into the rivalry game.
"Whether he's there or not," Hubert said, "our mindset and our approach this week at practice remains the same – staying gap disciplined, reading our run fits and taking off on the pass and hitting the quarterback, getting pressure on the quarterback."
While speaking with the media on Tuesday, Klieman said he couldn't off the top of his head remember the last time KU played without Williams (the running back from Louisiana played in 15 straight games for KU after missing the 2019 opener due to suspension).
Although the coach said KU will miss a "dynamic" player in Williams, Klieman added the Jayhawks (0-4, 0-3) have plenty of other players.
"They have really good skill kids," Klieman said. "I've been impressed with all of their receivers. Their running backs are good. They run hard and are physical. The quarterbacks are athletic. So, once again, so many people put so much emphasis on what one player can do for a football team. Holy cow, you better have all 11 executing to be successful on offense and defense."
Sophomore Velton Gardner, who leads KU in rushing this season (56.2 yards per game, 4.8 yards per carry), is expected to become KU's primary back after splitting reps with Williams up to this point.