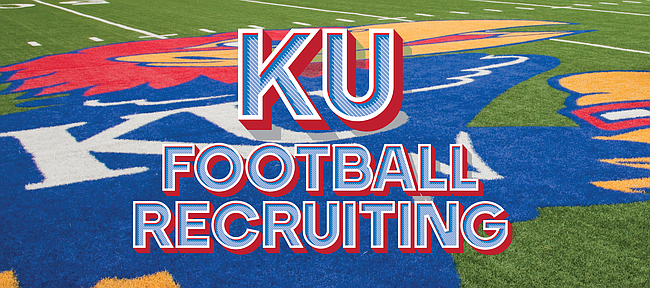 The Kansas football program's 2021 recruiting class lost a prospect for the second time this month on Monday night, when offensive lineman Edgar Amaya announced he was backing out of his commitment.
"After countless prayers and conversations with my family, we have decided the best decision is to reopen my recruitment," Amaya, a 6-foot-3 prospect from Alabama, wrote in a note he posted to Twitter.
Rated a three-star guard by Rivals, Amaya, who was recruited by offensive coordinator Brent Dearmon and offensive line coach Luke Meadows, thanked "all the coaches at Kansas" for making him feel like he was a part "of the KU family."
"This wasn't an easy choice to make," Amaya wrote. "With that being said, I will be decommitting from the University of Kansas."
The Jayhawks had planned on Amaya graduating from Russellville High early and enrolling at KU in the 2021 spring semester.
In the past couple of months, Colorado and Mississippi State had shown interest in Amaya, who made his nonbinding verbal pledge to KU in May.
Amaya's decision to play elsewhere came two weeks after KU lost one of its top recruits for 2021, Keon Coleman, a three-star receiver from Louisiana. Per Rivals, Coleman recently picked up a scholarship offer from Virginia Tech.
As of now, KU has three offensive linemen in its 2021 class: three-star prospects De'Kedrick Sterns and Christien Hawks and two-star lineman Larson Workman.
Overall, the Jayhawks currently have 19 of their possible 25 spots in the upcoming recruiting class occupied, with 17 of those belonging to three-star prospects.
All verbal commitments, of course, are nonbinding. The earliest that Class of 2021 football prospects can sign is Dec. 16.
KU football Class of 2021 commitments
(Rivals rankings)
• Majik Rector — 3-star Texas prep WR
• Ben Easters — 3-star Indiana prep QB
• Jaddai Henry — 3-star Texas prep WR
• Kelan Robinson — 3-star Texas prep WR
• Devin Neal — 3-star Lawrence prep RB
• Mason Brotherton — 3-star Arkansas prep TE
• De'Kedrick Sterns — 3-star Texas prep OL
• Andrew Simpson — 3-star California prep LB
• Trey Staley — 3-star Georgia prep LB
• Omar Burroughs — 3-star Florida prep DB
• Devonte Wilson — 3-star Florida prep DB
• Kameron Grays — 3-star Alabama prep DB
• Christien Hawks — 3-star Norton prep OT
• D'Marion Alexander — 3-star Texas prep LB
• Tommy Dunn Jr. — 3-star Texas prep DL
• Shad Dabney — 3-star Georgia prep DB
• James Wright — 3-star South Carolina DB
• Deldrick Withers — 2-star Arkansas prep DE
• Larson Workman — 2-star Texas prep OL
2021 prospects who decommitted from KU
• Edgar Amaya — 3-star Alabama prep OL
• Keon Coleman — 3-star Louisiana prep WR
More like this story on KUsports.com