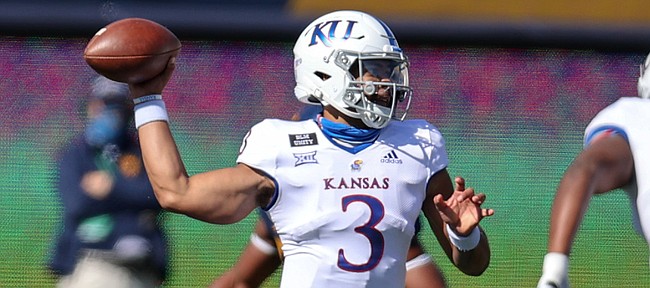 Four losses and zero wins into their 10-game football season, the Kansas Jayhawks still lack an obvious first-string quarterback.
Junior Miles Kendrick's audition for the job Saturday at West Virginia, Kendrick admitted following a 38-17 defeat, didn't help his case.
"Honestly, I didn't really think there was too much that I did that could show that (he should take over)," Kendrick said, after going 14-for-23 passing, for 95 yards, with one touchdown and two interceptions.
"We started fast and we've just got to learn how to get consistent drives and keep moving the ball, get a rhythm and keep making those routine plays that allow us to move the ball down the field and get points," Kendrick said after his first career start. "I feel like I struggled with that today. I've got to get better, get back to work."
Acting head coach Josh Eargle, who filled in for Les Miles in the wake of a positive COVID-19 diagnosis for Miles more than a week ago, said the staff collectively wanted to stick with Kendrick at QB.
"He was the guy we needed to ride. He was prepared," Eargle said.
It seemed senior Thomas MacVittie, who hasn't played since KU's season opener, wasn't a part of the game plan, even though Eargle described him as "available" at WVU.
Eargle declined to directly answer a question about whether walk-on Miles Fallin or MacVittie was Kendrick's backup for the game.
"Both of them were available. Both of those guys have been nicked up a little bit, so giving them the opportunity to heal up is obviously an advantage," Eargle said.
Kendrick made two ill conceived throws in the first half that were intercepted. On one, the junior QB was on the move and looking for Takulve "TK" Williams, whom Kendrick said "seemed kind of open." The pass was deflected and nose tackle Darius Stills dove to grab a pick.
On the other, Kendrick threw into the middle of the field where any of multiple WVU defenders could have intercepted the pass that ended up in the hands of safety Alonzo Addae.
"That one was just on me," Kendrick said. "Got to be better."
Filling in for Miles
Eargle found out Thursday night he would act as KU's coach at WVU. He said Miles called him between 8:30 and 8:45 p.m., less than 48 hours before the road game, to share the news.
"It was one of the most humbling experiences of my entire life," Eargle said. "Hall of fame football coach Les Miles is gutwrentched, he's heartbroken he can't make the tip with his team."
Eargle called his fellow assistants "unbelievable" and "elite," after the defeat.
"And they just didn't have the right leader today," Eargle said, adding KU "can't wait" to get Miles back.
Defenders return; other Jayhawks out
After missing the Jayhawks' loss to Oklahoma State on Oct. 3 for various undisclosed reasons, the KU defense had starting linebacker Dru Prox, starting safety Ricky Thomas and two other key players back in the lineup at WVU.
Document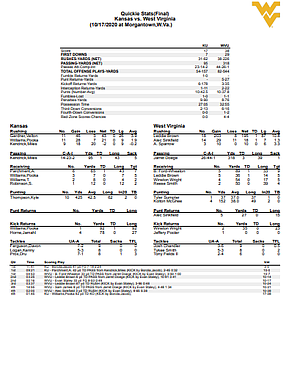 Senior cornerback Kyle Mayberry, who played as a reserve behind Karon Prunty and Elijah Jones, and backup linebacker Gavin Potter played, as well.
Prox delivered eight total tackles, three tackles for loss, two QB hurries and a sack. Thomas made seven tackles and broke up two passes. Potter recorded five tackles and Mayberry made three, along with a pass breakup.
Among the numerous players who did not dress or travel for the game — Big 12 visitors only bring 70 players, per conference rules — were three Jayhawks who have contributed earlier this season.
As expected, true freshman QB Jalon Daniels remained out with a foot injury. The Jayhawks also played without kickoff specialist Liam Jones and reserve linebacker Jay Dineen.
Feaster ejected
Long before the game got out of hand, KU lost starting linebacker Denzel Feaster to an ejection.
Near the midway point of the second quarter, Feaster was flagged for targeting on a stop. It seemed the officials thought Feaster led with the crown of his head while going for a tackle.
Coaching staff shuffling
With Miles back in Lawrence and Eargle handling much more than he typically does on a game day, KU also had to find a staff member to coach the tight ends at WVU. That duty went to Kevin Wewers, a senior offensive analyst.
Additionally, with running backs coach and special teams coordinator Jonathan Wallace's wife, Ashley, giving birth to the couple's first child this week, Wallace didn't make the trip either.
KU's senior analyst for special teams, Luke Roth, stepped in to handle special teams coaching for Wallace.
Pooka Williams scored a 92-yard kickoff return for a touchdown late in the fourth quarter.
Big 12 road losing streak lives on
The loss extended KU's extensive Big 12 road losing streak to 51 games.
The Jayhawks haven't won a league game in an opponent's stadium since their 2008 trip to Iowa State. KU's remaining 2020 road games are at Kansas State, Oklahoma and Texas Tech.
Chavez on play-by-play
KU's radio broadcast of the game had a different sound this week, as regular play-by-play announcer Brian Hanni was unable to make the trip to WVU.
Jimmy Chavez filled in for Hanni, who has had to quarantine for 14 days after being around Miles for "Hawk Talk" on Oct. 7.
Hanni reported via Twitter that he has tested negative "repeatedly" since his encounter with Miles.