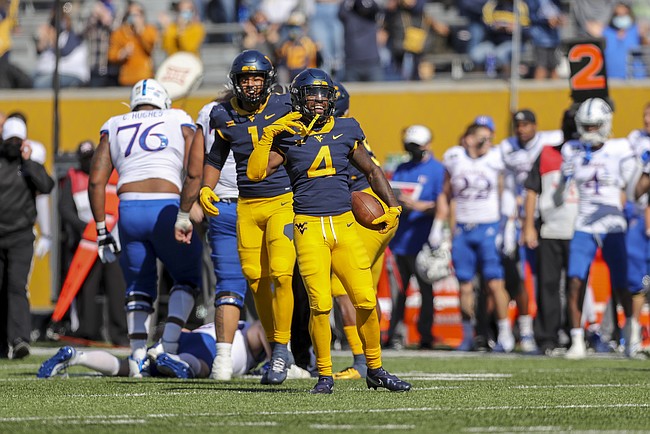 With head coach Les Miles back in Lawrence, watching his Kansas football game on television, the offense misfired far too often Saturday at West Virginia for the Jayhawks to rally around their absent recovering leader.
The KU offense labored to stay on the field, in spite of an early double-digit lead for acting head coach Josh Eargle, and the negatives, as usual, ended up outweighing the positives for the winless Jayhawks in a 38-17 defeat.
The Mountaineers (3-1 overall, 2-1 Big 12) had easily extinguished their challengers' threat by the first play of the fourth quarter — if not before — when WVU quarterback Jarret Doege (26-for-44, 318 yards, three touchdowns, one interception) found Sam James for an eight-yard score, setting up a 31-10 margin.
A dominant second half by WVU showed up not just on the scoreboard, but in the yardage, especially.
After KU's first series of the fourth quarter went backward, culminating with WVU's fifth sack of this week's starting quarterback, Miles Kendrick, KU at that point had zero yards of offense to show for its 17 second half plays, while the Mountaineers already had gained 223 yards from scrimmage since halftime.
By the end of the drubbing, WVU outgained KU, 544-157 in yardage, with a lopsided showing of 313-17 in the second half.
"I really liked the way we came out," Eargle said about the offense during his postgame video press conference. "I thought we came out with fire, I thought we had a great plan. I think (offensive coordinator Brent) Dearmon and the offensive staff really put together a plan that was going to be effective.
"We hit some adversity and got behind the chains a little bit and stumbled some. But you put that on me," Eargle went on. "We've got to get those guys ready to play four quarters. I thought their fight was there and I've got to get them better to execute. You can put that on me today."
After KU's offense opened the second half with its third of six three-and-outs of the afternoon, the defense breathed some life into the Jayhawks' chances early in the third quarter.
Junior defensive end Malcolm Lee dropped into coverage with WVU threatening near the red zone and supplied the KU defense with its first interception of 2020 when he seized a short Doege pass out of the air.
However, two short running gains and a sack of Kendrick later the Jayhawks were punting the ball right back to WVU.
Lee, when asked how the defense dealt with the short breaks between unsuccessful KU possessions, said the offensive issues weren't his to dwell upon.
"We'd love to get some long drives and some points. But at the end of the day I'm here to play defense," Lee said. "It's not really my concern what the offense is doing. It's my job to stop (the opponent) from getting in the end zone."
Kendrick, in his first career start, threw for only 95 yards, completing 14 of 23 passes, with two interceptions. He said afterward his decisions, as well as the offense's execution on blocking and assignments led to their unproductive day.
"We never got the opportunity (in the second half) to drive down the field and make something happen. It was tough," Kendrick said. "I think it's just up to us to make plays and execute."
Leddie Brown (18 carries, 195 yards) could have run for much longer but happily settled for an 87-yard TD after shooting through a hole at the line of scrimmage late in the third quarter, as the Mountaineers finally gained some separation, 24-10, from the upset minded Jayhawks.
Offensively, KU (0-4, 0-3) couldn't keep its early momentum rolling in the first half, despite a 10-point cushion. KU punted four times and Kendrick was picked off twice in the six possessions that followed consecutive scoring drives to open the game.
"I think Miles is a great dude," Eargle replied, when asked to assess the junior QB's performance. "I think he was ready to go today. I think he was very well prepared. He came out and let it rip early. And we just got in situations where it was obvious pass situations and they're dropping everybody and just rushing three or adding a fourth here or there and giving some mixed up looks up front."
The Mountaineers took their first lead of the game, 14-10, despite opening their seventh possession 91 yards from the end zone. The methodical trip concluded with Doege finding running back Brown wide open on the left side of the end zone for a score.
On WVU's next drive, KU's defense got off the field with a stop on 4th and 6. The Jayhawks' offense took over with just 1:31 left in the half, but WVU would get the ball back — and score.
Eargle called timeout after an unsuccessful 1st down run. An incomplete pass on 2nd down allowed WVU to call a timeout after a 3rd down stop and get its offense back on the field with 1:05 to go.
The Mountaineers went to the locker room up 17-10, following a 33-yard Evan Staley field goal with 16 seconds left on the second quarter clock.
Incredibly, the Jayhawks, who only scored seven points combined during the first quarters of their first three losses, jumped out to a 10-0 lead in the first quarter at WVU.
KU's defense delivered a much needed positive start for the winless team, putting a swift ending to WVU's first possession. The Jayhawks not only came through with a three-and-out, but also did so by securing the defense's first takeaway of 2020.
After a Doege completion to T.J. Simmons on 3rd and 15, linebackers Dru Prox and Denzel Feaster converged on Simmons, and Feaster knocked the ball loose for a fumble. Freshman cornerback Deuce Mayberry finished off the sequence by securing the ball on the turf.
"I felt very good with those takeaways and how it was going from the very beginning," Prox said. "And throughout the game I felt good about how the defense played, but particularly when it first started I felt like that was a big confidence boost we needed as a defense. I think that's what helped us play with such high energy throughout the game."
Document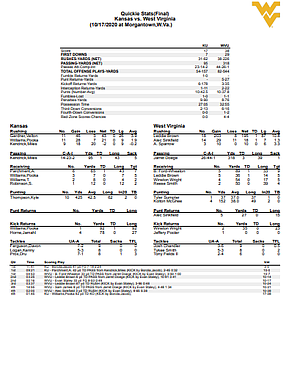 The rare turnover allowed KU's offense to take the field for the first time in plus territory, 41 yards away from the goal line. Kendrick completed two of four passes on a mostly uneventful series, but KU scored the game's first points on a 41-yard Jacob Borcila field goal.
The KU defense set the visitors up for even more success on the ensuing series, as defensive lineman Caleb Sampson and safety Ricky Thomas sealed a three-and-out by tracking down Brown after forcing him out wide.
In response, the Jayhawks' first TD drive only took two plays, as Kendrick looked deep for senior wideout Andrew Parchment (six catches, 65 yards). The pass actually was under-thrown and appeared to be broken up with a deflection, but Parchment kept his eyes on the pass after it took a detour and secured it to complete an unconventional 43-yard touchdown. KU led 10-0 less than six minutes into the road game.
The Jayhawks' defense held the Mountaineers to 3.3 yards per play in the first quarter and WVU went 0-for-4 on 3rd down chances. But the home team wouldn't go scoreless for long and more than recovered by the second half.
Miles, who during the game tweeted about both the early TD pass to Parchment and Lee's interception, is expected to return to his normal coaching duties as the Jayhawks return home.
KU will play its second road game in a row this coming Saturday, at Kansas State, and the plan is for Miles to be back on the sideline after a positive COVID-19 diagnosis on Oct. 8.