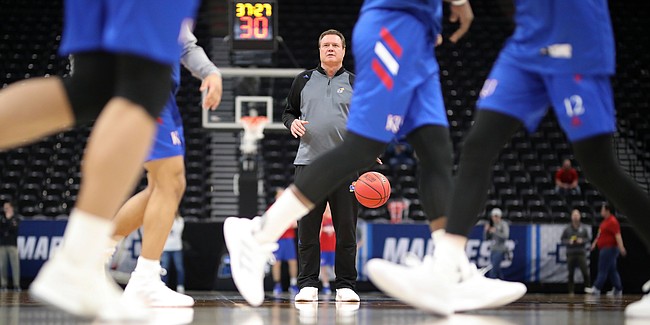 A recent conversation with an old friend sparked an idea that could change the typical flow of the preseason for Kansas basketball coach Bill Self and the Jayhawks.
Speaking via telephone with former KU assistant and current East Carolina head coach Joe Dooley, Self was caught off guard by Dooley's answer to the simple question of how much of his playbook Dooley had installed.
"He said, 'I've about got everything in,'" Self noted. "And I'm going, 'What?' He said, 'I'm trying to put in as much stuff as possible.'"
From there, Self dug deeper.
"I said, 'Well, do you do any of it good,'" Self explained. "And he said, 'No, we're awful at everything, but I want to have it in because if we get quarantined for 14 days, you're not going to have time to have everybody together to teach it.'"
And with that came the ah-ha moment for Self, who on Thursday officially tipped off his 18th season at Kansas and 28th season as a college head coach.
See, most years, Self has the offseason calendar down to a science. He knows what he wants to get done, how much time he has to do it and, perhaps most important, how to structure everything so he gets maximum efficiency from his players while avoiding burnout at the same time.
This offseason, though, has been different. For everybody.
"This year we're basically learning faster than we've done since I've been here," senior guard Marcus Garrett said on Thursday.
Self, like pretty much all coaches in all sports at all levels, has had to surrender some of the control of the schedule that he's used to having and replaced it with a roll-with-the-punches mentality.
"I've got no rhythm," Self said Thursday. "I never have, but certainly haven't during this COVID stuff, how to prepare a team."
And therein lies arguably the biggest challenge about the upcoming Kansas basketball season. Sure, preparing to face Kentucky or Creighton or the rest of the Big 12 will be tough. But finding a way to navigate the uncertainty surrounding the ongoing pandemic presents a challenge unlike any Self and his players have seen before.
Even taking the greatest precautions, which Self said the Jayhawks have done thus far — wearing masks in the locker room and everywhere outside of their individual dorms — can only assure so much.
Look no further than 66-year-old Kansas football coach Les Miles, who recently tested positive for COVID-19, as an example of how vulnerable even the most cautious people can be in college athletics.
But Self said his bigger concern for the upcoming season went beyond the potential for one member of the team testing positive.
"It's not losing a key player," he said. "It's losing four to five key players. If your entire team has to quarantine for 14 days and you come back and are expected to play games the first week you come back, you will have absolutely no chance to be successful for the most part, as far as from a technical standpoint or a playing standpoint because you'll be out of shape.
"You will have no rhythm. There's a lot of things that go into it. One or two mishaps could set a team back a month," Self continued. "In that month, your regular-season chance to win a league could be basically be taken away. So we all need to be smart."
Self said Thursday that he was "amazed" at how well his team has handled things thus far. He also said the KU coaching staff recently emphasized that, as good as they were in September and October, the Jayhawks would have to be even better in November and December to ensure that this team and its season can move forward with minimal interruptions.
And while that means being disciplined and smart and avoiding bad situations, it also means, perhaps above everything, putting one's entire focus on basketball and school.
"We need to worry about just playing," Self said. "About being a team, about looking forward to each situation regardless of how different it is or unnatural that it feels, because it's going to be a year full of that. The teams that respond to that the best and don't say, 'Oh I wish,' all the time I think will be the teams that have the most success."