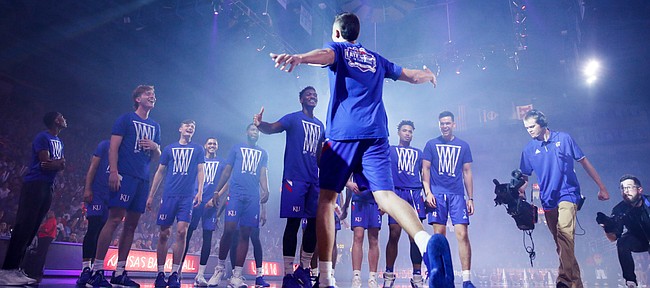 Before the question was even finished, Kansas basketball senior Mitch Lightfoot already had begun smiling.
Thursday afternoon, a couple of hours before the Jayhawks' first official practice of the 2020-21 season, Lightfoot, now in his fifth season with the program, was asked about the NCAA's recent ruling that all winter sports athletes would get an extra year of eligibility because of the pandemic that promises to bring a degree of uncertainty to the upcoming season.
"I think it's the right idea by the NCAA," said Lightfoot, who redshirted last season to prolong his Kansas career. "That's something that can benefit a lot of people."
Although he said Thursday that he had not given serious consideration to what that might mean for him in the future — a sixth year of Mitch Lightfoot is a very real possibility — his reaction on Twitter on Wednesday, shortly after the ruling came out, said otherwise.
"Wow," he wrote Wednesday evening. "This is really turning into a never leave college situation."
Already well into his post-graduate studies, Lightfoot could still have two full seasons remaining with the Jayhawks if he so chooses.
Right now, though, he's not thinking that far ahead.
"My total focus is on this year," he said. "Getting going, getting this year started, playing the best basketball we can and helping my team win games."
Virtual Late Night ahead
Although there is no known date as of now, Kansas coach Bill Self confirmed Thursday that the Jayhawks still will hold their annual Late Night in the Phog event, even if no fans will be at Allen Fieldhouse to enjoy it.
"Late Night will occur," Self said. "We'll announce soon when that is and we'll be doing it virtually, with absolutely no one in the stands."
Self also confirmed that the Jayhawks would open the season on Nov. 25 in Orlando, although he did not list the names of any of KU's opponents other than Kentucky on Dec. 1 in the Champions Classic.
"It's been a challenge," Self said of rebuilding the schedule from scratch. "I think ESPN has done a remarkably good job in trying to put these types of events and schedules together for a lot of teams, not just us."
Testing plans
Self said the Jayhawks have been testing for COVID-19 once a week since they returned to campus in early August and added that he anticipated that going up to two or three times a week as the season draws near.
"We have been extremely pleased with what has transpired through the testing," Self said, declining to get into specifics of whether any players or coaches had tested positive at any point. "We told them we need to be very smart come August and September. And now that we're in October and going into November, we need to be as bright as we've ever been. All of us."
Self said he thought both the university and his players as individuals had done a good job of handling the pandemic during the past couple of months.
"Our guys have taken it serious because they would rather play than enjoy the benefits of what a college student is and that's to have the freedom to come and go as you please," he said.
No looking back
It's been seven months since the top-ranked Jayhawks had the 2020 postseason and the opportunity to compete for a national title pulled out from under them because of the pandemic.
But Self and several of his players insist they're over it.
"I've been able to move on," senior guard Marcus Garrett said Thursday. "Just knowing it was bigger than us and (last season's) not coming back."
Added Self: "I haven't thought (about) that at all. I thought we had as good a chance as anybody... I'm disappointed we didn't get a chance to validate what the guys had accomplished during the regular season. But it's not something I've dwelled on at all. If I'm asking our guys to be mature about it, I think the coaching staff should be, as well."
Having said that, both Self and Garrett noted that the missed opportunity from last March would serve as motivation heading into the 2020-21 season.
Self called it "unfinished business," and said last season's ending "put a (bad) taste in everyone's mouth and we want to validate what we did last year."
Added Garrett: "The guys that were on that team that came back are still hungry. We didn't get to finish what we wanted."