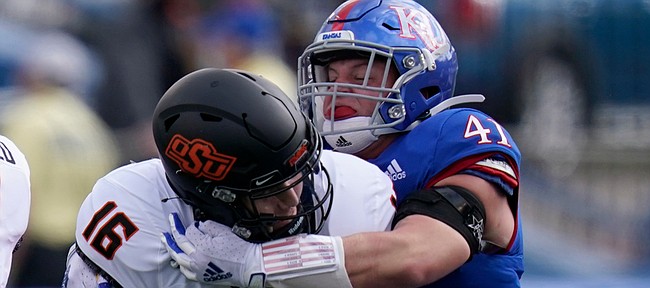 A reserve so under the radar that up until this week he was listed as a safety on the Kansas football roster — even though he plays linebacker — Nick Channel got the sense ahead of the Jayhawks' most recent game he was in line for his first real taste of action on defense.
The sophomore walk-on really had no idea what was in store, though, even when defensive coordinator D.J. Eliot informed Channel minutes before the Oct. 3 matchup with Oklahoma State that he was about to get his first career start at inside linebacker.
"I think I came out for one play," Channel recalled, "and that was just to get my shoe fixed."
With regular starter Dru Prox a late scratch and backup Gavin Potter unavailable, Channel was on the field for 90-plus snaps versus Oklahoma State. He announced his presence a couple minutes in, as he assisted safety Davon Ferguson in bringing down LD Brown for a loss on 3rd and goal.
On the Cowboys' second possession, Channel helped deliver another 3rd down stop, sacking Shane Illingworth on a blitz and forcing a punt.
Said head coach Les Miles afterward of the linebacker's surprise start: "Nick Channel made some of the most physical plays that were in the game. I like him. I think he's going to develop into a really good linebacker."
Though the 6-foot, 220-pound Channel, a former standout at Kapaun Mt. Carmel High in Wichita, entered the game with no career statistics, he left it with eight total tackles, 1.5 tackles for loss and a sack.
In his 20 years as an assistant coach, Eliot told reporters this week, Channel must rank at or near the top in the most snaps Eliot has seen one defender play during a game.
Considering what was asked of the walk-on, Eliot said he did an "excellent" job.
"Nick Channel gave us everything he had," said Eliot, who also called him one of the defense's most physical players.
Teammates came away impressed, as well. Senior linebacker Denzel Feaster described Channel as an "amazing" person, teammate and player. What's more, Feaster said the walk-on was built for moments like what he encountered during an unexpected start.
"He filled the role perfectly," Feaster said after the loss, "couldn't have done any better. I just want to applaud him."
That was the general sentiment, too, from family members, who after the game met Channel back at his house, near David Booth Kansas Memorial Stadium, several hours after he had texted to inform them before the game it seemed he would be playing "quite a bit" against OSU.
Even so, looking back on a personally memorable day, Channel, a pre-exercise science major who wants to become an orthopedic surgeon, examined his performance with more scrutiny.
"I think I kind of surprised myself a little bit. But I also knew I was going to make a few mistakes, and I really did. Going back and watching the film there were times that I overran my gap or I didn't get in my right gap and it ended up hurting us a little bit," Channel admitted. "I did make a few plays, but there's still room for me to improve a lot."
Out of necessity, Channel came out of nowhere for the KU defense. As a high school prospect in the Class of 2018, he didn't know exactly what his path to playing for the Jayhawks would look like. But he decided to bet on himself and go to KU as a walk-on when he didn't receive much attention from other Division I programs.
Growing up in Wichita, Channel said he was a KU fan his whole life and figured it would be a good choice to join the program, work his way up and claim a spot. Now he's better positioned than ever to see that plan to fruition.
Eliot was asked this week whether Channel had successfully played his way into a more prominent role for the defense.
"I hope so," Eliot replied. "I would like to have as much depth as we can on defense. I don't want anybody playing 92 snaps. I'd like to be able to rotate more guys in there and be able to keep guys fresh and keep guys playing at their highest level."
While Channel, who wasn't even on KU's published depth chart before his breakthrough day, got the sense that he impressed KU's coaches with his performance, he also pointed out there are no guarantees for him when it comes to playing time.
"I mean, Dru Prox is a fantastic linebacker. It's kind of hard to try to take his spot with how good he is," Channel said. "But hopefully I'll be able to work my way more into the rotation and get more snaps than I was before."