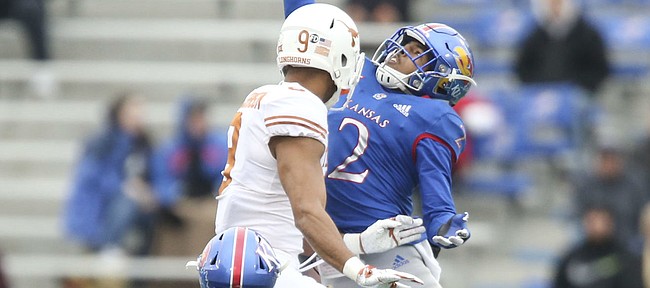 A former starting cornerback at Kansas, junior Corione Harris is easing his way back into the defensive lineup this fall as a backup safety.
After missing all of the Jayhawks' preseason practices, as well as the season opener, due to a suspension following an offseason arrest, Harris finally played significant snaps in KU's third game of the season, against Oklahoma State.
Sophomore Kenny Logan Jr. and junior Davon Ferguson started at safety, but Harris subbed in on a number of occasions, registering four solo tackles.
KU's coaches didn't switch Harris to safety until this year, and his suspension, defensive coordinator D.J. Eliot said this week, has him behind.
"Corione missed so many days," Eliot said. "We're working as hard and as fast as we can to catch him up and get him ready to play."
According to Eliot, Harris, a 6-foot-1, 180-pound junior from New Orleans, has "great skills," can cover and is a solid tackler.
"I hope to see him on the field more often. Every day is a growing process for him. And he's had the right attitude and the right approach," Eliot said. "I look forward to him playing in the future."
Harris was a four-star prospect in KU's 2018 recruiting class.
Logan leading tackler
A sophomore from St. Augustine, Fla., Logan is KU's leading tackler three games into the 10-game season.
Logan made a career-high 12 total tackles against Oklahoma State, giving him 26 on the season.
Currently Logan, a starter each of the past two weeks, ranks fourth in the Big 12 in tackles per game at 8.7. Logan also has recorded one sack, one forced fumble and one pass breakup to date.
Fellow safety Ferguson is KU's second leading tackler, with 18. Ferguson racked up 11 of those in the Jayhawks' 47-7 loss to Oklahoma State.
Herbert thriving at Virginia Tech
Former KU running back Khalil Herbert has proven to be a welcome addition for both the offense and special teams at Virginia Tech this year.
Herbert, a graduate transfer who left KU four games into the 2019 season, currently leads all FBS players not only in rushing yards per game (149.7), but also all-purpose yardage (246.3 yards per game).
Through the Hokies' first three games, Herbert is averaging 10.4 yards per carry on his 14.3 rushing attempts a game and has scored five touchdowns on the ground.
Herbert has topped 100 rushing yards in all three VT games in 2020, matching the number of times he did so at KU during his three-plus years with the program.
Brown, Eliot worked together at UK
Long before Neal Brown became the head coach at West Virginia, he used to go up against current KU defensive coordinator Eliot during practices.
Brown coordinated the offense at Kentucky from 2013-14, overlapping with Eliot's time at UK as defensive coordinator (2013-16).
Brown said during a video interview this week he doesn't think their familiarity will hold much weight when WVU (2-1 overall, 1-1 Big 12) plays host to KU (0-3, 0-2) on Saturday (11 a.m. kickoff, FOX), because their time together was years ago.
"He's been at Colorado and now at Kansas since then, and I've been at Troy (as the head coach) and then here," Brown said. "He's evolved defensively, we've evolved offensively."
Brown said he has respect for Eliot and thinks KU's defense is "sound" with its three-man front.