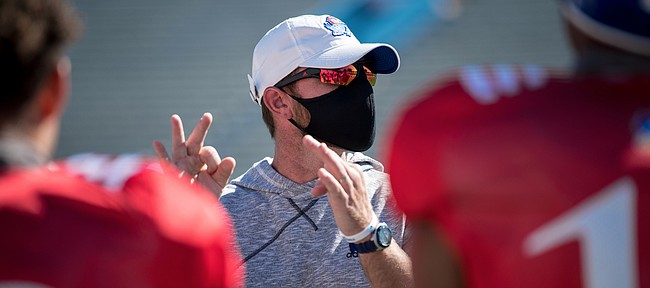 While Kansas players and assistants alike admit the atmosphere around the football team's complex feels a little different with the head coach's office vacant, the Jayhawks insist their preparations for the next game on the schedule have regained normalcy, even in Les Miles' absence.
That's not to say the news of Miles testing positive for COVID-19 left them unaffected.
"When he initially told us, we were all kind of shocked," KU sophomore linebacker Nick Channel recalled. "Who wouldn't be? And we weren't really sure what was going to go on, and kind of in the dark for a little bit. But ultimately we've got a job to do."
It didn't take long for Miles and his staff to put in place a plan that kept the head coach thoroughly involved in meetings and the like, as he joined the team remotely from his home. And because Miles seems to be doing well while recovering from the virus, Channel said, the players transitioned easily to getting back to the task at hand.
In fact, according to defensive coordinator D.J. Eliot, Miles is so popular with his players that the Jayhawks seemed to rally around their head coach this past Thursday, when they practiced for the first time without him on the field with them.
Eliot said while speaking with reporters that players looked motivated by the situation, leading to an "excellent" practice.
"I think we'll continue to have that type of approach this week," Eliot said Monday morning, "and our guys will be ready to play."
As of now the plan is for Miles to rejoin the Jayhawks (0-3 overall, 0-2 Big 12) on the sideline for their road game at West Virginia (2-1, 1-1) on Saturday (11 a.m. kickoff, FOX), assuming he has tested negative and is cleared by Kansas Team Health to make the trip.
In the meantime, tight ends coach and recruiting coordinator Josh Eargle said it actually feels like Miles is still around, because everyone is so used to video conference calls due to the pandemic.
"He's still on top of everything and keeping us all in line," Eargle said. "He's rocking and rolling and still going about his day. He's just doing it virtually, over Zoom."
One thing that strikes people in the facility as strange these days is not seeing Miles in person. But offensive coordinator Brent Dearmon said the KU staff and players are doing everything they can to make it feel normal.
Dearmon noted Miles' inability to be around the past several days hasn't led to any issues or controversies.
"Our team knows Coach Miles is the captain of this ship," Dearmon said. "Every coach, every player, everybody within the facility looks up to that guy and all that he brings to this football team. We do everything we can to (work with him remotely) and get him involved in his situation."
KU's assistants also anticipate having Miles, now in his 18th season as a head coach, back with them for the WVU game, coming off a bye week.
His presence alone, Eliot said, would be welcome.
"Coach Miles is never rattled," Eliot said, adding Miles' experience, wisdom and poise come in handy on a game day. "I think the players see that and the coaches see that and we feed off of that week to week."
Dearmon said Miles helps a lot with the in-game management for the offense, too. The head coach stays in communication with the offensive coordinator during drives, letting Dearmon know, for example, about whether going for it on an upcoming 4th down is a possibility.
There's more to Miles' guidance than in-game strategy, though.
"I'm a young, emotional guy, probably too fiery at times," Dearmon said. "So every now and then he gets in my ear, tells me to calm down, tells me those types of things in a great way. He's been a great mentor to me."