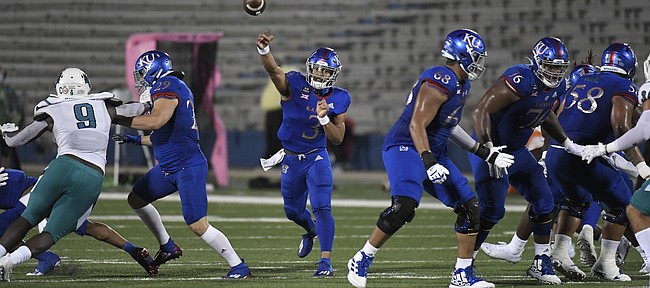 In a move head coach Les Miles has proven this year he might not make during a video press conference, offensive coordinator Brent Dearmon decided Monday morning to announce who will start at quarterback for the Kansas football team.
As KU assistants filled in for Miles, who remains at home convalescing after contracting COVID-19, Dearmon told reporters he had "a bit of striking information" to share: Miles Kendrick will start for the Jayhawks on Saturday at West Virginia.
"We told him he's our guy this week," Dearmon said of the third QB to start for the team this season. "So we named him a captain because of the way that he practiced last week. He's doing a great job."
Leading up to the season opener, Miles didn't want to name KU's No. 1 QB. That trend continued once the Jayhawks began playing, too, as Thomas MacVittie, Kendrick and Jalon Daniels all manned the spot at various times during KU's 0-3 start. All the while, Miles played coy about who was where on the depth chart, as well as who may or may not be available.
Coming off of the team's second bye week, Kendrick is set to make his first career start. A 5-foot-10, 210-pound junior, Kendrick played most of the second half in KU's season opening loss to Coastal Carolina after MacVittie got hurt in the third quarter. Similarly, Kendrick ended up being the primary QB once Daniels suffered an injury against Oklahoma State a few weeks later.
"But it's not that the other two are not doing a good job," Dearmon clarified regarding the move. "Miles Kendrick has just earned the spot this week, so we're going to go with Miles Kendrick."
While the news became public on Monday, junior KU receiver Takulve "TK" Williams told reporters the Jayhawks and Kendrick (who wasn't made available for interviews) learned during the bye week that he would start at WVU.
"It was very helpful," Williams said of working with one quarterback in advance of the next game. "We got timing right. It's always good to know tendencies that your quarterback has. He started to know his receivers, what I like to do or what (Andrew Parchment) likes to do, stuff like that. I felt like, naming a quarterback, our chemistry got better last week."
Although Kendrick has played exclusively as a substitute up to this point, Kendrick actually leads KU in completions (26), pass attempts (43), completion percentage (60.5%), passing yards (246) and touchdowns (two). He also has thrown two interceptions.
Dearmon said he would prefer to just play Kendrick at West Virginia, as opposed to subbing QBs in and out like the Jayhawks did with MacVittie and Kendrick in the opener.
"I'd like to go with that guy and build the confidence with him," Dearmon said, referencing a plan KU used with Daniels in a loss at Baylor. "But in the crazy 2020 and the COVID pandemic situation you have to have two and three (QBs) ready. Your (No. 3) has to probably get more reps than he's ever gotten before because of COVID. So both of those guys have got to be ready to go."
Since the offensive coordinator and QBs coach gave Kendrick the starting nod, starting center Api Mane, who also teamed with Kendrick in their junior college days at College of San Mateo (Calif.), said the junior QB has continued to just put his head down and go to work.
"I think it's an opportunity for him to showcase his skills again," Mane said of Kendrick getting the start.
More QB updates
Although MacVittie, KU's 6-5, 225-pound senior, hasn't played since Sept. 12, when he appeared to suffer a shoulder injury in the second half against Coastal, Dearmon said the man who started KU's 2020 opener is at least practicing again.
"MacVittie is back," Dearmon shared. "He's full-go now."
Daniels, meanwhile, isn't quite at that point yet, after appearing to injure his left foot in the first half versus OSU on Oct. 3.
"Daniels has done some things," Dearmon replied, when asked if the true freshman QB was practicing.
"We kind of were light with him last week. And then he performed really well this Saturday in our dodgeball and wiffle ball tournaments," the coordinator and QBs coach joked, "so it appears that Daniels may be able to be a little bit more lively this week."