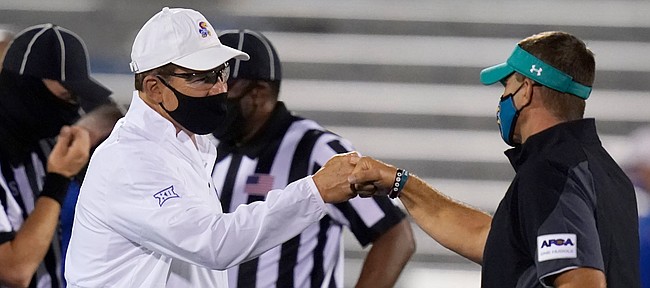 According to Kansas football's top two coordinators, there currently is no plan for who would fill in for Les Miles if the head coach isn't cleared to travel with the Jayhawks this week for their game at West Virginia.
Defensive coordinator D.J. Eliot told reporters Monday morning during a video press conference that Miles hasn't designated a replacement in the event his COVID-19 case prevents him from returning to his normal job duties.
"He's planning on being there on Saturday," Eliot said of the Jayhawks' trip to WVU, "so we're just preparing like he's going to be."
KU's second-year head coach since Thursday, his assistants said, has remained involved from afar, via video calls for meetings and the like as he recuperates at home.
If Miles doesn't make the trip, offensive coordinator Brent Dearmon joked he would bring "a little bobblehead Coach Miles" to put on his shoulder.
"That way I feel like he's still talking in my ear right there," Dearmon quipped. "But, no, we haven't had that conversation yet. I think that's something that the higher-ups are probably trying to figure out at this moment. But we're planning on him being there with us."
Eliot said he didn't know which of KU's assistants would take over head coaching responsibilities if things don't go according to plan.
"That's up to Coach Miles," Eliot said.
Miles on Sunday night, via a short video posted to KU's social media accounts, provided an update on how he is feeling.
"My health's pretty good, so I'm very thankful for that," Miles said in the video, adding the football team is "in good hands."
Jayhawks adjusting without Miles
Monday marked the first time KU players or coaches had spoken with the media since Miles' diagnosis.
Senior center Api Mane said he and other Jayhawks learned of the news during a team meeting on Thursday, the day Miles received his positive test results.
"Obviously prayers to Coach Miles and his family," Mane said, "and hope he gets through this well and stays healthy."
Junior receiver Takulve "TK" Williams said the Jayhawks over the past several months, due to the pandemic, have become so accustomed to interacting through Zoom calls that not having Miles around the past few days didn't seem too out of the ordinary.
"Practice is a little different because he's not there right now," Williams said, "but I feel like the time is going to go by fast. I feel like he'll be back before you know it."
Prox practicing
Although Eliot declined to get into any details about what type of injury or ailment kept linebacker Dru Prox from playing in KU's most recent loss, versus Oklahoma State on Oct. 3, the defensive coordinator provided an update on Prox's status.
"Dru is back practicing," Eliot said, "and we're planning on playing him on Saturday."
A 6-foot-1, 215-pound inside linebacker, Prox started the first two games for KU before missing the homecoming loss to the Cowboys. Prox recorded 14 total tackles in those two games before sophomore Nick Channel made the surprise start in his place against OSU.
Sunflower Showdown
As KU (0-3 overall, 0-2 Big 12) prepares to play back-to-back road games, the Big 12 announced Monday the Jayhawks' Oct. 24 matchup at Kansas State will kick off at the same time as its upcoming game at WVU: 11 a.m.
This year's Sunflower Showdown in Manhattan will air on FOX Sports 1.
The Wildcats (3-1, 3-0) currently are ranked No. 22 in the country. K-State has won three straight — at Oklahoma, vs. Texas Tech and at TCU — since dropping its season opener to Arkansas State.