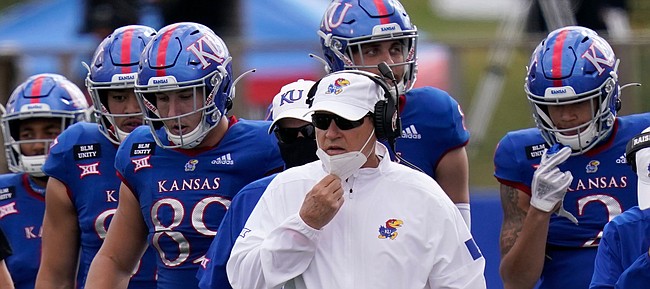 Kansas football coach Les Miles found out Thursday he tested positive for COVID-19, the university announced.
"I am beginning the isolation process at my home," Miles stated in a release from KU, "and will continue to fulfill my head coach responsibilities remotely."
The 66-year-old coach said he won't be physically present at practices as he isolates, but will use "the technology available for remote working" to keep connected with his staff, as well as players.
Miles made a public appearance Wednesday evening, the day before the announcement of his condition, for his weekly radio show, "Hawk Talk." KU records the show at Johnny's Tavern, in West Lawrence.
During the broadcast, Miles said he had a cold. Pandemic measures for attending the radio show included wearing masks.
Lawrence-Douglas County Public Health told the Journal-World on Thursday that there is no reason to consider those in attendance of Wednesday night's airing of Hawk Talk to be at high risk for exposure. This is based on the protocols they had in place and implemented for the show, which included social distancing, mask wearing during restaurant movement and use of plexiglass barriers.
KU players and coaches, per Big 12 rules for the pandemic, are tested multiple times during a week for the virus. KU Athletic Director Jeff Long said that's how KU found out about Miles having COVID.
"At this time, we believe he will be able to continue to perform his head coaching duties," Long said. "Based on the other test results, no other coaches tested positive. As long as Coach Miles does not develop symptoms or have a fever, we anticipate he will be able to coach the West Virginia game on Oct. 17."
According to Long, Kansas Team Health is going through the contact tracing process and notifying people who have come in "close contact" with Miles "for an extended period of time."
Although KU is on a bye week, coming off a 47-7 homecoming loss to Oklahoma State, the Jayhawks have practiced, as they would on a game week. That doesn't necessarily mean Miles came in close contact with everyone on the roster and staff, but he likely did with at least some before Thursday, when he learned of his positive test result.
Miles is the second FBS head coach this season to announce a positive COVID-19 test, joining Arizona's Kevin Sumlin.
Toledo's Jason Candle tested positive in July and Arkansas State coach Blake Andersen and Florida State coach Mike Norvell both tested positive in mid-September.
KU didn't announce whether there were any new COVID-19 cases among its players during the latest round of testing.
Dan Beckler, KU's associate athletic director for public relations, told the Journal-World a COVID-19 PCR test administered to Miles earlier this week came back positive. According to an FAQ on COVID-19 posted on the MIT Medical website, PCR tests "almost never" give a false positive.
"We wish Coach a speedy recovery," Long said, "and look forward to getting him back on the field very soon."