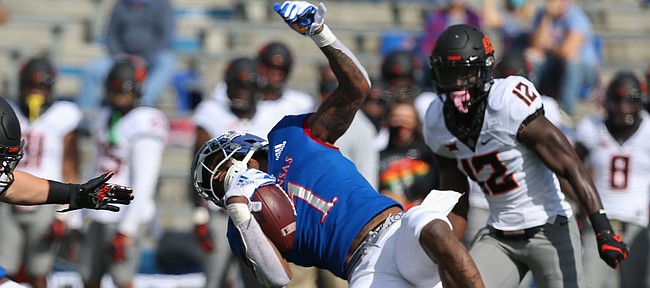 After Pooka Williams Jr. finished with only 32 rushing yards against Oklahoma State in the Kansas football team's 47-7 homecoming loss, head coach Les Miles addressed the challenging day for the junior running back.
"Well, I can tell you it's not Pooka," Miles said of Williams' struggles, seemingly referencing blocking issues encountered by KU's offensive line. "It's going to be another position group. Because he does those things that you can't coach."
The Jayhawks (0-3 overall, 0-2 Big 12) handed the ball to their star playmaker 14 times against the Cowboys (3-0, 2-0). Williams left the game in the third quarter because of an injury, the nature of which was not disclosed. He averaged just 2.8 yards per carry.
His 32 rushing yards were easily his lowest total of the season, and the worst since the last time KU faced OSU, in 2019 (12 carries, 26 yards). The output this past weekend was the third-lowest in Williams' 25 career appearances.
KU's game plan also involved trying to keep Williams involved on special teams as a kickoff returner. The speedy junior from Louisiana couldn't find the space to bust open a long return, though, averaging 18 yards on six attempts. His longest went for 31.
The injury on Saturday was the second one Williams had suffered this season.
"The good news is it's a nick," Miles said Monday during the Big 12 coaches teleconference, "and we figure we'll have him back here after the bye week."
The KU coach added that he and his staff don't want Williams, a "player that can make some game-deciding moves," being worn down.
"Leaving the game late in two games, certainly we have to get him healthy and keep him healthy," Miles said.
Through three games, sophomore Velton Gardner leads KU in rushing, with a slight edge over Williams. Gardner has contributed 182 yards and two touchdowns on 36 rushes (5.1 yards per carry), while Williams is right behind him with 175 rushing yards and two touchdowns — both at Baylor, when Williams played the whole game — on 40 attempts (4.4 yards per carry).
Dealing with QB injuries
When starter Jalon Daniels suffered what looked like a left foot injury in the first half versus Oklahoma State, it meant that KU was without two of its top three quarterbacks.
Although Thomas MacVittie suited up, he wasn't available to play, leaving Miles Kendrick to handle the position for the majority of the loss.
Document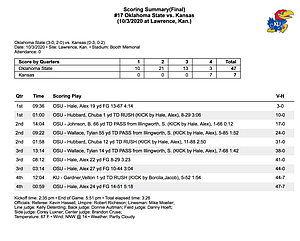 Miles said Monday that Kendrick will get almost all of the practice repetitions "for some amount of time" as the Jayhawks go through a bye week before playing at West Virginia on Oct. 17.
"We expect these guys to be back after a week of bye," Miles said of Daniels and MacVittie.
For however long Daniels and MacVittie are out of the equation, Miles said junior walk-on Miles Fallin will back up Kendrick.
MacVittie started in KU's season-opening loss to Coastal Carolina, subbed in and out of the game with Kendrick and hasn't played since suffering what looked like a shoulder injury in the third quarter on Sept. 12.
With two of KU's starters from the team's first three games dealing with injuries, it could be difficult for KU's offense to make the type of progress the coaches are seeking.
Miles didn't view it that way, though.
"I think you get an opportunity to see Miles Kendrick at his best," KU's head coach said. "And when you're called upon to do some special things, you step across some boundaries and you learn. I think Miles Kendrick will. He'll play well."
Kickoff for WVU game set
After their second bye week of the 10-game season, the Jayhawks will head to West Virginia (2-1, 1-1). The Big 12 announced Monday that the matchup will kick off at 11 a.m. on Oct. 17 and air nationally on FOX Sports 1.
WVU will also have an idle week ahead of the game.
The Mountaineers' only loss so far came at Oklahoma State, 27-13, on Sept. 26. WVU defeated Eastern Kentucky, 56-10, in its opener. This past weekend, the Mountaineers beat Baylor, 27-21, in double overtime in Morgantown, W.Va.