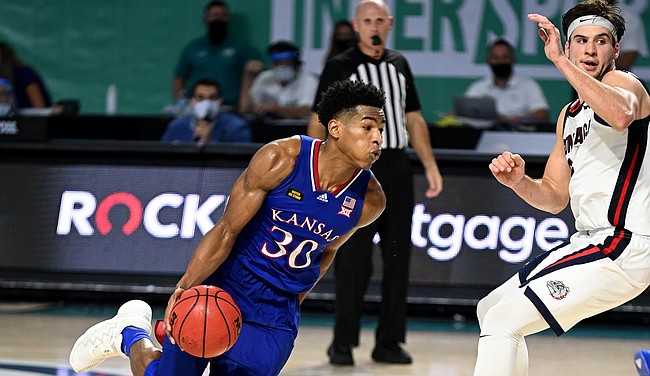 Two games into the 2020-21 season, Kansas junior Ochai Agbaji is off to the best start of his college career, sitting among the team leaders in scoring at 17.5 points per game and shooting 50% from the floor and 42% from 3-point range with just two turnovers.
It's a far cry from the slow start Agbaji experienced as a sophomore during his first full season on the court with the program.
Last year, after turning it over eight times combined in KU's first two games, the athletic guard from Kansas City, Mo., endured a stretch where he shot 15-of-44 (34.1%) over the next five games, pressing more with each missed shot.
KU coach Bill Self was asked before the season began if he had talked with Agbaji about ways to get off to a better start, but Self hardly seemed to think that kind of conversation was necessary.
Turns out he was right.
"I think players, when they evaluate the past season, they remember the most recent (things)," Self said. "I don't think Ochai was thinking, 'Oh geez, games three, four and five (last season) I didn't do this very well.' I think he's thinking more about 'This is how I played down the stretch.'"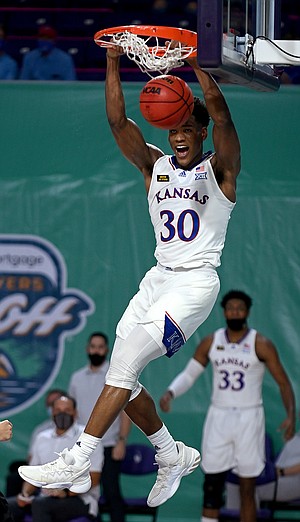 Like most of his teammates, Agbaji was rock solid at the end of the 2019-20 season. But the 6-foot-5 junior has taken his play to another level in the early going this season.
His shot looks better than ever. He's attacking off the dribble more than at any point in his KU career. And his confidence appears to be soaring.
While a conversation about last season's start may have never happened, the things Agbaji is now doing well were discussed before the 2020-21 season began.
"What I have told him is the start of every game he needs to be aggressive," Self said. "I think he can get confidence so much by seeing some good things happen, or I think he can just kind of be a blend-in guy. And for us to be good, he can't be a blend guy. He needs to be a guy that makes plays for us."
Agbaji did just that in Fort Myers, Fla., where Kansas lost to No. 1 Gonzaga last Thursday and bounced back to beat Saint Joseph's by 22 on Friday, topping 90 points in both games.
After scoring the first basket of the season on a pull-up jumper off the dribble against the Zags, Agbaji finished with 17 points on 5-of-11 shooting, knocking in two of four from 3-point range and five of the six free throws he shot.
A day later, Agbaji waited a bit to get going but then scored Kansas' final nine points of the first half, pushing KU's lead to eight at the break and finishing with 14 for the half and 18 for the game.
"My teammates, they're looking for me and they're finding me early on," Agbaji said Monday morning from Indianapolis. "I'm just trying to continue that and play a complete game. I think I still have yet to play that."
Two games do not a season make, of course, but it's already clear that Agbaji is comfortable in his role as a go-to scorer for these Jayhawks.
While part of that comfort surely comes from the work he put in during the offseason, the rest of it likely comes from his coach's confidence in him to take over.
"I've encouraged him every practice, every game, 'Hey, look for your moments, look to score the ball, look to shoot it whenever you're open, be ultra aggressive early,'" Self said. "If things don't go well, we can always pull back. But when he gets going pretty good early, he can definitely impact a game in a great way for us."
After two extra days of down time and practices in Fort Myers, Agbaji and his teammates arrived in Indianapolis on Sunday evening to begin preparations for Tuesday's Champions Classic clash with Kentucky at Bankers Life Fieldhouse.
Tipoff is set for 8:30 p.m. on ESPN and the KU-UK is the first of three games on the schedule for the Jayhawks this week.
KU will play Washburn at 7 p.m. Thursday in this season's home opener at Allen Fieldhouse, and North Dakota State comes to Lawrence on Saturday. Game time for Saturday has not yet been announced.