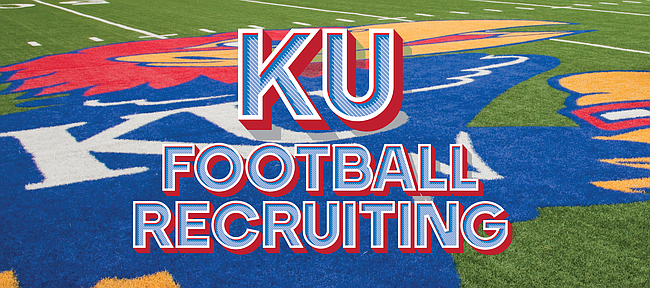 With a little more than two weeks left before the early signing period, there's still work to be done on the recruiting front for the Kansas football coaching staff. But the Jayhawks got a step closer to filling out their 2021 recruiting class on Monday.
Garfield Lawrence, a strong-side defensive end from Tyler, Texas, announced on Twitter his commitment to KU.
Listed at 6-foot-4 and 235 pounds, the senior at Tyler Legacy High is rated as a three-star prospect by Rivals.
Prior to Lawrence's commitment to KU, he also picked up scholarship offers from 16 other programs, including Arkansas, Tennessee, Colorado, Kansas State, Syracuse, SMU, North Texas and Memphis.
Lawrence's high school coach, Joe Willis, told Jon Kirby of Jayhawk Slant that he thinks Lawrence will continue to play on the edge when he transitions to the college level.
"He's got tremendous upside in terms of he's just now beginning to really grow and mature," Willis said. "I think he'll end up adding another 30 to 40 pounds, when it's all said and done."
KU defensive line coach Kwahn Drake and recruiting coordinator Josh Eargle led Lawrence's recruitment.
According to evaluations from 247 Sports, Lawrence ranks No. 34 among strong-side D-ends in the Class of 2021, and he's currently ranked 505th overall among prep seniors.
For the moment, KU has 21 of its maximum 25 spots in the 2021 recruiting class filled, with 18 of those players rated as three-star prospects. There are no junior college players in the class; only high school recruits.
All verbal commitments, of course, are nonbinding. The earliest that 2021 prospects can sign and make their pledges official is Dec. 16.
KU football Class of 2021 commitments
(Rivals rankings)
• Majik Rector — 3-star Texas prep WR
• Ben Easters — 3-star Indiana prep QB
• Kelan Robinson — 3-star Texas prep WR
• Devin Neal — 3-star Lawrence prep RB
• Mason Brotherton — 3-star Arkansas prep TE
• De'Kedrick Sterns — 3-star Texas prep OL
• Andrew Simpson — 3-star California prep LB
• Trey Staley — 3-star Georgia prep LB
• Omar Burroughs — 3-star Florida prep DB
• Devonte Wilson — 3-star Florida prep DB
• Kameron Grays — 3-star Alabama prep DB
• D'Marion Alexander — 3-star Texas prep LB
• Tommy Dunn Jr. — 3-star Texas prep DL
• Shad Dabney — 3-star Georgia prep DB
• James Wright — 3-star South Carolina DB
• Tanaka Scott Jr. — 3-star Alabama WR
• Garfield Lawrence — 3-star Texas DE
• Corey Robinson II — 3-star Georgia OT
• Deldrick Withers — 2-star Arkansas prep DE
• Larson Workman — 2-star Texas prep OL
• Jayson Gilliom — 2-star Georgia prep DB