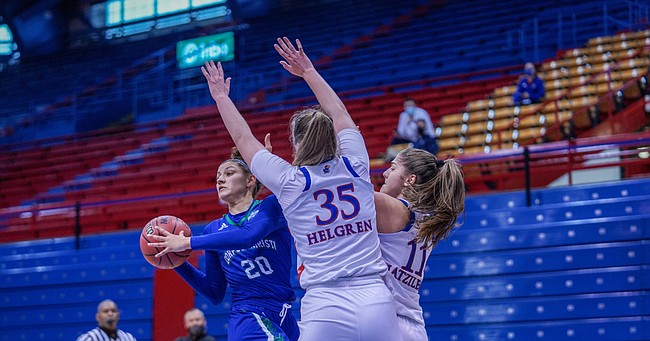 Four players in double figures and 46% shooting from 3-point range led the Kansas women's basketball team to an easy, 85-43 victory over Texas A & M-Corpus Christi on Sunday afternoon at Allen Fieldhouse.
Starters Holly Kersgieter (17), Tina Stephens (13), Aniya Thomas and Zakiyah Franklin (10) paced the Jayhawks to a 44-17 halftime lead.
That group combined to shoot 8-of-12 from 3-point range, led by a 5-of-6 clip from Kersgieter.
KU's fifth starter, freshman Ioanna Chatzileonti, shot just 2-of-6 from the floor in her second game as a Jayhawk, but made up for the off night offensively by grabbing a game-high 15 rebounds and blocking four shots.
Twelve of the 14 Jayhawks who played in this one scored at least one bucket and Kansas (2-0) had seven players score at least six points in the victory. No one played greater than 24 minutes and KU's bench accounted for 27 points and 20 rebounds on a night when the starters barely played half the game.
"I think we played together, we had a lot of high energy," said Stephens after the victory. "I think we played with pace and we're starting to flow into our offense and defense a lot more."
While the KU offense was humming, the Jayhawks' defense was equally as effective, limiting the Islanders to just 27% shooting from the floor and forcing 20 turnovers.
"The big focus tonight was just defend much better off the ball and in help (defense)," KU coach Brandon Schneider said after the victory. "We were pretty disappointed with how we played against Northern Colorado in the second half. We didn't move as one, we didn't play as one near to the level that we expect. And I thought we did a much better job of that tonight."
The Jayhawks' next game is set for Thursday at Ole Miss, in Oxford, Miss. Tipoff is scheduled for 7:30 p.m. The game is part of this year's Big 12/SEC Challenge and can be seen on The SEC Network.

After that, Kansas will return home Sunday for a 2 p.m. clash with Oral Roberts at Allen Fieldhouse.