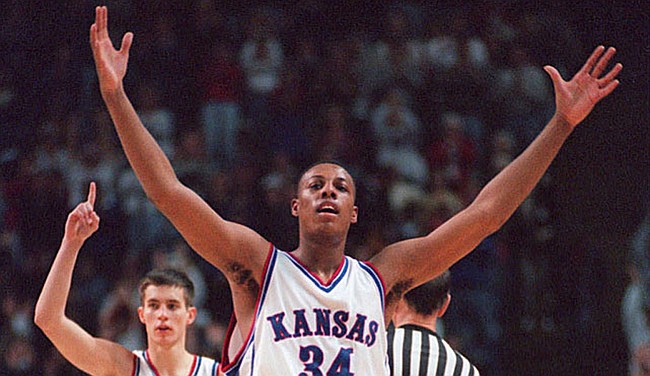 Two decorated former coaches and six former college greats, including Kansas All-American Paul Pierce, have been selected to the National Collegiate Basketball Hall of Fame Class of 2021, the Hall announced Sunday.
The honorees will be enshrined next November in Kansas City, Mo., at the 2021 National Collegiate Basketball Hall of Fame Induction Celebration presented by Nike. The event is part of Kansas City's Hall of Fame Weekend, which also will include the annual Hall of Fame Classic tournament.
Joining Pierce in the 2021 class are: former Maryland great, the late Len Bias, UCLA's David Greenwood, Bradley's Hersey Hawkins, Ohio State's Jim Jackson, North Carolina's Antawn Jamison and coaches Rick Byrd and Tom Penders.
Piece averaged double-figure scoring in each of his three seasons at Kansas from 1995-98, leading the Jayhawks to 98 wins, three conference titles and a pair of league tournament championships.
The future Boston Celtics great, who has his jersey retired both in Boston and at Allen Fieldhouse finished his KU career with 1,768 points, including 777 in his junior season, when he was named a consensus All-American and a finalist for the Wooden Award.
The Celtics selected Pierce 10th overall in the 1998 NBA Draft.
The National Collegiate Basketball Hall of Fame is located inside The College Basketball Experience (CBE), a world-class experiential entertainment facility adjacent to Kansas City's T-Mobile Center. The Class of 2021 will be the 16th class inducted in the Hall of Fame's history.