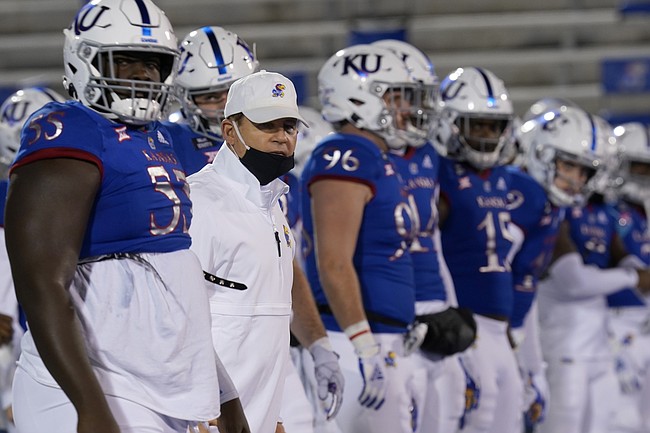 Fitting for 2020, the Kansas football team's Senior Night looked a little out of the ordinary on Saturday, prior to the kickoff versus TCU at David Booth Kansas Memorial Stadium.
Typically, every senior on the roster partakes in the annual tradition, gathering with family members and loved ones on the field during a ceremony before the team's final home game of the season.
But this year, amid the COVID-19 pandemic and some uncertainty regarding whether specific members of the senior class will utilize an NCAA blanket waiver and play an extra season, not all of KU's seniors opted to participate in the football rite of passage. And those who did join in did so with their parents watching from afar instead of on the playing field by their sides. Plus, there were no fans in the bleachers to cheer them on — though family members of both KU and TCU players were permitted to attend.
Head coach Les Miles was on the field to salute 15 KU seniors:
• Zack Biddison, DL
• Cole Brungardt, K
• Sam Burt, NT
• Donovan Gagen, P
• Elijah Jones, CB
• Liam Jones, K
• Hunter Kaufman, WR
• Logan Klusman, LS
• Kwamie Lassiter II, WR
• Kyle Mayberry, CB
• Kameron McQueen, WR
• Cooper Root, LB
• James Sosinski, TE
• Sam Schroeder, FG
• Kyle Thompson, P
The parents of each senior who was honored recorded a video message for their son, and each one was played as part of the presentation.
Five of the Jayhawks acknowledged during the ceremony weren't actually on the field, because they did not dress for the game and weren't in attendance: Brungardt, Gagen, Liam Jones, Sosinski and Thompson.
The following 13 seniors opted not to participate in the ceremony for undisclosed reasons, personal to each player:
• Nate Betts, S
• Malik Clark, LT
• Denzel Feaster, LB
• Chris Hughes, RG
• Kyron Johnson, LB
• Adagio Lopeti, OL
• Jack Luavasa, TE
• Thomas MacVittie, QB
• Api Mane, C
• Ezra Naylor, WR
• Andrew Parchment, WR
• Stephon Robinson Jr., WR
• Ricky Thomas, S
The NCAA determined back in August, before fall sports began, that all Division I athletes would receive an extra year of eligibility, due to the complications surrounding the COVID-19 pandemic. Seniors who are able to take advantage of this unusual extra year of eligibility won't count against their team's scholarship limits during the 2021 season.
Miles said earlier in the week, on his "Hawk Talk" radio show, that he hopes receivers Robinson and Parchment will come back.
Outside linebacker Johnson has stated he would like to return for an extra year.
A KU player's participation in the Senior Night ceremony doesn't necessarily mean he has decided against playing an extra year.
Miles said earlier this week most of those personnel decisions will get sorted out once the season ends in a couple of weeks.
As an added Senior Night oddity, last week's postponement means KU's seniors still have one home game left, versus Texas on Dec. 12.
Jayhawks who didn't dress
KU faced TCU without a slew of regulars, including sophomore running back Velton Gardner, freshman running back Daniel Hishaw Jr., middle linebacker Feaster, O-lineman Lopeti, tight end Sosinski and junior inside linebacker Jay Dineen.
No. 1 punter Thompson missed his fourth game in a row due to an undisclosed injury.
As expected, previously reported injuries kept receivers Robinson and Lawrence Arnold, as well as O-lineman Hughes, out of action.
New-look O-line
The Jayhawks didn't only have a new offensive line coach against TCU, with interim John Morookian replacing the fired Luke Meadows during KU's three-week break between games. They also had a reworked starting five up front on offense.
Senior Malik Clark, formerly the starting left tackle, slid over to his old spot from earlier in his career, returning to left guard.
Earl Bostick Jr., who had started five games this year at right tackle, moved over to replace Clark at left tackle.
The starting five included three true freshmen: Garrett Jones at center, Armaj Adams-Reed at right guard and Bryce Cabeldue at right tackle.
Jones struggled with his snaps in the first half, sending two flying past quarterback Jalon Daniels. KU lost 47 yards of offense on those two miscues.
MacVittie returns
For the first time since KU's season opening loss to Coastal Carolina, senior quarterback MacVittie played for the Jayhawks.
Injured in the second half of KU's 2020 debut, MacVittie didn't start this time, as he did in the opener. True freshman Daniels remained KU's No. 1 QB.
MacVittie appeared on the field for the first time since Sept. 12 when he subbed in for the opening snap of KU's second possession. The senior kept the ball for a two-yard run.
He entered again following KU's touchdown late in the first quarter, as the Jayhawks went for two. Again, MacVittie ran, this time after a high snap from Jones, and he was stopped short of the goal line.
Meacham back in Lawrence
Former KU offensive coordinator Doug Meacham, a member of David Beaty's staff from 2017-18 (before being fired in the middle of the 2018 season), was on the visitor's sideline.
Meacham now works for TCU head coach Gary Patterson, as TCU's inside receivers and tight ends coach.