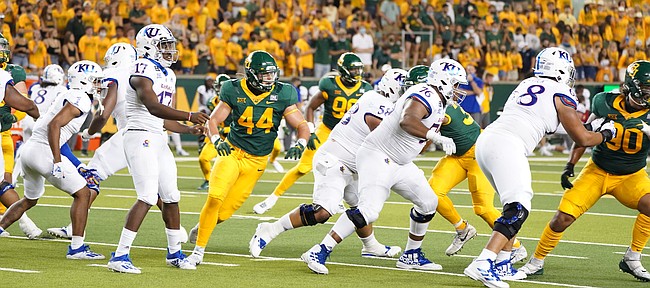 — Kansas (0-7 overall, 0-6 Big 12) vs. TCU (3-4, 3-4) • 7 p.m. kickoff, David Booth Kansas Memorial Stadium • Game-time forecast: 42 degrees, mostly clear, 0% chance of rain • TV: FOX Sports 1 • Radio: KLWN, FM 101.7 / AM 1320
— Log on to KUsports.com for our live coverage and follow our team on Twitter: @KUSports, @BentonASmith, @mctait and @SJacksonLJW
Keys for Kansas
1. Pass protection
For three weeks now, the Jayhawks have worked on an issue that has plagued them throughout their winless season: protecting the quarterback.
The last time KU played, on Nov. 7 at Oklahoma, starting QB Jalon Daniels got sacked nine times, leaving the game with an injured ankle the final time he got knocked to the ground.
Since then, KU head coach Les Miles fired O-line coach Luke Meadows and promoted senior offensive analyst John Morookian to take Meadows' place on an interim basis. Even before all of that, though, Miles and his players spoke often of the importance of getting better pass protection out of the O-line. That conversation won't change unless the Jayhawks improve versus TCU.
The Horned Frogs' pass rush is surging of late, with 12 total sacks in their last three games. Ochaun Mathis leads the team with five QB takedowns, and he produced three in TCU's win over Texas Tech on Nov. 7.
True freshman defensive end Khari Coleman, who committed to KU in 2019 before flipping to the Frogs, made his first career sack versus Oklahoma and leads the team with 9.5 tackles for loss.
If the Jayhawks, who will again be without injured starting right guard Chris Hughes, are going to win a game this year, improved pass blocking will have to be part of the equation. Entering the weekend, KU has allowed an FBS worst 38 sacks and 5.43 sacks per game.
2. Offense has to give KU a chance
Week after week in 2020, the Jayhawks' offense has let the team down, even if the players and coaches don't want to say so publicly.
The one time in Big 12 play that KU scored more than 17 points — 22 in a 30-point home loss to Iowa State on Oct. 31 — the Jayhawks had a Kenny Logan Jr. 100-yard kickoff return to thank for one of their three touchdowns.
KU is averaging only 15.1 points a game (125th out of 127 FBS teams) on the year and 264.4 yards (also 125th). In Big 12 play, those numbers dip to 13.8 points and 247.3 yards.
No team that has played at least four games this year punts more than KU, which averages 7.3 per loss. Obviously all the issues with the offensive line have damaged KU's ability to sustain drives, and the Jayhawks average just 15.9 first downs a game (120th out of 127 FBS teams).
So what does the offense have to do to give KU a chance to win?
Said junior receiver Takulve "TK" Williams: "We've just got to execute. We've got to stop shooting ourselves in the foot."
If the players listen to coordinator Brent Dearmon and the rest of the offensive coaches, Williams added, they should be able to get something going.
"There's not much that we really have to do," Williams said. "Just follow the rules and stay the course off of the game plan our coach puts together for us."
3. Beware of the Frogs' runners
Other teams in the Big 12 have more experienced and ballyhooed ball carriers, but TCU takes a team approach to the ground game that has proven effective
Head coach Gary Patterson's bunch has run the ball on 284 of its 502 offensive snaps (56.6 percent) this season, despite not having a single rusher who averages 50 yards per game.
"Whichever running back has to carry the ball," Miles said earlier this week about TCU, "he'll be a talented man."
TCU averages 248 rushing yards per game in its three wins this season — at Texas, at Baylor and versus Texas Tech — and 124.3 in the four losses — against Iowa State, Kansas State, Oklahoma and at West Virginia.
TCU is 3-0 in 2020 and 98-8 under Patterson all-time when rushing for at least 200 yards.
Redshirt freshman Darwin Barlow is the top running back to date for the Frogs, averaging 43.4 yards a game and 5.7 yards per carry. Freshman Keandre Miller is contributing 32.5 yards a game and 5.7 per attempt while freshman Zach Evans is providing 25.2 yards a game and 6.0 yards a carry.
But no one on the roster runs more often than TCU's quarterback.
Mega Matchup
KU defense vs. TCU QB Max Duggan
Facing a dual-threat QB is nothing new for the KU defense. But sophomore Max Duggan embodies that label more than many who play the position, as he doubles as TCU's leading rusher on the year.
"He has the ability to throw it and run it," Miles said. "A guy that we have to do a good job handling."
Duggan, at 6-foot-2 and 201 pounds, averages 49.7 rushing yards a game this year, on 12.9 attempts a game. He has led TCU in rushing in six of his 19 career games.
Earlier this month in a 34-18 victory over Texas Tech, Duggan sped his way to 154 rushing yards, including an 81-yard TD run — one of his three carries into the end zone versus the Red Raiders.
Connecting on 63.7% of his passes this year, Duggan has thrown for five touchdowns and three interceptions, while averaging 182 passing yards a game. Between his arm and his legs, the sophomore QB provides 231.7 yards of total offense per game for TCU, which is averaging 381.7 yards overall as a team.
If KU defensive coordinator D.J. Eliot can find the right defender to use as a spy on Duggan and keep the QB in check as a rushing threat, the KU defense should have an easier time taking care of its other responsibilities against a TCU offense averaging 24 points a game in Big 12 play.
"I feel like we match up pretty well," sophomore safety Logan said of the KU defense against TCU. "I feel like our team is going to be ready to go into that game and give it all we've got to come out with victory."
Jayhawk Pulse
Even if the outlook for the remainder of the 2020 season seems bleak for the KU fan base, the mood in the Jayhawks' locker room remains positive, according to both Miles and the players.
"We're trying to win, like every other week. Trying to make plays," senior receiver Kwamie Lassiter II said, noting the Jayhawks have remained competitive at practices during their break. "We're doing everything we can to get this (win)."
Williams said finally nabbing a victory — KU hasn't won since beating Texas Tech at home on Oct. 26, 2019, giving the program an 11-game losing streak — is of the utmost importance.
"We're going in to win every game obviously. But we want to get a win to show (younger players on the roster) that we can do it," Williams said. "Because it feels like it would bring more confidence to the team — like to show them that you really can do it."
Tale of the Tape
KU ….. TCU
KU run D vs. TCU run game √
√ KU pass D vs. TCU pass game
KU run game vs. TCU run D √
KU pass game vs. TCU pass D √
Special teams √
Prediction
TCU 35, KU 20
More like this story on KUsports.com